11 Cool Lunch Boxes for Men Who Want to Waste Less Money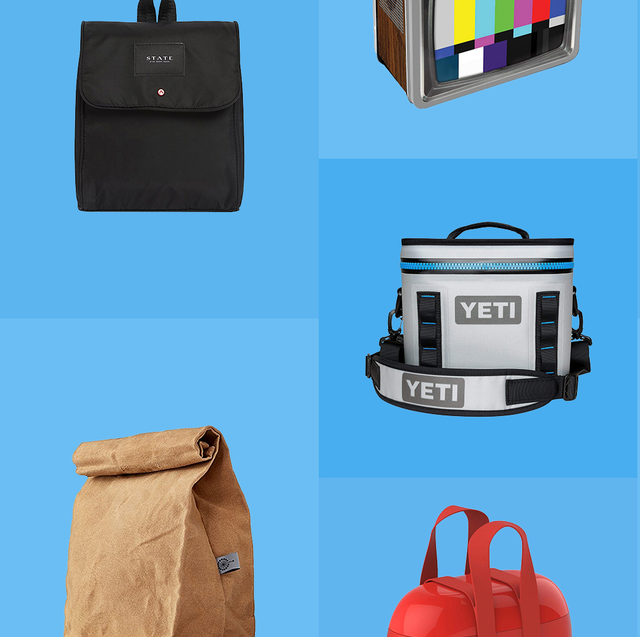 Courtesy
After so many crappy salad bar meals and desperate Subway orders, there's good reason for you to be interested in bringing your lunch in from home. And hey, it's the healthier, cheaper option, too. You'll be cooking and preparing food at home instead of ordering subpar grainbowls that cost $14 a pop and only taste good when you drench them in spicy mayo. Gone are the days of nerdy Superman lunch boxes—unless, of course, that's your thing—but you can get a lunch box that looks cool and also works to keep your food cold (or hot). Whether you like bento-style boxes, sacks, or old-school tins, here are the best options for packing your lunch for work every day.
Advertisement – Continue Reading Below
Lunch Box Tote
Upper Order
amazon.com
$13.99
This is your basic, budget lunch box. In a nice graphite gray, it won't look out of place next to your briefcase in your work space or hanging off your shoulder from the included strap. It has 6.5 liters of storage space, a mesh pocket within, and a slip pocket on the front.
Retro TV Lunch Box
There's no need to keep your lunch box under the radar. PBS sells some delightfully out-there, old-school options, like one featuring Bob Ross and another emblazoned with trippy Jimi Hendrix art. But this tin TV lunch box is a winner.
Two-Layer Sandwich Box Set
Lunch never need be more complicated than a really good sandwich. Onyx's stainless steel stacking boxes dedicate one layer to your sandwich, and the other to your sides.
Brown Lunch Bag
When in doubt, brown-paper-bag it. Or rather, brown-waxed-canvas-bag it. This 16 oz. lunch sack is good for use after use, and it's remarkably easy to clean thanks to the wax finish.
Deluxe Lunch Cooler Bag
Carhartt
amazon.com
$24.99
Carhartt makes a workman's lunch box with a waterproof outer and a roomy inner that can hold a hearty meal or six cans of beer. The zippered lid is insulated as well, and the front pocket can hold utensils.
Apollo 11 Mission Film Reel Lunch Canister
Game Stop
thinkgeek.com
$24.99
This bento-style canister has three separate compartments to keep your foods separated. Plus, it looks like it went to the moon and back, which is kinda cool. Think of it as the iconic Superman lunch box for adults.
MB Original V Bento Box
Monbento
amazon.com
$36.00
A solid bento box option, this one has two trays and one bowl separated by lids and held together with a strap. It carries plenty of food and an ice pack, if you need it.
Richmond Lunch Sack
State
statebags.com
$38.00
If a sack will more than do the job for your lunch, State makes a great one with a back pouch, an internal bottle pocket, and snap closures. You could even call it stylish.
Food à Porter Lunch Box
Alessi
finnishdesignshop.com
$48.15
Three spacious compartments and one tray give you all the food storage you'll need. And that bold red and artful design will give you all the workplace compliments to match.
Camo Canvas Lunch Cooler
Filson
nordstrom.com
$145.00
For a rugged look, Filson's camo lunch box is fully insulated, spacious, and up to trips into the office or into the wild.
Hopper Flip 8 Portable Cooler
With Yeti, you get one of the most impenetrable lunch coolers around, with intensely strong insulating layers, a leak-proof zipper, and a super-durable waterproof outer. It holds six cans, which is plenty of space for your lunch.
Advertisement – Continue Reading Below