Everything Rocketman Got Wrong About Elton John's Life
Turning someone's life into a two-hour film is no easy feat.
After all, lives are rarely lived in the neat, easy-to-track fashion that storytelling requires. They're messy, they're don't tend to move in a straight line, and they're almost never in perfect black-and-white. And so, the idea of compressing all that color, all that craziness, all that commotion down into a narrative that audiences can comfortably comprehend? Downright impossible.
So details are flubbed, characters are omitted or combined or made more of a villain (or hero) than they ever were in real life, and timelines are rearranged all in the service of a bigger picture. It's a fine line to walk, but if you get the essence of the person right and the grand scheme of things across, well, for some filmmakers, that's a job well done enough.
And Rocketman is no different.
The new Elton John biopic, starring Taron Egerton in the lead role supported by a cast that includes Richard Madden, Jamie Bell and Bryce Dallas Howard, is a two-hour musical fantasia that gets things pretty close to right—and for director Dexter Fletcher (who, coincidentally, was brought on to finish the similarly factually-challenged Queen biopic Bohemian Rhapsody after director Bryan Singer was relieved of his duties) and screenwriter Lee Hall, that was good enough.
"It's not a biopic, per se, but really a story of Elton John unpacking all of his issues and baggage whilst in rehab," Fletcher told Thrillist. "I think it's about being as honest with your approach as you possibly can, and not trying to sugarcoat or hide anything. And, obviously, you can't cover everything. We're talking about two hours long, trying to fit in 35 years of a life, or more. So you can't cover everything, you have to be selective."
"I didn't have to be a slave to the chronology of when the songs were written or what they got written about, I just used them like in a musical, in that way," he continued. "And the more I exploited that opportunity, the more fantasy elements came into it, the more I would find things like 'I Want Love,' which happens in this sort of domestic family home, or 'Saturday Night's Alright,' or 'Rocket Man' at the bottom of the swimming pool, the Troubadour sequence. They're all flights of memory and feelings rather than fact."
And that was quite alright for the subject of the film, who served as a somewhat hands-off executive producer, as he wrote in The Guardian upon Rocketman's release.
"Some studios wanted us to lose the fantasy element and make a more straightforward biopic, but that was missing the point," Elton said. "It's obviously not all true, but it's the truth."
So what's true and what's just the "truth"? We're glad you asked.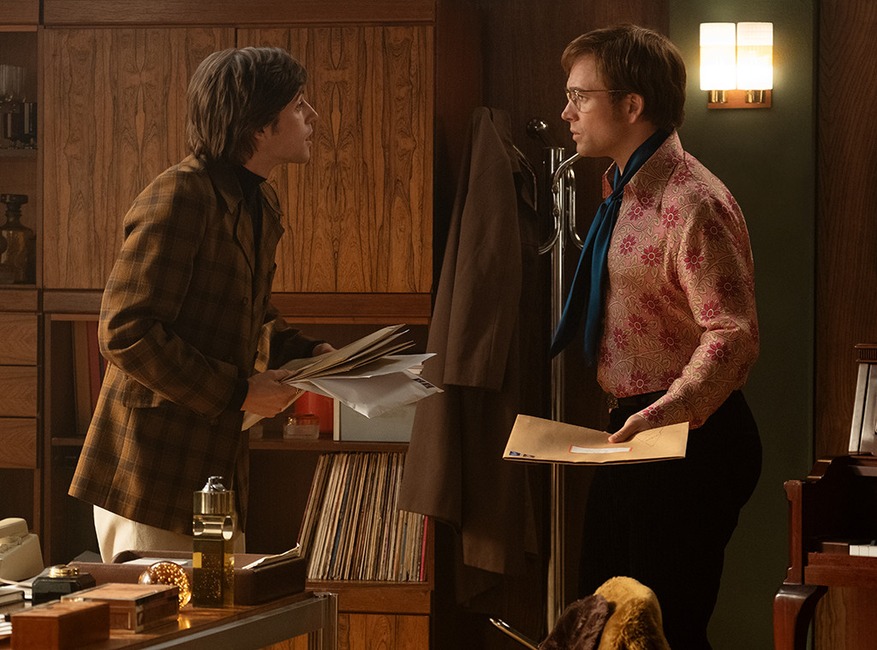 Paramount Pictures
The "John" of It All
In the film, young Reggie Dwight is tired of touring and playing music for other people and hopes to pursue a music career of his own. But he knows that he needs a new name worthy of a star. Taking a fateful meeting inside Dick James' office, we see him come upon the last name John after looking at a framed photo of The Beatles. (Elton was taken from early bandmate Elton Dean.) While the "Elton" portion of that story is accurate, the "John" isn't. His band had been touring with singer Long John Baldry prior to that meeting with Liberty Records A&R manager Ray Williams (held in James' office)—and it's there that his new surname was born. "I said, 'I've got to think of a name. I'm fed up with Reg Dwight I can't be Reg Dwight if I'm going to be a singer, so I've got to think of a name,'" he told Rolling Stone in 1973. "So Elton Dean's name I pinched [Elton Dean was in Bluesology and later the Soft Machine.] and John Baldry's name and I said, oh, Elton John, there you go." In 1972, Reginald Dwight legally became Elton Hercules John.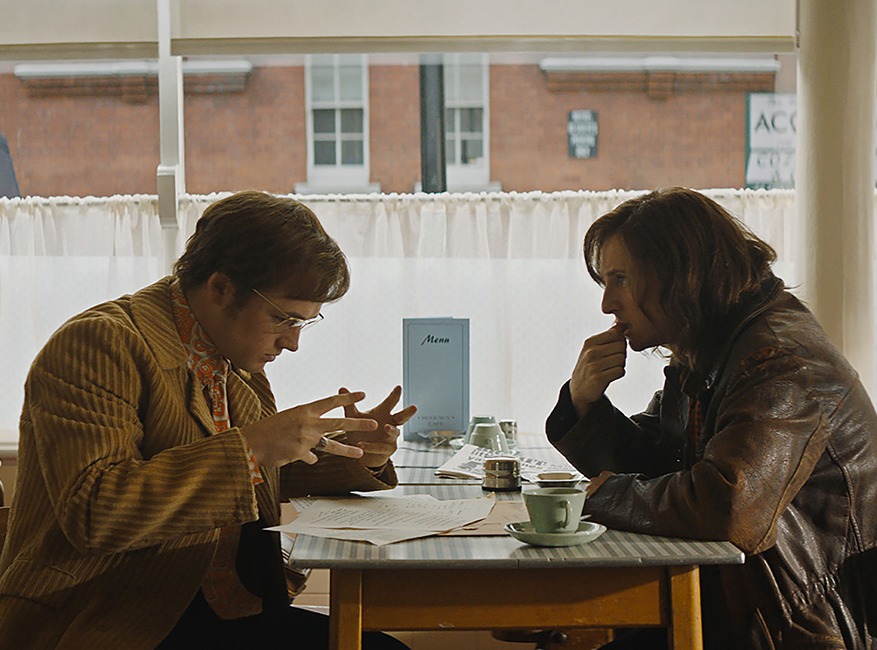 Paramount Pictures
Elton and Bernie's First Gig
While it's true that Elton and Bernie Taupin were thrust together by happenstance after that meeting with Ray Williams, a pianist with a perfect ear in search of his lyricist other half and vice versa, what Rocketman shows them doing next isn't entirely accurate. Before the pair would ever begin writing music meant for Elton to record, they spent two years working as staff songwriters at Dick James' DJM Records beginning in 1968, creating easy-listening tracks for artists like Roger Cook and Lulu. In fact, Lulu sang a John/Taupin track "I Can't Go On (Living Without You) for Eurovision in 1969, coming in sixth. And while Rocketman would have you believe the first song the pair ever wrote together was "Border Song," that wasn't quite accurate either. That track came from their second album, 1970's Elton John. Their first track ever recorded together was 1967's "Scarecrow" and the first album full of the pair's music was 1969's Empty Sky.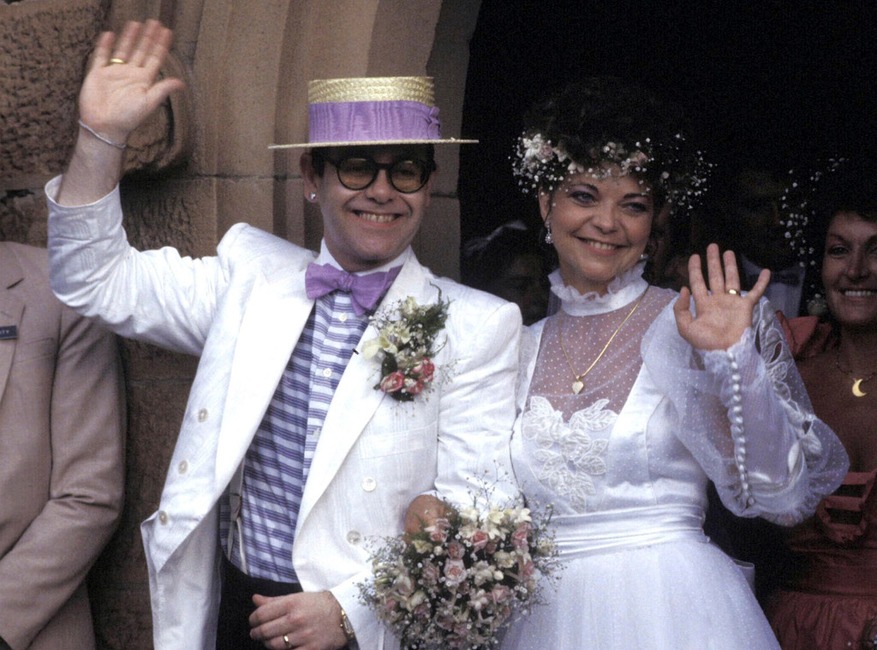 Dave Hogan/Getty Images
His First Engagement
While the film is accurate in showing Elton John's brief marriage to Renate Blauel after meeting her in a recording studio—the union lasted all of four years in real life, while Rocketman devoted one scene to it—it overlooked the fact that he'd been previously engaged to marry another woman much earlier in his life. While he and Bernie were still working at songwriters at DJM Records, Elton got engaged to a secretary named Linda Woodrow. "It was a very stormy six months, after which I was on the verge of a nervous breakdown. I attempted suicide and various other things, during which Bernie and I wrote nil, absolutely nothing," he told RS. "It was a very Woody Allen-type suicide. I turned on the gas and left all the windows open." It wasn't until his namesake John Baldry convinced him that he wasn't in love that he did anything about it and ended things with her. The film replaces Linda with Arabella, a landlady of Elton and Bernie's whom the latter convinces the former he's not in love with, ensuring that Long John Baldry is never referenced in the film once.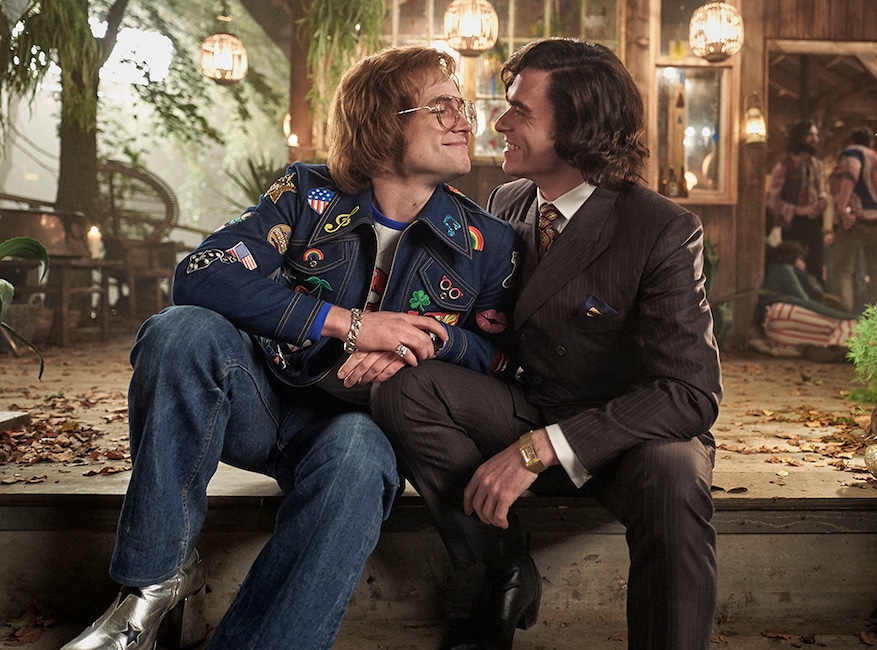 Paramount Pictures
The John of It All
As Rocketman would have you believe, Elton John was discovered by more than just Los Angeles music aficionados during his first career-making performance at Doug Weston's The Troubadour in 1970. As the film shows, that's where Scotsman John Reid first lay eyes on the enigmatic performer, following him to a party at Mama Cass' house before eventually sharing an evening with him in bed, leading to a rocky relationship both romantically and as his manager. In truth, Elton and John first met the Christmas prior, at a holiday party thrown by Motown Records in London. Their first night spent together? Happened in San Francisco. And John's first time seeing Elton perform? A week after that first show in West Hollywood. And while their romantic relationship ended five years after it began, in 1975, John would go on to be Elton's manager until 1998, only breaking ties when it was discovered that $25.2 million was missing from Elton's accounts and he fingered John as the culprit.
"It's not my place to villainize characters. At the same time, there's a great deal of truth in that portrayal," Bernie told TIME of the film's depiction of John. "All I can say is, John Reid should be happy that someone as good-looking as Richard Madden got to play him."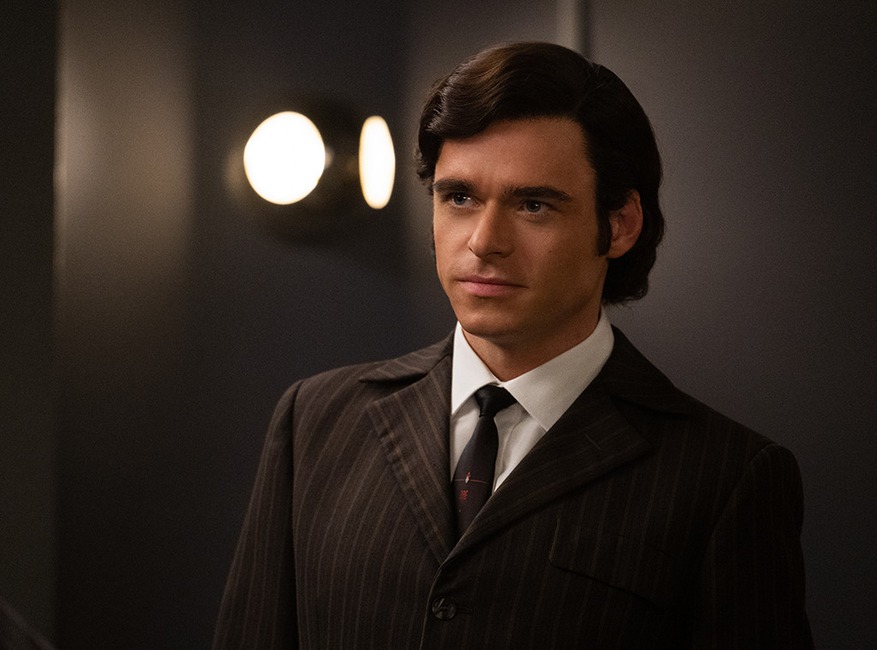 Paramount Pictures
John's Other Famous Client
Oddly enough, this is the second musical biopic in the last year to feature John Reid as a character, though you wouldn't know it unless you put the pieces together yourself. Left out of the Rocketman narrative altogether is the fact that John Reid also served as manager to the band Queen from 1975 to 1978. In Bohemian Rhapsody, John was portrayed by Aiden Gillen, who gets fired when Freddie Mercury's lover Paul Prenter convinces the frontman to go solo, taking him on as manager instead. (It's a move that's oddly similar to what Rocketman purports John convinced Elton to do to Ray Williams and Dick James.)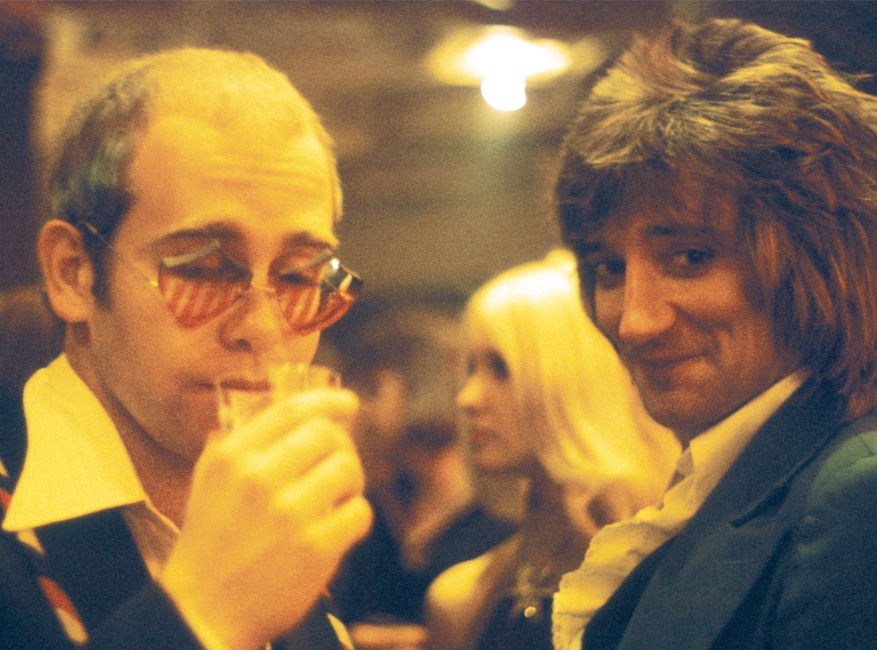 Graham Wiltshire/Getty Images
Elton's Famous Friends
By leaving out any mention of Queen, Rocketman sidesteps the friendship that Elton and Freddie once shared. It also ignores his longtime relationship with Rod Stewart, his legendary collaboration with George Michael, and his close friendship with Princess Diana. But hey, at least Kiki Dee made the cut?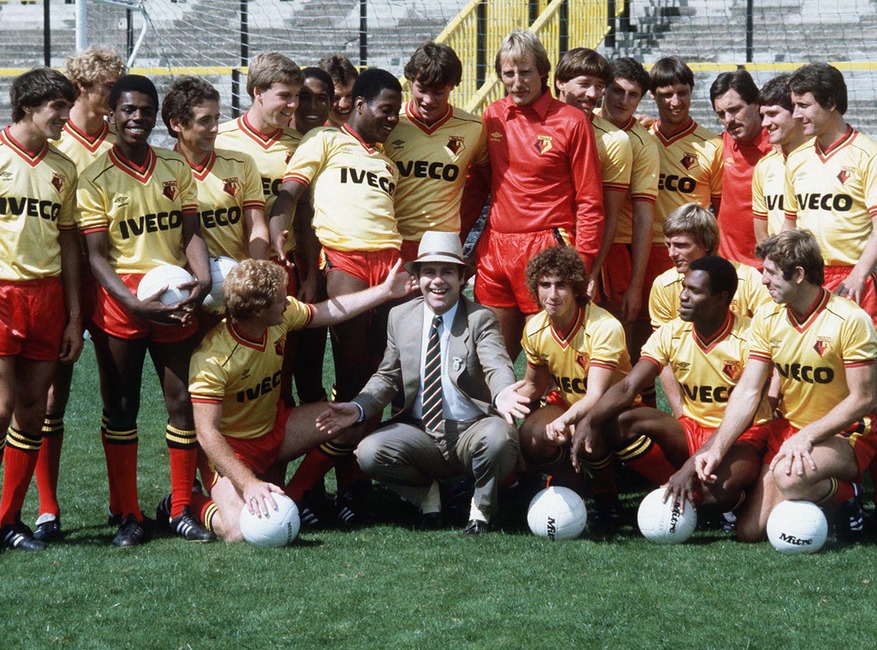 Shutterstock
Elton's Football Friends
Rocketman gets great mileage out of many of Elton's vices both bad (cocaine abuse and bulimia, for starters) and not so bad (shopping), but one of the singer's obsessions left out of the film's narrative entirely is his love of football. After growing up supporting the Watford Football Club, Elton purchased the team in 1976 and became their chairman, appointing a new manager and investing quite a bit of money as they rose in divisions. For a brief time at the same time, he was also part-owner of the now-defunct Los Angeles Aztecs, who played in the North American Soccer League. Elton sold Watford in 1987, though he stayed on as president, before buying them once more in 1997, serving as chairman until 2002.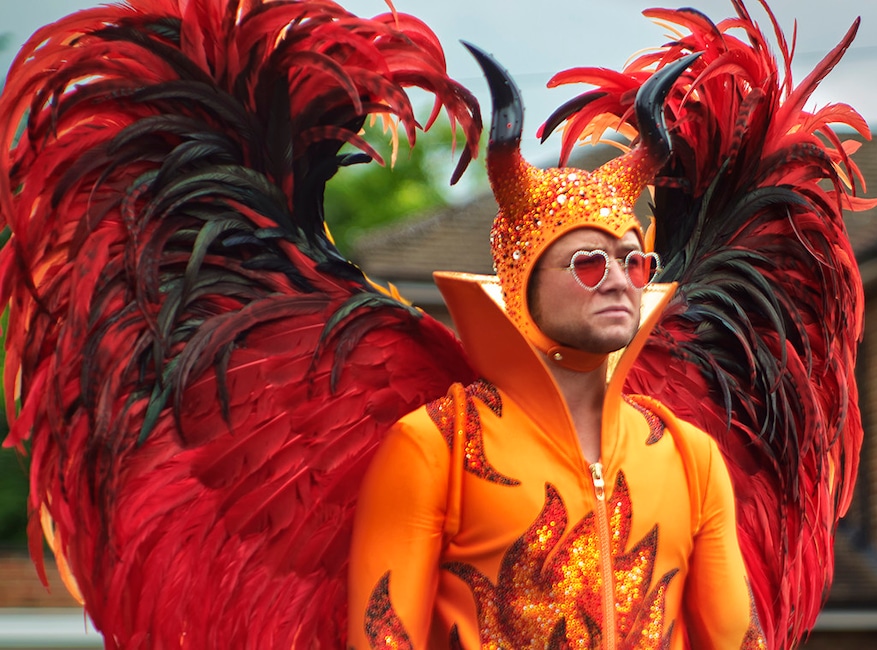 Paramount Pictures
The Rehab Story
While the series of events in Rocketman would have you believe that Elton stormed out of Madison Square Garden in NYC while in full costume just before a show in 1990 and made his way to rehab to finally seek help for his addiction issues, it went a little bit differently in the real world. While it's true that Elton once did cancel a show at MSG, that happened six months before he entered into treatment. And his road to rehab started when Hugh Williams, a lover and fellow addict, decided to check himself into rehab. Angry over what that might mean about himself, Elton didn't handle his first visit to Hugh in Arizona well. But upon a second trip, he realized that he, too, needed help. After finding that no Los Angeles facility was willing to treat both his drug addiction and his bulimia, he found a hospital in Chicago and checked in on June 12, 1990.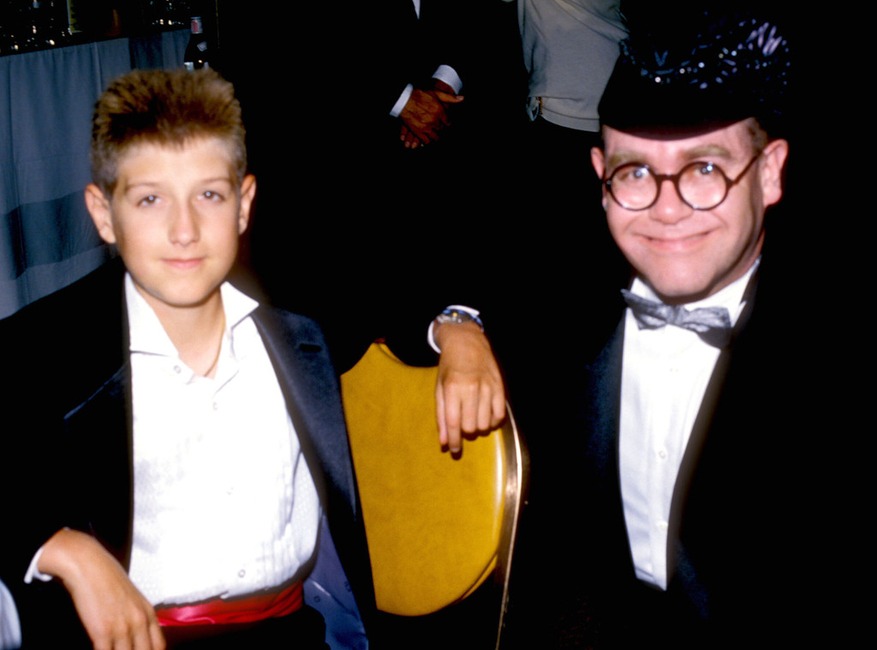 L. Cohen/WireImage
Where's Ryan White?
Hugh Williams wasn't the only one missing from Rocketman's road to rehab. Also omitted from the story altogether was teenager Ryan White, whom Elton became attached to after he and his family made headlines in 1985 when their local Indiana school system barred the AIDS-infected youngster from attending classes. Elton grew so close to the boy and his family that he was at his bedside when he died at 18 in 1990, inspiring him to not only get in the fight against HIV/AIDS, leading to the Elton John AIDS Foundation, but also to consider stop using drugs, if only for a little while. "I was pretty screwed up at the time…getting angry at the littlest thing," he told The Los Angeles Times in 1992. "I couldn't believe that a family who had had so much hatred flung at them and so much bigotry could be so forgiving. I never experienced that before…that amount of love. And it felt good (for me to) be able to contribute. For that week or so I didn't do any drugs or drink. I was too busy organizing things and trying to help."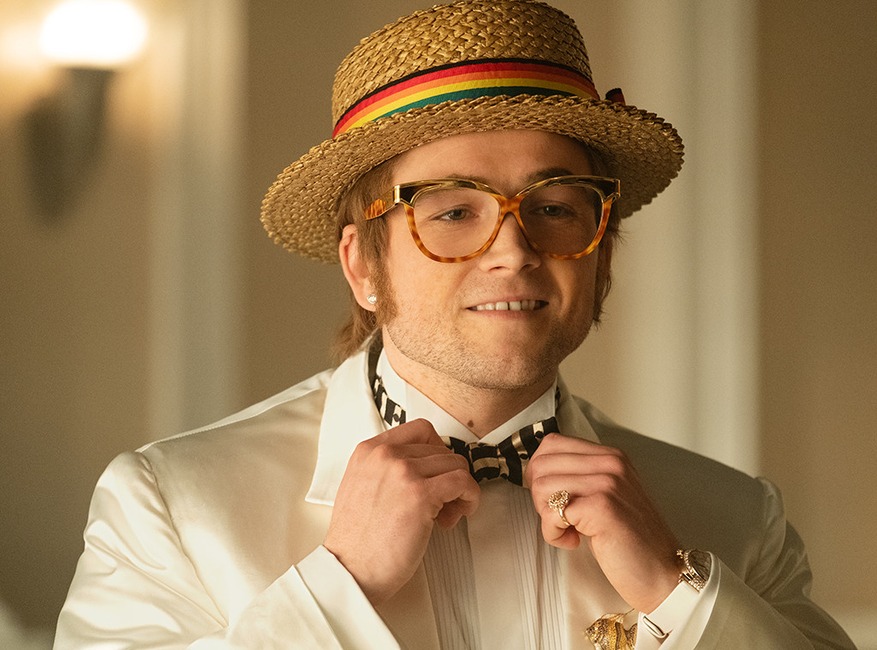 Paramount Pictures
The Musical Shuffle
As Elton leaves rehab at the film's end, finally able to write music again after a visit from Bernie, it's implied that he filmed the music video for the triumphant "I'm Still Standing," with star Taron Egerton recreating the iconic clip shot-for-shot. And that would be a perfect ending if it were true. Unfortunately, "I'm Still Standing" was recorded in 1982 and released a year later, years before Elton would even consider getting treatment. It's one of many instances where Elton's iconic music is used to further his story along outside of their own timelines. Take "Crocodile Rock," for instance. The track plays a pivotal role in the first performance at The Troubadour. Only problem? It wasn't released for another three years after that night. And the usage of "I Want Love" at the top of the film, with young Reggie Dwight's entire film joining in the chorus on the forlorn song? Well, considering that song didn't come out until 2001, it's just another bit of artistic license as well.
Rocketman is in theaters now.