Google's Stadia Game Streaming Service Looks Like a Real Console Contender. But Will It Work?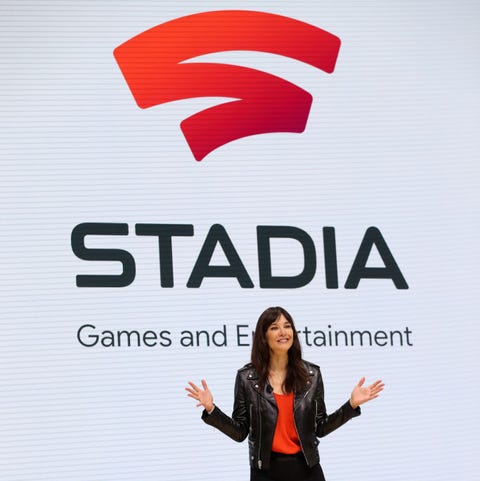 Justin SullivanGetty Images
Back in March, Google unveiled to the world what it called the "future of gaming," Google Stadia. Many assumed it would be a console, but the towering tech company revealed that its forward-thinking vision for gaming would be a streaming service, not a "box." This week, Google held its first Nintendo-style Direct ahead of E3, finally addressing many of the lingering mysteries about what Stadia is, how much it's going to cost, and how it's actually going to work.
If what Google says is true, Stadia really looks like it could be the cloud-based service that splinters the industry. It could change the way we think about video game platforms, eradicate the already-archaic-feeling console tradition, and save us all some serious shelf space beneath our flatscreen TVs.
Stadia, which will be released in November 2019, is a streaming service that allows users to play games across a variety of web browsers, devices, and internet-connected screens—similar to a Chromecast. Google will take on the bulk of the processing demands and deliver the game experience directly to your device, no installation or firmware updates necessary. Its Direct confirmed that Stadia will launch with at least 31 games from top developers, showcasing huge titles like Destiny 2, Mortal Kombat 11, and Tom Clancy's The Division 2.
Stadia will function as something of a subscription service, but it won't act exactly like Netflix. Like other streaming giants, the service will have a monthly price tag, but it will also make use of a digital storefront where you can buy your games piecemeal for retail prices similar to top-tier console titles. For instance, the "Founders Edition" of Stadia will cost $130 for the hardware (which includes the controller and a high-end Chromecast dongle), three months of the service, with a $10 monthly price tag after that. To make things more confusing, Stadia will eventually have a free library as well. So while people expected Stadia to be the "Netflix of gaming," it's probably more accurate to say Google's using the "Amazon Prime" model.
If you don't want to spend $130 for the "Founders Edition," Google says that a seemingly free iteration of the service will be coming around eventually. Google devices such as Android phones will get the app, and you won't be limited to the pricey Stadia controller, because Stadia can be played with many of the big Bluetooth controllers—PS4 and Xbox One included. According to the Verge's reporting, the service may eventually hit Apple TVs, Rokus, and other big devices as well.
But the announcement that seems to be giving people the most pause is the bonkers bandwidth and streaming details for the service. Google is saying that with a WiFi connection of 35 Mbps, Stadia will provide 4K HDR video at 60 frames-per-second and 5.1 Surround Sound audio. Even at the dinky WiFi rate of 5Mbps, the company says Stadia will run at 720p with 60 fps. Some of us can still barely stream 1080p video to our Macbooks.
Time will tell if Google is full of shit on this. If it's not, Stadia could really, really, rattle the cages of the industry.