10 Gift Ideas for the Dad Who Loves James Bond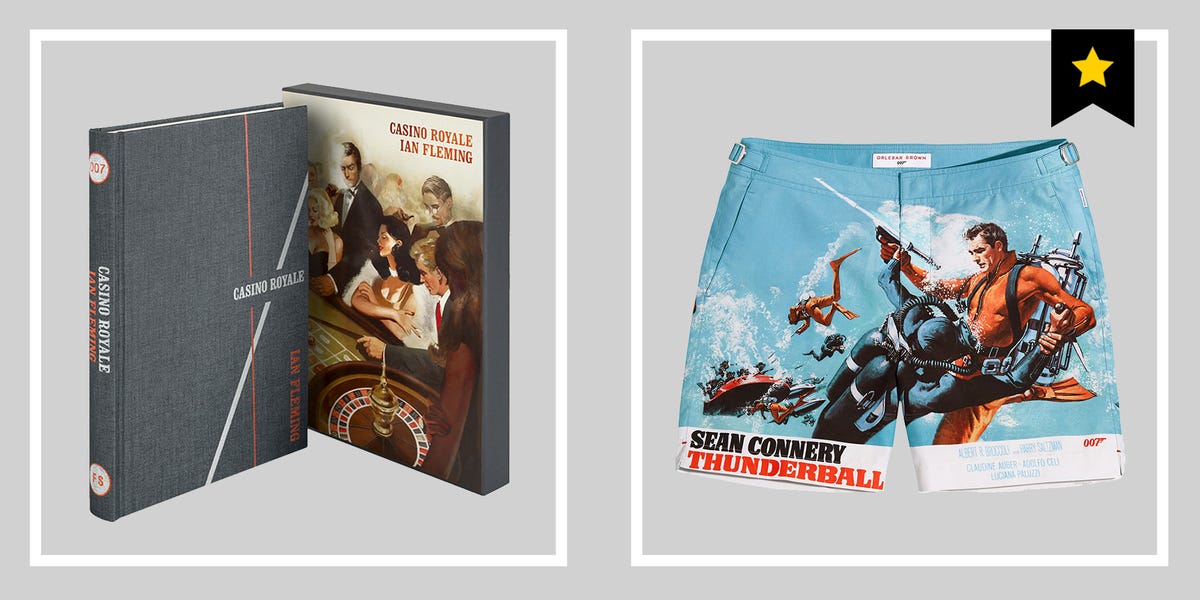 Dad is a big Bond guy. He knows all 104 Bond baddies (and would probably has a few choice words about Esquire's Bond Villain ranking). He has strong feelings about which actor pulled off 007 the best (and definitely would get impassioned reading Esquire's Bond Actor ranking.) He likes a Vesper cocktail in theory, even if the thing tastes pretty damn bad in practice. He dreams of driving an Aston Martin. Or maybe he's simply content to while away a Sunday afternoon watching James Bond movie marathons. For the dad who will never get sick of making "The name's Bond. James Bond." jokes, here are 10 Father's Day gifts he'll get a kick out of. You might even consider having a father/son Bond movie binge watch next weekend.
Golden Gun Keyring
007 Store
007store.com
$19.99
This, of course, is the golden gun from 1974's The Man with the Golden Gun. It won't do much to assist villains, but it will keep keys in check.
'Diamonds Are Forever' Bone China Mug
James Bond
amazon.com
$8.94
Diamonds are forever, and so is hot coffee. Dad can start every day right with this mug.
James Bond 007 Lighter
This lighter may not be a hidden weapon or contain a secret code. But it will produce a flame, which is enough for any secret agent to work with.
Jams Bond 007 Eau de Toilette Spray
James Bond
amazon.com
$32.50
If dad ever wanted to take the aura of Bond and bottle it up into a cologne, well, here it is: The official James Bond Eau de Toilette spray for all aspiring secret agents.
'Casino Royale' by Ian Fleming
Folio Society
foliosociety.com
$62.95
Ian Fleming's book Casino Royale was the first introduction the world ever got to Agent 007. Folio pairs the text with stunning artwork and a svelte slip-on cover to make this book a real collector's item.
'James Bond Collection' on Blu-Ray
On the off chance dad hasn't seen all the movies, this box set will get him all the way up to Spectre, the most recent Bond film. And if he has seen them all, well, there's nothing like rewatching a beloved classic.
'The James Bond Archives'
From 1962's Dr. No to 2015's Spectre, this gorgeous coffee table book from Taschen collects rare behind-the-scenes photos from movie sets, and pairs them with storyboards and personal anecdotes from all the people who worked on them. Even if dad's watched all the films, he'll still learn something from this.
James Bond Aston Martin DB5 Building Kit
What is a spy gadget really but a high-tech toy? Speaking of high-tech toys, LEGO made an Aston Martin kit that's decked out with gadgetry, like rotating license plates and an ejector seat. It's a project worth digging into.
'Shaken Not Stirred' Framed Print
by Peter Ruck
onekingslane.com
$362.00
Roger Moore was the best Bond. Don't deny it. This framed photograph by Peter Ruck of the longest-serving Bond jovially sipping a cocktail will look cool as hell in dad's study or office.
007 'Thunderball' Mid-Length Swim Shorts
Orlebar Brown orlebarbrown.com
$395.00
Orlebar Brown recently launched an entire 007 clothing collection, including the blue romper Sean Connery rocked in Goldfinger. But these swim trunks from Connery's speargun-wielding escapades in Thunderball are the winner. Unfortunately, the material won't fend off any underwater knife attacks.