Yo Ho, Yo Ho, It's Johnny Depp's Birthday! See All of His Iconic Roles Over Three Decades to Celebrate
Moviestore Collection/Shutterstock, Snap/Shutterstock, Disney
Argh, matey! Everyone's favorite pirate is celebrating his birthday and we are trying so hard not to sing "A Pirate's Life for Me" in celebration.
Since today is the one and only, Johnny Depp's 56th birthday, we are diving deep into the legendary actor's long and fruitful career.
Beginning in the early 80s, the Kentucky native started popping up all over the big screen. After having success with 21 Jump Street, Depp left television behind after four years, making the '90s and beyond his big screen era.
Along the way the mega star has made fans out of all different kinds of people based on the diverse characters he has played. He's made ladies swoon as Cry-Baby in 1990's Cry-Baby and had us questioning so many things with Edward Scissorhands.
He has portrayed real-life characters in films like Blow and Finding Neverland, and he was always able to make each role totally his own.
From getting the kids vote by playing Captain Jack Sparrow in the Pirates of the Caribbean franchise to getting musical in Sweeney Todd and Into the Woods, Depp really can do it all.
He is a master of his craft and year after year we continue to be impressed at all that he takes on and all that he manages to excel at.
So, it's time to raise your glass and toast to the birthday boy while enjoying a journey back through Depp's memorable career below.
PS: You can, and should, vote for your favorite role from Depp once you're done…no matter how hard it is to choose just one!
New Line Cinema
A Nightmare on Elm Street
In 1984, Johnny Depp appeared in his first movie and it was a big one. In A Nightmare on Elm Street a group of friends, including Glen Lantz (Depp), are haunted and tormented by a killer in their dreams named Freddy Krueger, who is picking them off one by one!
FOX
21 Jump Street
From 1987 to 1990, Depp took over TV screens as Officer Tom Hanson, a young-looking cop who worked at 21 Jump Street, a special investigation unit known for having their officers go undercover as teens or college students to stop crime.
Universal Pictures
Cry-Baby
In 1990, Depp played everyone's favorite, dreamy bad boy, Cry-Baby. After he falls for good girl Allison (Amy Locane), he must face off against her former flame and prove he's not just a delinquent from the wrong side of the tracks.
Moviestore Collection/REX Shutterstock
Edward Scissorhands
Edward Scissorhands is one of Depp's most iconic films to date and the first of many he did with Tim Burton. In the movie, he plays Edward, an artificial man who was constructed with scissors for hands. He lives alone until one day a suburban woman meets him and brings him into her world.
Mgm/Kobal/Shutterstock
Benny & Joon
After her brother Benny (Aidan Quinn) can no longer care for her and caretakers keep quitting, Sam (Depp) enters Joon's (Mary Stuart Masterson) life and despite her mental illness and challenges she falls for him, his eccentricities and outrageous lifestyle.
ZUMA Movie Stills Library
What's Eating Gilbert Grape
Following his father's death, Gilbert (Depp) must take care of his family including his mentally-challenged brother Arnie (Leonardo DiCaprio) and his obese mother. Despite living in Endora, a place where nothing happens, everything seems to happen to Gilbert including finding love unexpectedly.
Touchstone/Kobal/Shutterstock
Ed Wood
This black-and-white film shows the life of the ambitious, but troubled, real-life director Edward D. Wood Jr. (Depp) as he tries to become a success without any real talent.
Moviestore Collection/Shutterstock
Dead Man
After murdering a man, accountant William Blake (Depp) is on the run. He eventually encounters a Native American man named Nobody (Gary Farmer), who helps him prepare for his journey into the spiritual world and see his new life as ruled by the gun.
Mandalay Ent/Baltimore Pics/Kobal/Shutterstock
Donnie Brasco
FBI agent, Donnie Brasco (Depp) goes undercover to infiltrate the mob and after years of working up the ladder he finds himself fitting in better with his mafia life and pushing aside his regular one.
Peter Mountain/Universal/Kobal/Shutterstock
Fear and Loathing in Las Vegas
An oddball journalist (Depp) and his crazy lawyer take a road trip to Las Vegas from Los Angeles and experience a bunch of psychedelic escapades all while searching for the "American Dream."
Clive Coote/Paramount/Mandalay/Kobal/Shutterstock
Sleepy Hollow
The iconic tale of Ichabod Crane (Depp) investigating the decapitations in Sleepy Hollow at the hands of the Headless Horseman comes to life in this 1999 film.
Moviestore Collection/Shutterstock
Chocolat
When a single mother and daughter move to a small town in France and open a chocolate shop, the locals are skeptical and want to keep their village set in its ways. Little by little the chocolate inspires the people to abandon their old ways and give into desire and temptation. When an Irish gypsy (Depp) arrives in town, Vianne (Juliette Binoche), the chocolate shop owner, gives into her own desires.
Lorey Sebastian/New Line/Avery Pix/Kobal/Shutterstock
Blow
Based on a true story, Blow shows how American George Jung (Depp), along with the Medellin Cartel and Pablo Escobar started the cocaine market in the 1970s in the United States.
Globe Photos/ZUMAPRESS.com
From Hell
Set in Victorian-era London, From Hell is a thriller about Inspector Frederick Abberline (Depp), a clairvoyant detective, as he investigates the murders of Jack the Ripper.
Disney Enterprises
Pirates of the Caribbean: The Curse of the Black Pearl
In 2003, Depp took on the role of Captain Jack Sparrow and his life was never the same. In the first Pirates of the Caribbean film, Captain Jack teams up with blacksmith Will Turner (Orlando Bloom) to save Will's love, the governor's daughter Elizabeth Swan (Keira Knightley) who was kidnapped by Jack's former pirate allies, who are undead and trying to break their curse.
Miramax Films
Finding Neverland
This biographical family film focuses on the story of playwright Sir James Matthew Barrie's (Depp) friendship with a family in 1903 London who inspired him to create Peter Pan.
Warner Bros. Pictures
Charlie and the Chocolate Factory
Based on Roald Dahl's legendary book, Charlie and the Chocolate Factory is the re-imagined story of a boy named Charlie (Freddie Highmore) who wins a chance to see inside of candy creator Willy Wonka's (Depp) factory and all of the magic that comes with it. This film was done by Burton and was just as trippy and wild as you'd expect.
Disney
Pirates of the Caribbean: Dead Man's Chest
In 2006, the second Pirates film was released. This time Captain Jack Sparrow (Depp) must race to recover the heart of Davy Jones (Bill Nighy) in order to keep himself from becoming a slave to Jones forever.
Disney
Pirates of the Caribbean: At World's End
At World's End follows Captain Barbossa (Geoffrey Rush), a former enemy of Jack Sparrow (Depp), Will Turner (Bloom) and Elizabeth (Knightley) as they sail to the edge of the map. On their journey they are trying to avoid treachery and betrayal all while searching for Jack ahead of one last battle.
Leah Gallo
Sweeney Todd: The Demon Barber of Fleet Street
The musical is every bit as sinister and wild as you remember it thanks to Burton and Depp's collaboration. In the film, Depp plays Benjamin Barker, who after being falsely accused of a crime ends up in jail and his wife and daughter's lives are ruined by the judge to put him behind bars. Once out of prison, Benjamin becomes Sweeney Todd, opens a barber shop in London and seeks revenge through murder on anyone who hurt his family.
Universal Studios
Public Enemies
The biographical action film focuses on the Feds trying to take down American gangsters John Dillinger (Depp), Baby Face Nelson (Stephen Graham) and Pretty Boy Floyd (Channing Tatum) during their massive crime wave in the 1930s.
Disney/Kobal/Shutterstock
Alice in Wonderland
When Alice (Mia Wasikowska) returns to the magical world from her childhood adventure, she reunites with old friends like the Mad Hatter (Depp) to try and end the Red Queen's (Helena Bonham Carter) reign of terror. This Burton-led film was followed up by a sequel called, Alice Through the Looking Glass, in which Depp reprised his role.
Columbia Pictures
The Tourist
American tourist Frank (Depp), goes to Italy to mend a broken heart and finds himself falling for Elise (Angelina Jolie), a woman who deliberately crosses his path and ends up making him an accessory to her crimes.
Disney
Pirates of the Caribbean: On Stranger Tides
In 2011, another Pirates movie was released. This time, Jack Sparrow (Depp) and Barbossa (Rush) try to find the fountain of youth, only to find out that they aren't the only ones hunting for it.
GK Films
The Rum Diary
The Kentucky native plays Paul Kemp, a freelance journalist who goes to Puerto Rico for a job in the 1960s. While on assignment he discovers it's not so easy to balance island culture and the expatriates who live there.
Warner Bros. Entertainment
Dark Shadows
After being set free, vampire Barnabas Collins (Depp) returns to his home to find that his dysfunctional descendants are in need of his help and protection.
Disney Enterprises
The Lone Ranger
Of course Depp has done a Western! In The Lone Ranger, Native American warrior Tonto (Depp) tells the untold stories that made man of the law John Reid (Armie Hammer) into the legend of justice known as The Lone Ranger.
Disney/Kobal/Shutterstock
Into the Woods
In another musical, Depp plays the Wolf, one of the many Brothers Grimm characters seen throughout this fairy tale film that follows a baker and his wife on a journey to find magical items that will break the curse an evil witch has placed on them.
David Appleby/Huayi Brothers Media/Infinitum Nihil/Mad Chance Prods/Odd Lot Entertianment/Kobal/Shutterstock
Mortdecai
Charlie Mortdecai (Depp) must juggle angry Russians, the British MI5 and an international terrorist while trying to recover a stolen painting that could have a code that leads to lost gold.
Warner Bros.
Fantastic Beasts and Where to Find Them
This J.K. Rowling film, focuses on the adventures of writer Newt Scamander (Eddie Redmayne) in New York City's secret community of witches and wizards. It takes place 70 years before Harry Potter reads his book at Hogwarts. Depp made a cameo in the film playing dark wizard Gellert Grindelwald.
Disney
Pirates of the Caribbean: Dead Men Tell No Tales
The final Pirates film in the franchise has Jack Sparrow (Depp) and Will Turner's (Bloom) son Henry (Brenton Thwaites) searching for the trident of Poseidon. At the same time they are being pursued by an undead sea captain and his deadly crew.
Twentieth Century Fox
Murder on the Orient Express
Based on the book by Agatha Christie, Murder on the Orient Express is a mystery about the murder of Edward Ratchett (Depp), an art thief and murderer himself, on a train that has 12 suspects and one detective.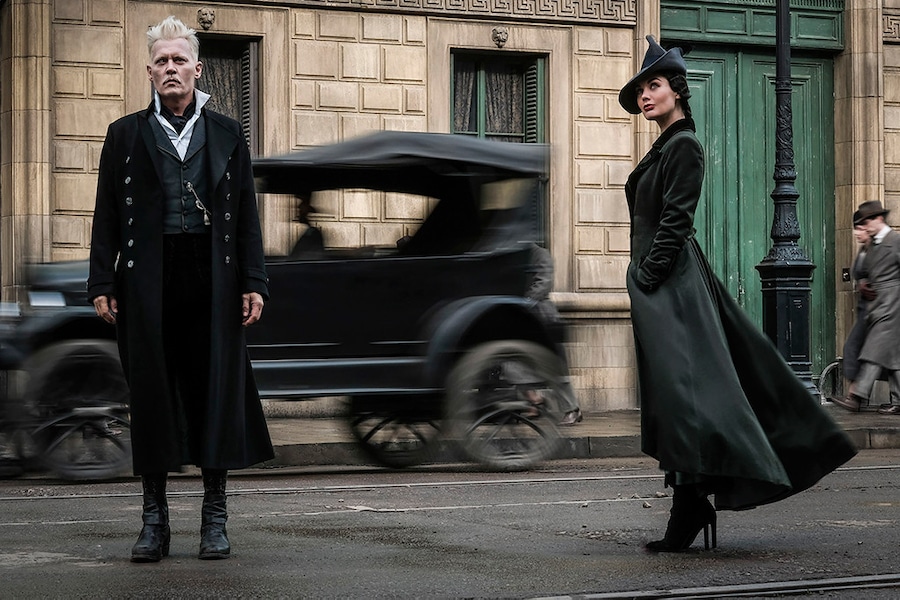 Jaap BuitendijkWarner Bros.
Fantastic Beasts: The Crimes of Grindelwald
In 2018, Depp's character, the evil Grindelwald, makes his real debut in the Fantastic Beasts world. In the film, Albus Dumbledore (Jude Law) and his former student Newt Scamander (Redmayne) team up to try and stop Grindelwald's plans of raising pure-blood wizards to rule over all the non-magical people.