The 16 Best Shampoos for Every Type of Hair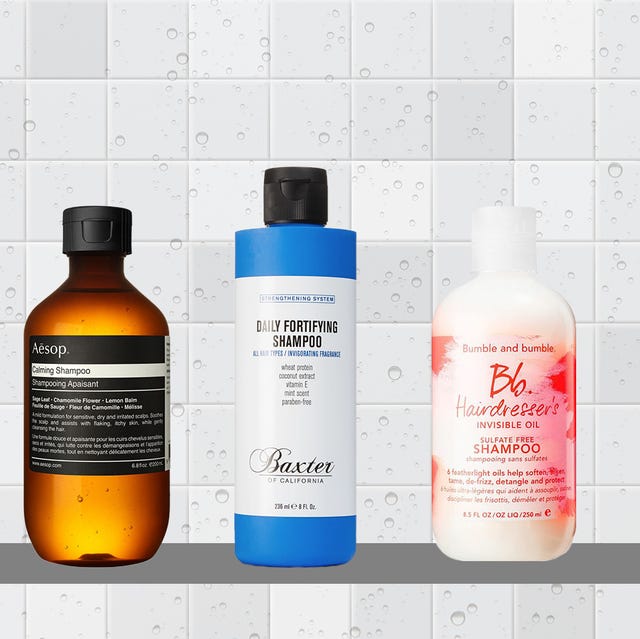 Courtesy
There are many elements that help make up a great head of hair. Of note: shampoo. It's not just the product that cleans out dirt, sweat, and pollution, but it also has a profound impact on how well your hair dries, styles, and holds its look. That means it's important to remember that while everyone needs a shampoo, not all shampoos are made for every type of hair. Take a look at your hair: Is it curly? Dry? Thinning? Flat? Whatever kind of hair you have should dictate the type of shampoo you're using to wash it. This will help emphasize the parts of your hair that are great, and deemphasize the parts that maybe aren't quite so great. Here are 16 shampoos to get you started.
Advertisement – Continue Reading Below
Budget Pick
OGX Nourishing Coconut Milk Conditioner
Some inexpensive shampoos skimp in both price and quality, but OGX's never does. The coconut milk and oil pump moisture into your hair even as you shampoo, and it makes it smell next-level good. For less than $10, there's no better buy.
Dove Daily Moisture Shampoo
$12.95 for four
amazon.com
If your hair leans on the dry side, a shampoo with hydrating ingredients can help it get smooth. Dove's daily moisture line cleanses your hairs and scalp without stripping them of necessary oils.
Best for Dandruff
Tea Tree Lemon Sage Thickening Shampoo
Tea Trees' products were designed to home in on common hair problems—notably, flakes, dandruff, and thinning issues. Tea tree is known to be one of the best ingredients for restoring a balanced scalp.
Kiehl's Nourishing Olive Fruit Oil Shampoo
Avocado and olive oil are both known for keeping hair and skin smooth. Kiehl's light formula is perfect for doing just that.
Best Scent
V76 by Vaughn Energizing Shampoo
V76 uses almond butter to smooth out dull and dry hairs. Plus, it smells very good. You might not even need cologne.
For Flat Hair
R+Co Cactus Texturizing Shampoo
If you feel like your hair is often falling flat or gets too shiny, a shampoo can help lift it up before you even touch styling product. R+Co is a master of this, and its texturizing shampoo injects some edge. Skip the conditioner if your hair is naturally soft.
Luxe Buy
Le Labo Hinoki Shampoo
Le Labo just feels expensive, and rightfully so. The shampoo is crafted with high-quality ingredients that clean your hair without disrupting its natural state of being. Macadamia oil, rosemary leaf, and rice extract all work together to keep your hair feeling fresh.
Fresh Seaberry Revitalizing Shampoo
The best part of a great hair wash is a clean-feeling scalp, and Fresh's shampoo capitalizes on that. The seaberry formula feels like a full refresh.
Jack Black True Volume Thickening Shampoo
Sometimes hair just falls out, whether because age, stress, or a combination of both. Jack Black's shampoo formula uses creatine to add bulk and lift to strands.
Best for Thinning Hair
Sachajuan Thickening Shampoo
Hair thinning out in places you'd rather it not? Try a thickening shampoo to bring back some volume. This one also has heat-protecting properties that help maintain its health even as you blow dry.
Most Mild
Davines OI Shampoo
If your hair or scalp is sensitive, try Davines. The brand makes products with as many mellow ingredients as it can.
Best for Everyday Use
Baxter of California Daily Fortifying Shampoo
baxterofcalifornia.com
$33.00
If you're generally free of hair-related issues (no frizzing, thinning, etc.) and just need a good wash, Baxter of California's simple daily formula is a great pick. The vitamin E helps hairs maintain natural moisture.
Aesop Calming Shampoo
Aesop doesn't do excess, which makes shopping for grooming needs more enjoyable than stressful. This calming shampoo is for scalp that tends to be itchy, whether from dandruff or dryness.
Oribe Signature Shampoo
Oribe's shampoo is pricey, but it's good. If you constantly feel like shampoos leave your hair dry, dull, brittle, or anything other than great, give this one a try. It's near-perfect for every kind of hair.
Best for Coarse Curls
Deva Curl Low-Poo Mild Lather Cleanser
Coarse waves and curls call for a different kind of formula. This cleanser is made to handle those kind of strands with its very mild cleansing capabilities. It won't lather like you might be used to, but don't be alarmed—it still cleans just as well, without stripping waves and curls of their shape.
Best for Long Hair
Bumble and bumble Hairdresser's Invisible Oil Shampoo
sephora.com
$31.00
If your hair gets tangled, knotted, or roughed up throughout the day (especially relevant for dudes with longer or thicker hair), Bumble's invisible oil shampoo promotes smoothness, so it can't get jumbled.
Advertisement – Continue Reading Below