The 15 Best Rugby Shirts to Bring a Big Dose of Fun Into Your Wardrobe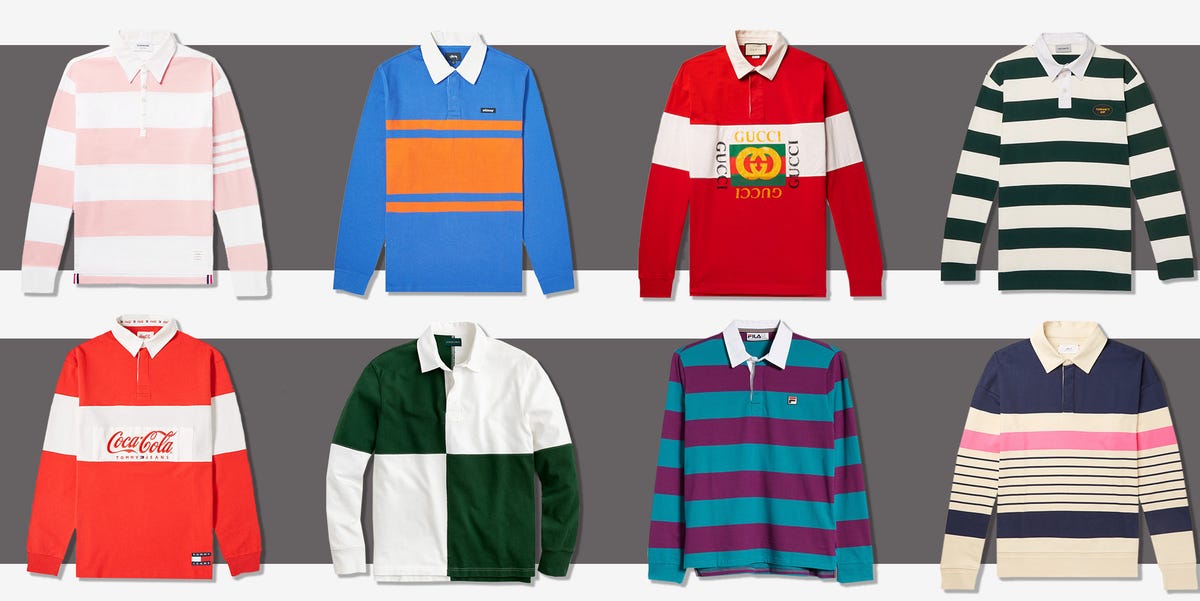 Rugby shirts have arrived with a vengeance this season. The shirt is a classic, but it's gotten a major overhaul recently. There are throwback versions that are great, of course. But there are also new colors, prints, and detailing we normally might not associate with rugbies—which is what makes them so welcome. They're fun. Very fun. So fun you might consider buying a bunch of them, just so your wardrobe has range. For the summer, wear them with a pair of shorts or light wash jeans on cooler days or when you're stuck inside. Then keep 'em around for fall when the bright colors will keep your endless summer alive. Here are the 15 best rugby shirts to shop right now.
Fila Oscar Rugby Shirt
For anything that leans a little bit into a '90s feel, you can count on Fila to do it right. The purple and teal stripes are about as nostalgic as a color combination can get.
J.Crew Always 1984 Rugby Shirt
This J.Crew rugby is just plain cool. If you're looking to steer into the preppy feel (and you should!), this is the most stylish way to do so.
Penfield Cass Rugby Shirt
Light lavenders are very good for summer, and a fun way to add color into a neutral-heavy wardrobe.
Topman Rugby
You can't go wrong with navy and white either. Topman is a no-brainer.
Carhartt WIP Roslyn Rugby Shirt
Carhartt is a workwear-first kind of brand, and it infuses that into everything it makes. This tough rugby included.
Adidas Tanaami Rugby Shirt
Adidas
endclothing.com
$75.00
Rugbies can feel super preppy, but they can also feel sporty. This Adidas take is a good example of the latter.
Bonobos Pique French Terry Rugby
Part of the fun of modern rugbies is that brands aren't shying away from including fresh details. This French terry fabric and sweatshirt-like front pouch is the best way to make the classic shirt feel new.
Tommy Jeans x Coca-Cola Rugby Shirt
The Tommy Jeans x Coca-Cola collaboration is the team-up that keeps on giving. This is one of our favorite shirts of the season.
Stussy Stanley Rugby Shirt
Stüssy leans into the more skate-adjacent feel that some rugbies have. It also presents a fun way to play with color.
Ami Heart Logo Rugby Shirt
If all-over color is hard for you, try any color stripe with white. The neutral addition will help every fit feel grounded.
Mr P. Rugby Shirt
These shirts are great for times where you want to feel put together but don't need to be wearing a suit. This Mr. P take is perfect for a creative office.
Polo Ralph Lauren Polo Rugby Shirt
Or, get one that leans all the way into the off-duty feel, like this Polo take.
Thom Browne Striped Cotton Rugby Shirt
Another great one to dress up, this Thom Browne pink take looks especially good with dressier pants.
Aimé Leon Dore Stripe Rugby Shirt
If you want the guaranteed coolest take on just about anything, look to Aimé Leon Dore. This expertly striped take is strongest with shorts.
Gucci Rugby Shirt
Another one for those who want to go big: Gucci. It's bright red and printed and will make you happy every time you wear it.