13 College-Friendly Backpacks That You Can Still Use When You Graduate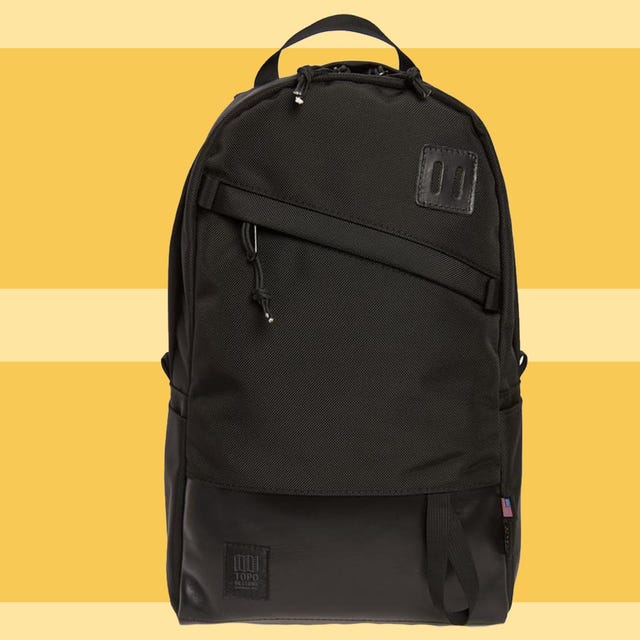 Courtesy
Backpacks for school are no simple matter. Not only do you need them to store books, your laptop, and the like, but you need them to do so effectively, keeping your goods organized and protected all day long. Anything that doesn't weigh you down and hurt your back is all the better. But that doesn't mean they need to be purely functional, either. Nowadays, there's every kind of backpack for every kind of student. Whether you're full-time, part-time, or just taking a class here and there, there's a backpack that will support your academic efforts—and look good doing it. Here are 13 of the best backpacks for college out there now. And, bonus, they're stylish enough that you can keep using them when you graduate and start that first post-college job.
Advertisement – Continue Reading Below
Best Budget Buy
Jansport Right Pack Backpack
Jansport is a no-brainer when it comes to smart, budget-friendly bags. This one has a compartment for your laptop and the bright white is a fresh change.
Most Versatile
Everlane Modern Snap Backpack
Everlane's backpack is good for college and beyond. If you need something roomy enough for books but cool enough for using outside of school, this is the one.
Eastpak Padded Pak'r Backpack
Eastpak
endclothing.com
$79.00
Eastpak's classic shape gets a cool upgrade with leather piping. Like middle school, only better. Much better.
Herschel Supply Co. Berg Backpack
You can't go wrong with a Herschel backpack for school; it's really more up to your personal preference as to which is the best fit for you. We like this one made with a more durable fabric and in a brighter-than-average color.
Best For Commuters
Timbuk2 Authority Backpack
For those who emphasize efficiency over everything, Timbuk2 does the organizing for you. There's a home for your laptop, keys, and all of those pens.
Incase City Commuter Backpack
Incase makes a low-key, highly technical backpack with easy access to all of its contents. There are multiple vertical slots for putting things in without them getting messy in the black hole of the sizable main compartment.
Most Convenient
AER Flight Pack 2 Backpack
Aer's backpack goes beyond just the normal duties of a backpack. Not only does it organize its inside expertly, but it also turns into a crossbody, should you need.
Most Durable
Topo Designs Daypack
Topo's bags are rooted in functionality but always feel more fun than functional. The asymmetrical detailing and ballistic nylon shell make for a cool look, too.
Waterproof
Caraa Stratus Waterproof Backpack
If you're on edge about getting caught in the rain with your school goods, Caraa's waterproof backpack should ease your worries. The exterior has a subtle matte look that won't let the water in.
Best For a Packed Schedule
AllSaints Elsdale Rucksack
Sometimes you're packing for a full day before heading out, and you need a bag that can handle it. Allsaint's rucksack has compartments for all of your daily needs, including two easy-to-access side pouches.
Tumi Harrison Webster Backpack
For part-time students heading to class from the office, having a bag that works in both situations is essential. You can never go wrong with a minimal one from Tumi.
Troubadour Nylon Backpack
If you're looking to go high-quality, head to Troubadour. The brand's accessories are streamlined and made with durable materials. This one is a navy waterproof nylon and Italian leather.
Best For Work and School
Saint Laurent City Canvas Backpack
matchesfashion.com
$895.00
For the backpack that works for class, meetings, travel, and, well, all activities you might attend on a given day, there's nothing more malleable than a cool black Saint Laurent backpack. The canvas keeps it a little bit more casual—but still tough and professional.
Advertisement – Continue Reading Below