16 Stylish White Pieces to Wear All Summer (and After Labor Day)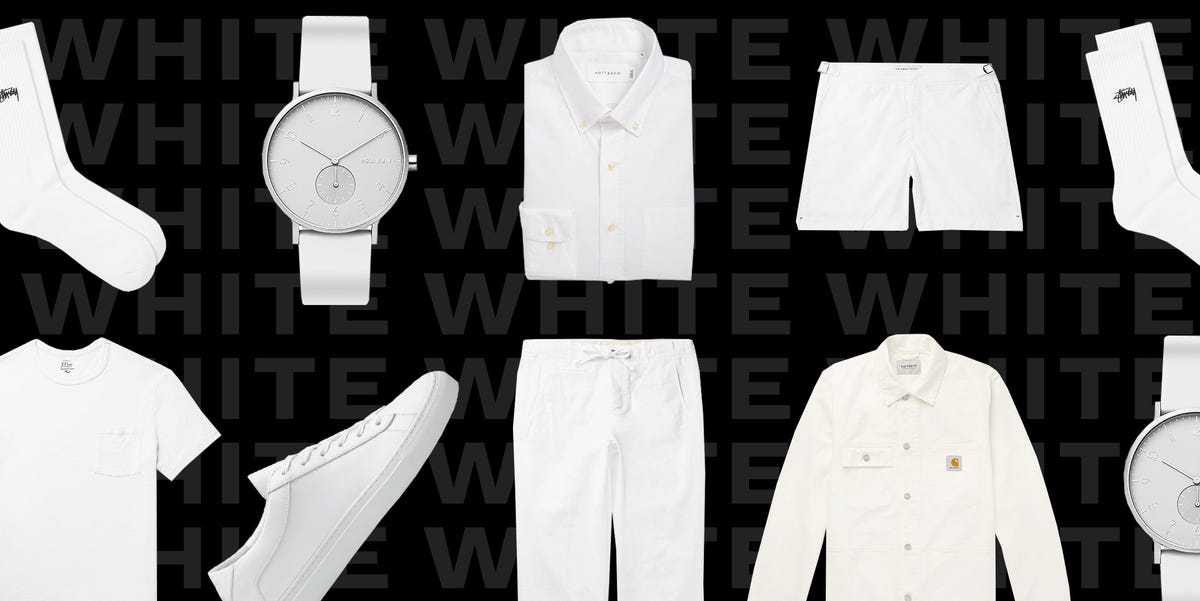 The new rule of fashion is that there are no rules. Truly. Certain moves—like wearing white after Labor Day—used to be a signifier that you didn't much care for societal strictures. Now, it seems as outmoded as only wearing black for funerals and denim for mining. Let white-colored clothing live! And let it live all year long. That's why you should stock up on lightly colored pieces that you can wear all summer—and keep wearing long after Labor Day has come and gone. Here are 16 of the best white pieces that work for you, no matter what time of year.
Adidas Relaxed Baseball Cap
White accessories lighten up any wardrobe. Wear this to the beach, barbecue, and baseball games.
Stüssy Crew Sock
The white crew sock is a full fashion move. It's part of the new "fun" sock mentality: "Fun" meaning the sock is a fun part of your outfit, but isn't done up any sort of cheesy pattern.
J.Crew Slub Cotton-Jersey T-Shirt
If bright white pocket tees are wrong, it's not worth being right. Bring this lightweight, short-sleeve one right into fall.
Urban Outfitters Twill Backpack
urbanoutfitters.com
$39.00
If you're not on board with all-white outfits, a backpack is a subtle way to lighten things up.
Everlane Linen Band-Collar Shirt
When it comes to a classic look, it's hard to beat a simple white shirt, no matter the time of year. Pair this band-collar one with black jeans or trousers and, when it gets cold, layer it with a denim or leather jacket.
Mott & Bow Slim Button-Down Shirt
There are few articles of clothing more versatile than a white oxford cloth button-down. Dress it up with a blazer, dress it down with jeans, go prep, go skater—it doesn't really matter. A white oxford will work with just about anything you choose.
Vince Slub Polo Shirt
White polos are just as good alone in the summer as they are layered in the fall. Button it up and wear it under a leather jacket when the weather gets cool.
Skagen Aaren Kulør Rubber Strap Watch
We're so accustomed to watches being neutral enough for everyday wear that we might be missing out on bolder options that are really fun. White, for example, stands out without overextending.
Tommy Jeans 6.0 Crest Heritage Belt Bag
Even if you're a fanny pack resister, this classic Tommy one works for the beach and beyond (like sort of sporting event where your bag size is limited).
Saturdays NYC Loopback Sweatshirt
Saturdays NYC
mrporter.com
$115.00
A white crewneck sweatshirt is great for the later days of summer, and looks cool layered under more structured jackets in the fall.
Hugo Boss Slim-Fit Shorts
There's also this misconception that Labor Day marks the end of summer weather, which just isn't true. For those 80s-and-above days, a pair of white shorts will do your weekend good.
Carhartt WIP Michigan Chore Jacket
Whether for summer nights or post-Labor Day transitional weather—you can't go wrong with a cool chore jacket, like this one from Carhartt WIP. Manual labor not necessary.
Rag & Bone Standard Issue Beach Cotton Shirt
If you're already stocked on oxford shirts, a short-sleeve version is a fresh take on the idea. Wear it open with shorts and tees in the summer, and under jackets come fall.
Man 1924 Tomi Cotton Drawstring Trousers
White pants are a move, no matter the season. You don't actually need to be on the Amalfi coast to feel like you are while wearing these cotton drawstring ones.
Orlebar Brown Bulldog Mid-Length Swim Shorts
Of course, bright white swim shorts are another easy way to wear the color without having to worry about the day-to-day spillage you might with a more vulnerable white tee. Wear 'em with solid color tops for as long as you can.
Koio Capri Triple White Sneakers
White sneakers after Labor Day? Of course. The truth is, we live in a world where white sneakers are a year-round go-to. After all, nothing makes an outfit pop like this minimalist favorite.