Here Are All the States That Have Legalized Weed in the U.S.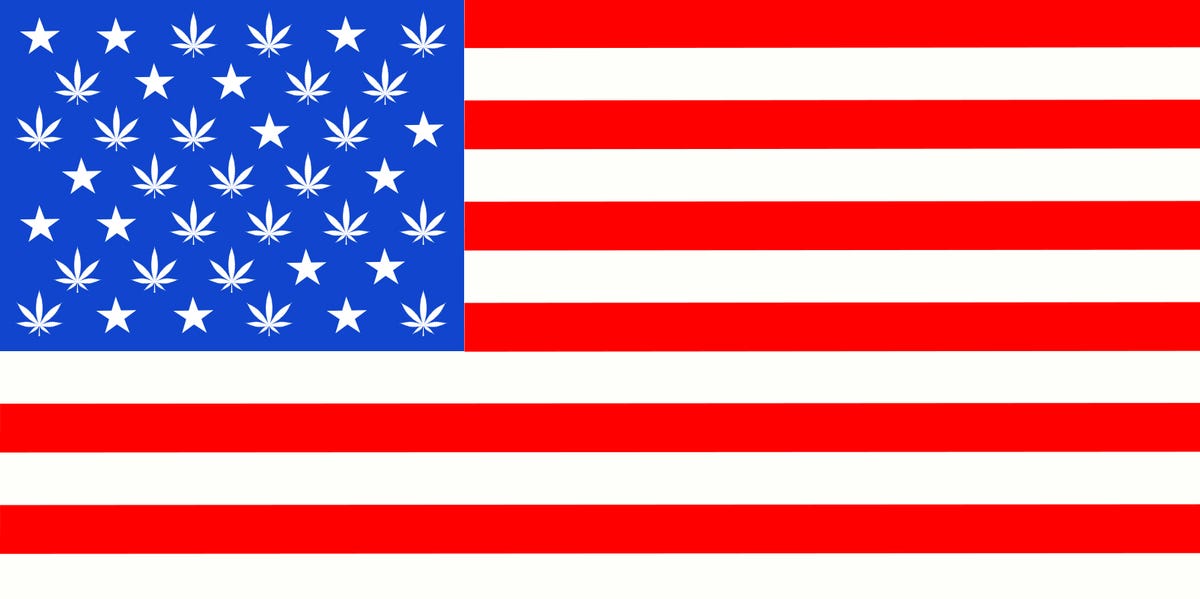 Illinois just became the eleventh state in America to legalize weed for recreational use, effective on January 1, 2020. At this point, it's hardly a surprise that yet another state has decided to make itself a haven for marijuana users (as well as businesses tapping into the lucrative marijuana market). In fact, the news is practically boring. And that's a good thing!
In the U.S., marijuana legalization is slowly eking out victories on a state-by-state basis. In the 2016 election, which was bad for most reasons but good for this one, four states (California, Maine, Massachusetts, and Nevada) got on board with legal recreational weed, finally joining Colorado and Washington, which legalized in 2012, and Oregon and Alaska, which legalized in 2014. Vermont followed in 2018. (However, its law doesn't allow residents to actually buy recreational weed anywhere; but they can grow it at home.) During the heated 2018 midterms, Michigan added itself to the list.
Instead of relying on the ballot box, Illinois pushed a legal weed bill that allows recreational use and sets up a system for commercial sales through its state legislature. New York and New Jersey are attempting to go this route, too, but with less success.
The federal government is a different story. According to the feds, marijuana is still classified as a Schedule I drug with a "high potential for abuse," right up there with heroin, ecstasy, and peyote. While he was in his Attorney General post, Jeff Sessions, who thinks "good people don't smoke marijuana" and is also a flaming racist, rescinded an Obama-era memo that protected states where marijuana was legal from most federal prosecution.
Session's replacement, William Barr, has been preoccupied with memos, hearings, and general obstruction of justice. Barr did recently say he favored "one uniform federal rule against marijuana," but agreed that a federal act allowing states to make their own laws was a more achievable outcome.
More and more politicians—on both sides of the aisle—are at least trying to gives states the right to decide for themselves. In April, prominent members of Congress introduced the bipartisan Strengthening the Tenth Amendment Through Entrusting States (STATES) Act, which would protect states' rights to determine their own marijuana laws without federal interference. A Democratic presidential hopeful, Elizabeth Warren, is one of its main sponsors.
Senator Cory Booker is drumming up congressional support for much more progressive legislation, the Marijuana Justice Act. It would not only end federal prohibition of cannabis but also attempt to make things right in the marginalized communities most targeted by cannabis arrests.
By the way, Canada officially legalized weed throughout the entire damn country last year. Aren't they just so lucky.
Who knows? Maybe one day our federal government will get it together. Nearly every single Democrat trying to get the party's blessing to go up against Trump is in favor of federal legalization. Until then, here are the 11 states plus the District of Columbia where it's legal to buy and consume recreational marijuana, as well as the 33 states plus D.C. that have approved medical marijuana. (Note: This is a general outline; specifics on homegrown plants, concentrates, etc. differ per state.)
---
States with Legal Recreational Weed
Alaska
legal for adults 21 and over to possess up to one ounce of marijuana
legal to grow up to six marijuana plants per household
California
legal for adults 21 and over to possess up to one ounce
legal to grow up to six plants per household
Colorado
legal for adults 21 and over to possess up to one ounce of marijuana
legal to grow up to six plants per household
District of Columbia
legal for adults 21 and over to possess up to two ounces
legal to grow up to six plants per household
Illinois
legal for adults 21 and over to possess up to 30 grams of marijuana (but only 15 grams for non-Illinois residents)
legal for medical marijuana patients to grow up to five plants per household
Maine
legal for adults 21 and over to possess up to 2.5 ounces
legal to grow up to three flowering plants per household
Massachusetts
legal for adults 21 and over to possess up to one ounce
legal to grow up to six plants per household
Michigan
legal for adults 21 and over to possess up to 2.5 ounces
legal to grow up to 12 plants per household
Nevada
legal for adults 21 and over to possess up to one ounce
legal to grow up to six plants per household
Oregon
legal for adults 21 and over to possess up to one ounce on their person and up to eight ounces at home
legal to grow up to four plants per person
Vermont
legal for adults 21 and over to possess up to one ounce
legal to grow up to six plants per household
Washington
legal for adults 21 and over to possess up to one ounce
illegal to grow plants
States with Legal Medical Marijuana
In addition to the 11 states plus D.C. with legalized recreational weed—and thus are on board with medical marijuana—these 22 states have legalized just medical marijuana:
Arizona
Arkansas
Connecticut
Delaware
Florida
Hawaii
Louisiana
Maryland
Minnesota
Missouri
Montana
New Hampshire
New Jersey
New Mexico
New York
North Dakota
Ohio
Oklahoma
Pennsylvania
Rhode Island
Utah
West Virginia