Before Fall Arrives, Stock Up on These 5 Essential Boots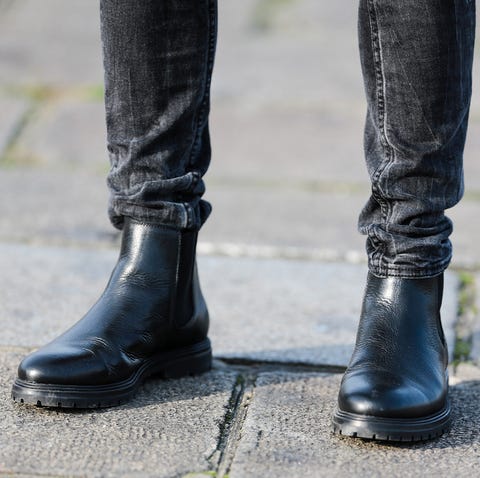 Edward BerthelotGetty Images
It might feel like summer outside, but it's always one season ahead in the world of clothing. Plus, thinking about what you'll be wearing in the fall—Boots! Light jackets! Sweaters!—is one of the many ways to seek refuge from the very, very hot outdoors. Start planning for the fall by getting familiar with boots, a seasonal classic, that can really maximize your style. Whether you prefer something sleek, like a Chelsea boot, or something a little chunkier, like a brogue, here are the five best boots to wear when the leaves start to change.
---
The Chukka
The chukka, or desert boot, has a long and illustrious history as one of the smarter forms of casual (though not too casual) footwear. Perhaps the most famous style icon to wear them on a regular basis was actor Steve McQueen—and copying McQueen when getting dressed is never a bad idea. Wear them in darker tones, like this pair from Tod's, or feel free to get a bit more adventurous with bolder colors.
---
The Brogue Boot
Brogue boots offer perhaps the best way to transition from your summer shoes to something more appropriate for the weather, as the right pair will look like your ordinary brogues, only taller.
---
The Chelsea
Four upstart lads from Liverpool transformed this otherwise inauspicious style of boot into an iconic fashion statement almost overnight, and it remains no less popular to this day. For good reason, too: A good pair of Chelseas splits the difference between summer and fall, as well as formal and informal, proving both versatile and effortlessly stylish.
---
The Lace-Up Boot
If you want a bit of edge, but feel the Chelsea is just too rock 'n' roll, the perfect alternative is a black leather lace-up. It's got a little bit of a punk vibe, but is much dressier than an actual combat boot. And it can be worn with a far wider range of outfits. Dress it up with a suit or down with a pair of faded black jeans. Or if you're feeling a little bolder, white jeans.
---
The Combat Boot
Of course, if lace-ups are still too conservative, just go all out with a classic pair of British combat boots. Thanks to the '90s nostalgia that's all over fashion right now, Doc Marten's are having a serious moment. Try a pair of vintage 1460s—which are still made in the U.K.—if you really want to embrace the punk rock spirit.