The 8 Best Bluetooth Speakers for Listening to Music in the Shower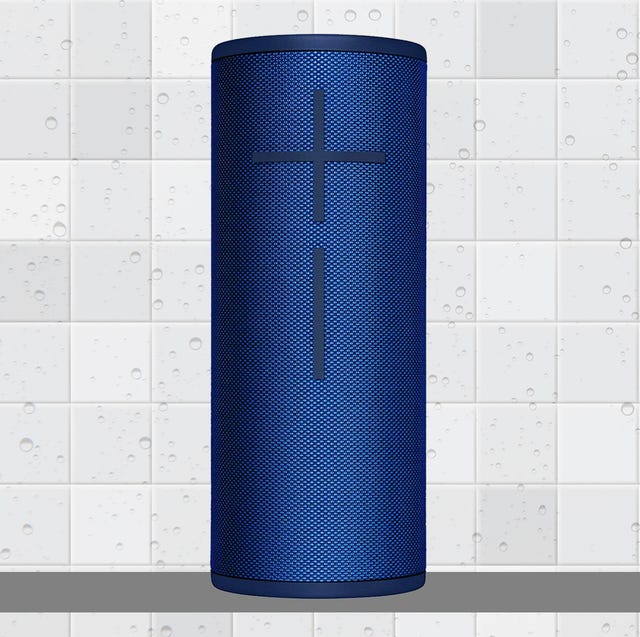 Courtesy
One of life's little luxuries is blasting music while you shower off the bad news and gross subway gunk accumulated over a day out in the world. Maybe it's the newest pop diva playlist. Maybe it's soulful slow jams, because shower time is also solemn reflection time. Maybe it's "Old Town Road" on repeat, forever. No judgement.
What really injects unnecessary stress into that experience is the precarious balancing of your very expensive smartphone on the edge of the tub or the top of the shower door so you can hear the music properly. It's going to fall. It's going to get water damaged. You're not going to want to pay a lot of money to fix that. Instead, pay a little money for a Bluetooth shower speaker that you can keep in the shower.
Since you're probably not interested in unloading a bunch of cash on an intense speakers system for the shower—you'll only need it for a few minutes every day, after all—we rounded up a range of wireless, waterproof speakers that aren't too expensive. But they are easy to anchor in your shower to stream all your shower songs, whatever they may be. Here are the eight best Bluetooth shower speakers to buy now.
Advertisement – Continue Reading Below
SB510 HD Bluetooth Shower Speaker
Soundbot
amazon.com
$14.99
Well, it isn't fancy. But SoundBot's shower speaker does the job, with a suction cup for the bathroom wall and big buttons for easy control. You can even take speaker phone calls while it's in use in your shower. Just, you know, don't.
Battery life: 6 hours
BOOM Swimmer Duo Waterproof Bluetooth Speaker
Polk Audio
amazon.com
$39.99
This speaker is handy because it can be looped around a shower rod, set upright on a shelf, or suction-cupped to a wall. You can even buy two and link them together for surround sound in your bathroom. Hey, it's an option. The BOOM Swimmer Duo is also waterproofed enough to be safe while fully immersed, in case it falls into the bath.
Battery life: 8 hours
GO 2 Bluetooth Waterproof Speaker
JBL's GO 2 is the first of these speakers to offer noteworthy audio quality—it isn't robust sound, but it isn't weak, either. It's fully waterproof, and it's tiny, meaning you can find a place to set it just about anywhere in your bathroom. And with its 12 colorways, it'll match the decor.
Battery life: 5 hours
Soundcore 2 Bluetooth Speaker
For the best sound quality under $40, Anker's Soundcore 2 is a really solid option—especially considering its bass tones. It is waterproof and thus fit for the shower, but you'll need a little more shelf space than, say, the JBL GO 2, since its base is longer. The buttons are nice and big, and the battery life is really superb—fit for hours and hours of longer-than-necessary showers.
Battery life: 24 hours
X21 Bluetooth Waterproof Speaker with FM Radio
The X21 speaker isn't fully waterproof; it's protected against water splashes but not full submersion. If you set it up high or hang it from a safe distance, however, it's safe. Where it really wins is music-playing options. Not only does it connect to your phone via Bluetooth, it also has an SD slot so you can load up MP3 files the old-fashioned way, and it even broadcasts old-old-fashioned FM radio—in case you need to catch up on NPR while you bathe.
Battery life: 10 hours
Clip 3 Waterproof Bluetooth Speaker
There's room on this list for two JBL speakers, because this one is a little better but a little more expensive. Clip it to the curtain or shower head with the built-in carabiner, and it'll fill the bathroom with loud, decent-sounding music. The buttons are nicely tactile, too.
Battery life: 10 hours
SoundLink Micro Bluetooth Speaker
Bose is known for crisp, great-sounding speakers, which, if you're fancy, you can set up in your bathroom. If this little speaker is up to the task of entertaining an outdoor party, it's certainly up to supplying you with music while you shower. The SoundLink Micro is fully waterproof and has a strap you can use to hang it up, but unfortunately, the battery life isn't great.
Battery life: 6 hours
BOOM 3 Waterproof Bluetooth Speaker
Ultimate Ears
amazon.com
$149.99
$119.99 (20% off)
UE's BOOM 3 is just a really good speaker. It isn't built for showers in particular, but if you can spend the money, it's your best option for quality audio with rich bass, intuitive controls, and waterproofing. It sits on a shelf or hangs from a loop (you'll have to buy a clip). Guaranteed that if you buy one for the bathroom, you'll quickly want more for the rest of your house.
Battery life: 15 hours
Advertisement – Continue Reading Below