Here's What You Need to Know Before You Shave Your Head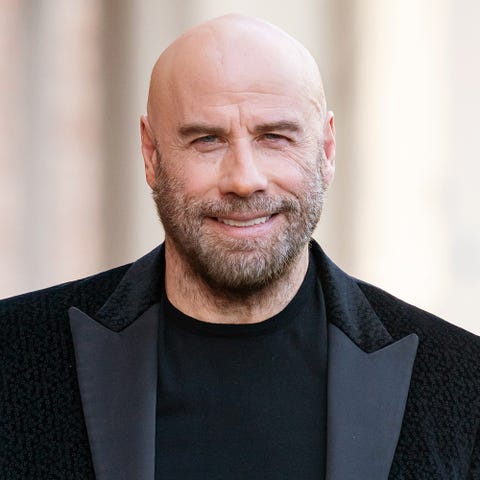 RB/Bauer-GriffinGetty Images
A shaved head can look straight-up badass. It really can. While there are many reasons one might come to consider shaving their hair off—balding, receding hairlines, thinning strands—there's really no bad one. It's low-maintenance, once you go for it. You have to worry about less, too. Less product, fewer pricey trips to the barber, and less headspace dedicated to thinking about whether or not you should shave it. If you're thinking about it, you're probably ready.
Before you go full Travolta (one of the many examples of the power a bald head can have in a man's life), there are a few things to consider. How do you know when the time is right? Should you go to a professional? What do you have to do to maintain it? To answer those questions, we tapped some of the expert hairstylists at Bumble and Bumble in New York City. Here's what they had to say.
Get to know your head shape.
Your head shape has a lot to do with how solid a bald head will look, which only seems obvious once the hair is gone. Minimize any surprises by taking stock of your skull before buzzing your hair off.
"A nice round head shape is best," says Mackenzey Forrey, a stylist at Bumble and Bumble. "Check for bumps, divots, ridges, and flatness. Face shape is not that important; any man can shave his head if he wants." If you don't have a perfectly round head, you can still go fully bald; you just have to get comfortable with your head's natural shape.
But, if you're not sure about going fully bald yet, these details can help inform your choice. As a middle ground, you can start with a super close shave. It'll leave you with some hair, which is enough to balance any divots or bumps.
There is no wrong time to do it.
There's no wrong time to go bald, but there are some more common times guys usually get it done: when hair is thinning, falling out, receding, etc. There are two ways to calm nerves, should you have them. First, go to a barber or hairstylist for a consultation. They can take a professional look at your hair type, scalp, and head shape, and make a recommendation that might ease your mind. Second, remember that it's also just a haircut; buzzing it off doesn't have any follicle-level effect, so you don't have to worry about its permanence.
Do it once and do it right.
You might be tempted to just take any old razor to your head, but not all shaved heads are the same. It's worth heading to a barber shop to do the initial buzzing for you.
"Start by going to a professional," says Andrew McCormick, a stylist at Bumble and Bumble. "The professional can cut the hair you still have to balance out what you're lacking. This requires as much, if not more skill as any other haircut."
Especially if you're not showing all skin and instead going for something a little more buzzed, there's a finesse to getting it right for your hair type and head shape. If, however, you're just going to go for it at home, there are some things to keep in mind.
"Go slowly," says McCormick. "Don't go straight for the scalp level buzz. If you are brave enough to experiment, start with a 1-inch guard and work down from there."
It's low upkeep, not no upkeep.

The best way to ensure the best cut is to start with a barber and keep it up with a barber. Forrey recommends going every three to four weeks, depending on how fast your hair grows. But once the initial cut is done, it's a bit easier to maintain it yourself.
"If the cut is as simple as a 1-inch guard all over and you are the DIY type, you may want to invest in a decent clipper and maintain it at home," says McCormick. "The Wahl Senior is a solid, affordable option. There are [also] many ergonomic razors that fit on the hand or fingers. They allow you to shave safely and efficiently in the shower."
Just make sure to keep a moisturizer on hand and slather on SPF before you head outside.