Darren Criss Returns With New Musical Comedy Royalties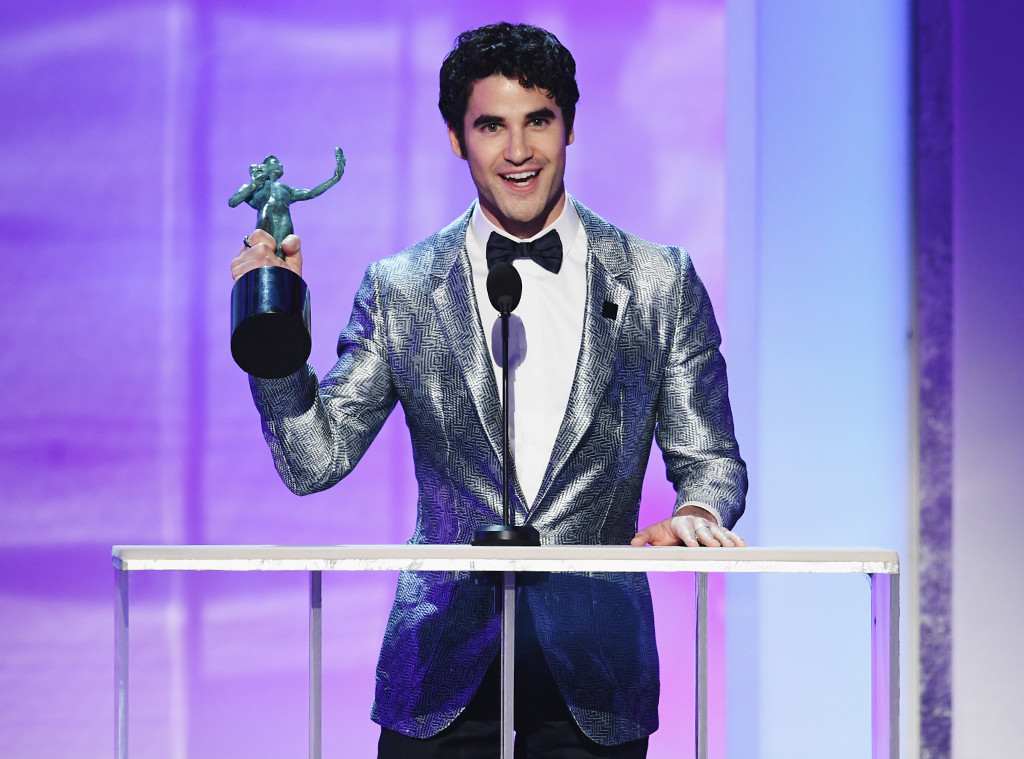 Kevin Winter/Getty Images for Turner
Darren Criss is following up his award-winning turn in The Assassination of Gianni Versace: American Crime Story with a musical. The Emmy winner will executive produce, star in and write songs for Royalties, a new musical comedy for Quibi.
Royalties is described as a "satirical take on the oft-untold story of songwriters behind the world's biggest hits." The show follows the rise of songwriting duo Sara and Pierce (Criss), as they make their way through the various challenges of writing a great song. Each episode will feature real-life music stars playing fictitious and absurd pop stars. The original songs are penned by Criss.
Criss isn't doing this alone. He's working with his Team Starkid co-founders Nick and Matt Lang on writing the series. All three are executive producing with Gail Berman, Hend Baghdady, Joe Earley and Ricky Rollins.
Criss shot to fame with Glee and cleaned up with acting awards when he reteamed with Ryan Murphy for the second season of American Crime Story.
The new series will be on Quibi, a mobile-first streaming platform that will be home to projects designed for on-the-go watching. See what else Quibi has in the works below.
Kelly Sullivan/Getty Images for Facebook
Benedict Men
This docuseries about high school basketball comes from Stephen Curry.
Dimitrios Kambouris/MG18/Getty Images for The Met Museum/Vogue
Elba vs. Block
Idris Elba and Ken Block team for this new car stunt series.
John Parra/Getty Images for Sports Illustrated
Beauty
Tyra Banks will star in and executive produce the new docuseries. In every episode, Banks will tackle different topics about the beauty industry, aiming to take down barriers and challenge norms.
Gary Miller/FilmMagic
Dummy
Anna Kendrick will star and executive produce the comedy about an aspiring writer and a sex doll. Donal Logue and Meredith Hagner also star.
Larry Busacca/Getty Images for Songwriters Hall Of Fame
Justin Timberlake
Justin Timberlake is slated to star in a series where he'll ask singers about what song and singer inspired them to get into the business, then he'll sing a duet with them.
Darren Gerrish/WireImage for Mercedes-Benz and Lena Waithe
You Ain't Got These
Instagram
Kill the Efrons
Zac Efron and his brother, Dylan, are sent to a remote location with no tools to survivor, just the cameras following them. Can they make it work?
Steve Granitz/WireImage
A "Creepy" Steven Spielberg Show
Steven Spielberg is writing the series that's a "super scary story" that will only be available to watch at midnight on Quibi.
Kevin Mazur/WireImage
Chrissy's Court
Chrissy Teigen will preside over her own courtroom series. She'll adjudicate real small-claims cases. Her mom, Villaluck "Pepper Thai" Teigen, will serve as bailiff.
Leon Bennett/Getty Image
Don't Look Deeper
This sci-fi drama series is directed by Catherine Hardwicke and stars Don Cheadle, Emily Mortimer and Helena Howard. The series is set "15 minutes into the future" and follows a high school senior who can't shake a feeling that something isn't right…and she's not human.
Chris Haston/NBC
Mapleworh Murders
Paula Pell, who starred in Wine Country, will play Abigail Mapleworth, a murder-mystery writer who solves the crimes in her small town. Each episode of this comedy features guest victims and suspects. 30 Rock's John Lutz is also starring in the project. Both Pell and Lutz are writing.
MTV
Punk'd and Singled Out
These classic MTV shows are getting a new life. Each received a 20-episode order with episodes coming in under 10 minutes in length. Punk'd is back pranking celebs, this time with even better technology. Meanwhile, dating series Singled Out will allow singles to find love no matter their sexual preference. Despite co-creating the series, Ashton Kutcher is not involved in the new version.
Don't miss E! News every weeknight at 7, only on E!