The 18 Best Amazon Prime Day Deals on Fitness Gear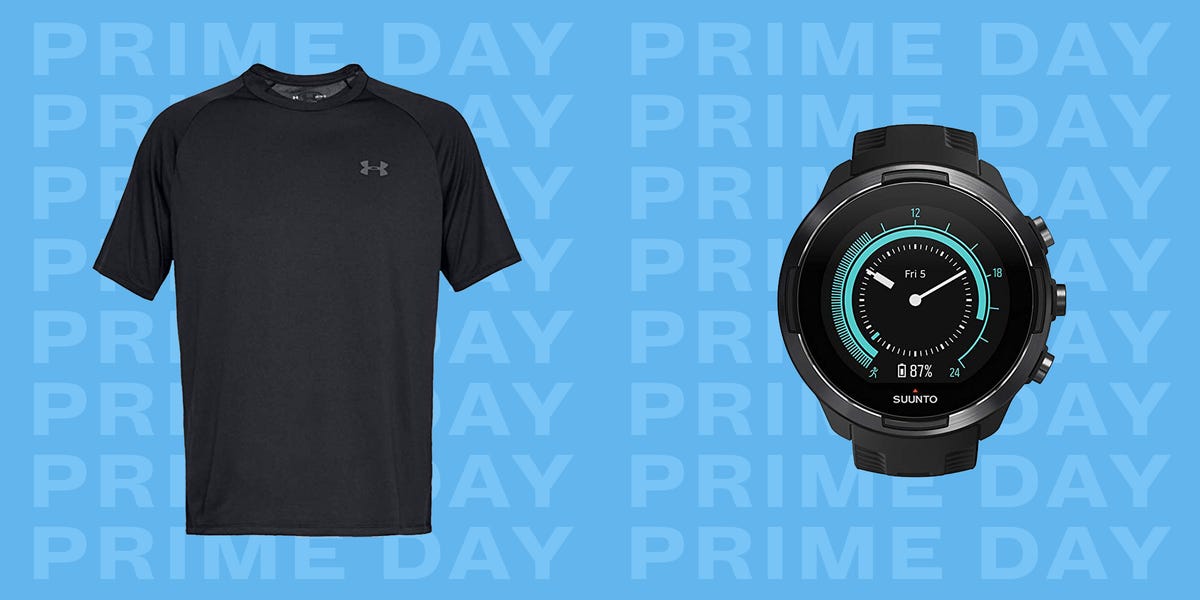 Getting a workout in is a lot less painful when you have a few things that help make the whole process easier. Luckily, Amazon Prime Day 2019 is here to get you those things at an even better price. It starts simple, maybe with a pair of shorts, tees, and shoes that get the job done without getting in the way. Then, you can level up with more workout-specific gear, like fitness trackers, sport headphones, and compression shorts. And if you're really going for it, there are at-home treadmills and stationary bikes on sale, so you don't even need to leave your house. Amazon Prime Day's fitness deals don't disappoint. Here are the best ones to shop now. (And check out the best Prime deals on 4K TVs, tech, and men's style.)
Everlast Professional Hand Wraps
If you frequent a boxing gym, it's worth investing in your own gear. Get a few hand wraps for mitt work and bags classes.
CamelBak eddy+ Water Bottle
A CamelBak works for literally any kind of workout. Or just for staying hydrated.
Champion Classic Jersey Ringer Tee
This Champion ringer tee looks like it belongs in a 1980s baseball movie, and we're here for it. Wear it as part of your I-didn't-actually-work-out-in-this outfit.
Soffe Running Short
These shorts are meant for running but are comfy enough to just hang at home in. Athleisure shorts, if you will.
Under Armour Tech 2.0 Short Sleeve T-Shirt
It's never not time for a fresh workout tee, especially if you've been wearing and washing the same few for over a year. Stock up now.
Saucony Multi-Pack Performance Socks
Another thing you can never have enough of: socks. It's actually really great to have performance socks that keep your feet ventilated and comfortable without slipping, instead of just wearing an old pair of socks for your fitness.
Under Armour HeatGear Compression Shorts
Compression shorts make sure your blood stays flowing as you work out. Plus, they add a protective layer for preventing heat chaff.
Gaiam Yoga Shorts
Yoga is good. Shorts that slide up and show off your underwear in the middle of down dog are not. Gaiam's yoga shorts will prevent any slide-age where you don't want it.
Adidas Own The Run Shorts
Having workout clothes that look and feel good make workouts feel instantly more productive. These black Adidas shorts will help you get there.
Adidas Originals Swift Running Shoe
Wear Adidas's running sneaker to run, for a HIIT workout, or to the grocery store on the weekend.
Jabra Elite Active Wireless Sports Earbuds
We can't stress enough how nice it is to do a workout without having a headphone cord in the way. Jabra makes great sport earbuds.
Fitbit Alta HR
If you've been holding out for a new Fitbit, now's your chance to score one for a discount. The Alta is slim, easy to use, and has all of your basic fitness metrics covered.
Garmin Forerunner 35
Garmin's activity tracker is great for outdoor runs. The GPS tracker will know where you are, even when you're in the forest or on a mountain.
Fitbit Ionic GPS Smart Watch
The Fitbit Ionic takes the classic capabilities of a Fitbit to the next level. This one has GPS capabilities and on-demand workouts. Plus, it even stores music right on it for a seamless workout soundtrack.
Apple Watch Series 3
We probably don't need to convince you that an Apple Watch is a solid buy, if you're in the market for a smart watch. It basically puts your phone on your wrist and adds activity tracking. At $199, it's a deal you don't want to miss.
Suunto 9 Multisport GPS Watch
If you're into intense training, like marathons or Ironmans, it's worth having an equally intense watch. Suunto's expert technology won't poop out on you even on your long runs.
NordicTrack Treadmill
But if you prefer running inside, Prime Day is the perfect day to finally invest in a home treadmill. NordicTrack's is minimal in appearance but optimizes every run.
Flywheel Home Bike
If cycling is more your speed, Flywheel makes a great at-home bike. You can sync it up to stream workout classes so you get the structure of group fitness without having to talk to people.