The Best Amazon Prime Day Gaming Deals to Shop Now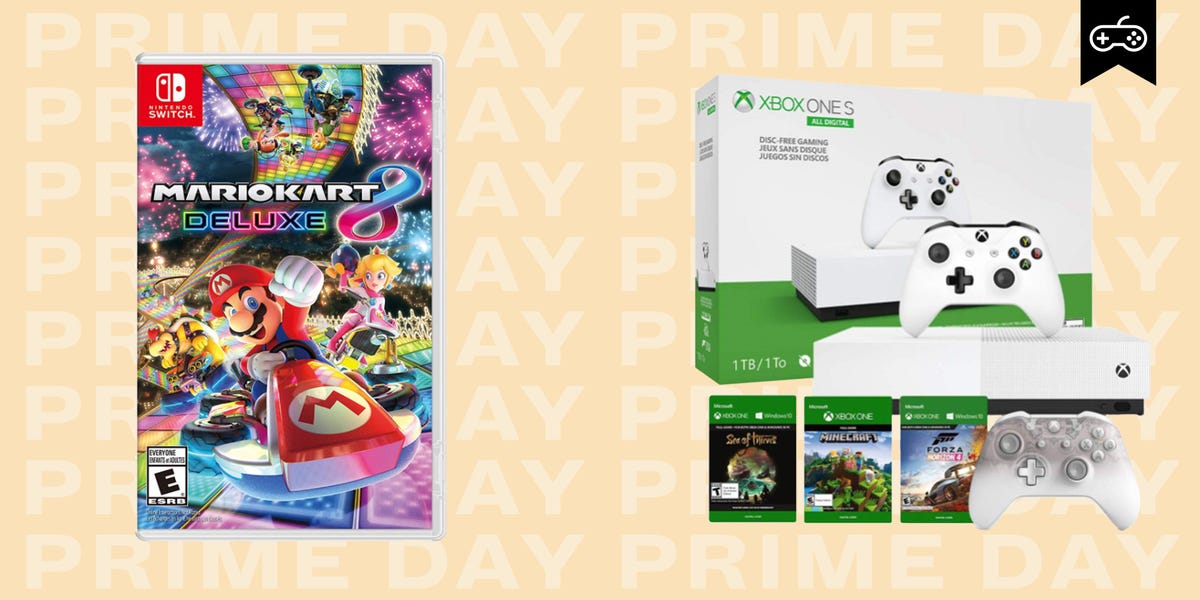 Amazon Prime Day is soon to be a national holiday. The craze around it is that intense. While it's easy to get swept up in all the deals on tech and 4K TVs and style, let's not forget what the true meaning of Prime Day is, in fact, video games. Amazon has made a habit of hosting some of the best deals in gaming over its Prime Day extravaganza, thus forcing others like GameStop and Walmart to follow suit. If you've been looking to jump into a new console, buy a gaming laptop, or pick up some summer titles for cheap, now's the time. Here are the best Amazon Prime Day 2019 gaming deals.
'Anthem: Legion of Dawn Edition'
Electronic Arts
amazon.com
$14.99
'Kingdom Hearts III'
With a ton of content and fantastic gameplay, along with new DLC coming this winter, Kingdom Hearts III is definitely worth picking up.
'God of War' on PS4
This "Game of the Year 2018" winner is a must-have for any PlayStation owner.
'Crash Bandicoot N. Sane Trilogy'
Three classics in one gloriously remastered place, easily worth the 24 bucks.
'Spyro Reignited Trilogy'
Like Crash, this deal bundles three hits into one. Note that while Crash's deal applies to all three systems, Spyro is still a pre-order for Switch and thus is regular price.
'Marvel's Spider-Man' for PS4
Bring Spider-Man close to home with this phenomenal title.
'Pokémon: Let's Go, Eevee!'
Save 30 bucks and tide yourself over until Sword and Shield arrive later this year.
'Final Fantasy XII: The Zodiac Age'
Square Enix
amazon.com
$34.99
Originally $49.99
An epic Final Fantasy title, with a nice $15 discount.
PlayStation Plus: 12 Month Membership
Originally $59.99
Get free games and online play, both necessities for PlayStation owners, at a great price.
DualShock 4 Wireless Controller for PS4
'Mario Kart 8 Deluxe'
In the heat of Prime Day, $10 off can seem rather small, but it's nothing to scoff at. This stellar kart racer is a must-have for Switch.
Switch Joy-Con in Neon Pink/Green
Nintendo
amazon.com
$69.00
Originally $79.99
Save a cool Jackson on Nintendo's snappy and versatile controllers.
Xbox One S All-Digital Edition + Phantom White Controller Bundle
Microsoft
amazon.com
$199.99
Originally $303.95
This is an awesome Xbox One S All-Digital deal, which includes the console, Sea of Thieves, Minecraft, Forza Horizon 4, and a white controller for $199, saving you over 100 bucks.
PS4 Slim 1TB Console + 'Spider-Man' + 'Horizon Zero Dawn' Bundle
Originally $358.98
The regular PS4 Slim normally retails for $299, and you get these two great titles alongside it, so it's well worth the price.
Switch + $35 Nintendo eShop Gift Card
Nintendo
amazon.com
$333.99
While the Switch itself isn't discounted, you do get a $35 Nintendo eShop gift card when you buy it for Prime Day.
PS4 Pro 1TB Console + 'Days Gone' + 'God of War' Bundle
Originally $463.61
Considering the PS4 Pro usually retails for $399 alone, this is an awesome deal. The excellent 2018 Game of the Year God of War, alongside the sorely overlooked Days Gone, are the perfect games to test out the power of your new PS4 Pro.
Vive Pro VR Starter Kit
Originally $1,099.99
Save a nice $200 on this state-of-the-art VR headset.
Blade 15 15.6-inch Gaming Laptop
Razer
amazon.com
$1,099.99
Originally $1,599.99
Looking to get a gaming laptop? Now's the time to do it. Prime Day will save you $500 on this beast of a machine.