These Are the Best Watches Under $500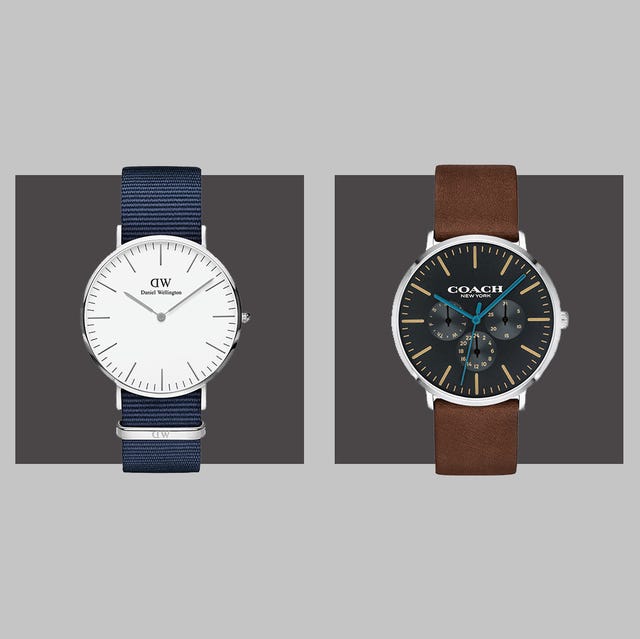 Courtesy
Watches are a fun addition to your style. Sure, they're not the focus of any given outfit, but that's kind of the point. And we're big fans of having a range of options, like you might with jewelry. Owning one that's good for work, one for the weekend, one for the gym, and one for formal events comes in handy whenever you're getting dressed. It might not be the outfit, but it will make any outfit better, especially if you have an option for every kind of style. We're also big fans of only investing when it's really, really worth it. And sometimes watches are! But other times, like when you're building a range, it's nice to have some on the more budget-friendly end of the spectrum. With all that in mind, we rounded up the best watches to buy under $500. Here's where to start.
Advertisement – Continue Reading Below
The Fun One
Timex x Chinatown Market x Smiley Watch
urbanoutfitters.com
$79.00
For a watch that is reliable, looks cool, and won't induce anxiety, you can always count on Timex. The brand has some stellar collaborations, too, like this smiley face one with Chinatown Market.
Skagen Aaren Kulør Rubber Strap Watch
Skagen's simple, pared-down watches fit every kind of style. This all-white option is a move, given that it's all white, but it's still minimal enough that it won't make any outfit feel busier than necessary.
Nixon Porter Watch
Nixon's white face and brown strap combination is the ideal everyday combination. It's casual, making it great for a low-key office or weekend wearing.
Best Collab
Timex x Todd Snyder The Mod Watch
Like we said, Timex has some very good collaborations out there right now, this one with Todd Snyder included. (Really, it's the collaboration that won't stop giving.) The Mod watch is one of our favorites.
Best For the Office
Michael Kors Blake Watch
Michael Kors makes watches that flow between business and casual. You can pair this one as easily with jeans as you can with a suit.
Coach Varick Multifunction Watch
Coach makes high-quality, clean-looking watches for right around $200. This one is the perfect leveled-up accessory for expanding your watch collection a bit.
Daniel Wellington Classic Nylon Strap Watch
Daniel Wellington's watches are all about expert simplicity, which is exactly what we'd expect from a Swedish watch company. Simple, well-made, and perfectly executed, this watch comes in a variety of color combinations, too.
Boss Pioneer Chronograph Watch
Boss's chronograph watch is a little pricier, but also has more detailed elements to make it worth the money. The tough, nautical-looking design is a fun change-up from a dressier watch, too.
Filson Field Leather Strap Watch
If you like a no-fuss face but love leather, look to Filson. It brings its leather expertise to a perfectly executed strap, which only gets better with time, of course.
Tissot Chronograph Watch
If you're building out a perfect watch collection, a metal bracelet chronograph should be in there. The classic design will be something you can pass down for generations.
Bucket-List Buy
Movado Bold Watch
Movado makes the cleanest watches around. They just look well made, and they are. This Swiss minimalist watch works in more formal situations—but you can pull it off with a casual, polished outfit, too.
Advertisement – Continue Reading Below