It's High Time You Bought a Linen Suit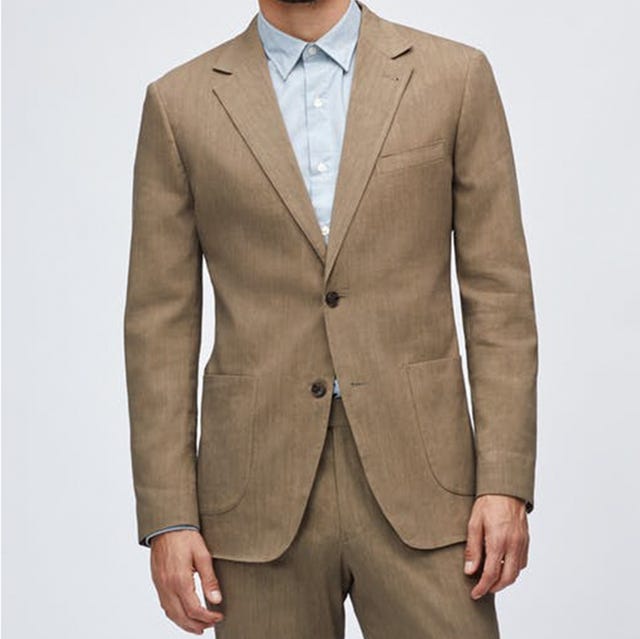 Courtesy
Owning more than one suit is a simple pleasure in life. Sure, if you're not wearing one every day or not frequenting formal events, you might not feel like you need a second suit. But once you've nailed down your navy, black, or gray well-tailored suit you can wear to any of those events, it's worth branching out. Adding in another to your rotation makes getting dressed a little more exciting, and it saves the power of your other suit for when you need it most.
For that second suit, we're partial to linen. It's one of those fabrics that, come 90-degree weather, we are eternally grateful for. It's loose, it's light, it's airy—all the things that make clothes less painful to wear when it's hot out. Especially a suit. Full wool blends certainly look nice, but they just won't keep you ventilated like linen will. Investing in a linen suit means you'll always have a 'fit ready for the occasion, regardless of weather. Here are the best linen suits to consider now.
Advertisement – Continue Reading Below
Best All-Around
J.Crew Ludlow Unstructured Suit
BUY JACKET $150, jcrew.com
J.Crew has its business-wear down, and we thank them for that. This unstructured linen suit hits all the right marks: It's lightweight, unrestrictive, and can be worn as separates. Plus, it's less than $300 for the whole thing.
Selected Homme Summer Linen Co-Ord Set
Topman always has an expertly curated selection of well-priced clothes, including suiting. This Selected Homme set is a little more casual, but it's a great move if you're into that. Wear it with a graphic tee or Hawaiian.
Mr P. Tapered Pleated Cropped Suit
BUY JACKET $540, mrporter.com
If you're cool with spending a little more, Mr P.'s double-breasted linen suit is about the coolest linen suit you could find. It has none of the old-timey golf-club vibes but all of the breathing room.
Bonobos Lightweight Italian Linen Suit
BUY PANTS $200, bonobos.com
The color of your suit has a huge impact on how cool (or not) it'll feel. Instead of reaching for a dark color that absorbs heat, look for a lighter, more reflective one. This tan suit is light without feeling casual.
Best Light Color
Club Monaco Grant Linen Suit
BUY JACKET $400, mrporter.com
Light gray is another great color option for something that will keep you as cool as possible. It's bright without being stark white, making it work for a broader range of situations. Wear a colored shirt underneath to make it pop.
Hugo Helward/Gelvin Suit
There's rarely a situation where a blue suit doesn't work. If you prefer something that works for every situation you need it to, a dark blue linen suit will do just that.
Just the Jacket
Caruso Linen Blazer
OK, so you don't always need a full suit. That's why separates are great. This dark gray linen blazer allows you to dress up any outfit for more buttoned-up occasions without have to feel stuffed (and sweaty) in a suit. Wear it over a shirt that looks good on its own, too, in case you get stuck without shade.
Z Zegna D8 Seersucker Suit
Seersucker is not just something that belongs at a horserace anymore. The notably airy fabric is getting redesigned and remade into something modern and downright cool. Z Zegna's perfectly fitting suit is both of those things.
Etro Classic Suit
Etro's suits are timeless. The fit is impeccable, of course, and the blue checked pattern is interesting without being distracting. The cotton-linen-wool blend is the best of all three fabric worlds: thin enough to keep you cool but with enough structure to look sharp.
Corneliani Formal Suit
Lighter suits in linen fabrics tend to sound like they'd be more casual, but that doesn't have to be the case. Corneliani's formal beige suit makes the perfect foundation for a summer-into-fall wedding outfit.
Best Investment
Paul Smith Soho Suit
matchesfashion.com
$1,800.00
Paul Smith's suits are worthy investment pieces. Sure, the price is getting up there, but if you're in the market for it, the suits have a British edge to them that makes them stand out (in a good way). You can't go wrong with this cool fit, light fabric, and classic color combination.
Canali Kei Suit
Working in a suit year-round? Get a linen one. We promise you, this is worth the suffering you will avoid trying to get to meetings or travel in a full suit made for the winter. Plus, the tailoring is exquisite.
Advertisement – Continue Reading Below