The 12 Best Chore Coats to Add into Your Fall Jacket Rotation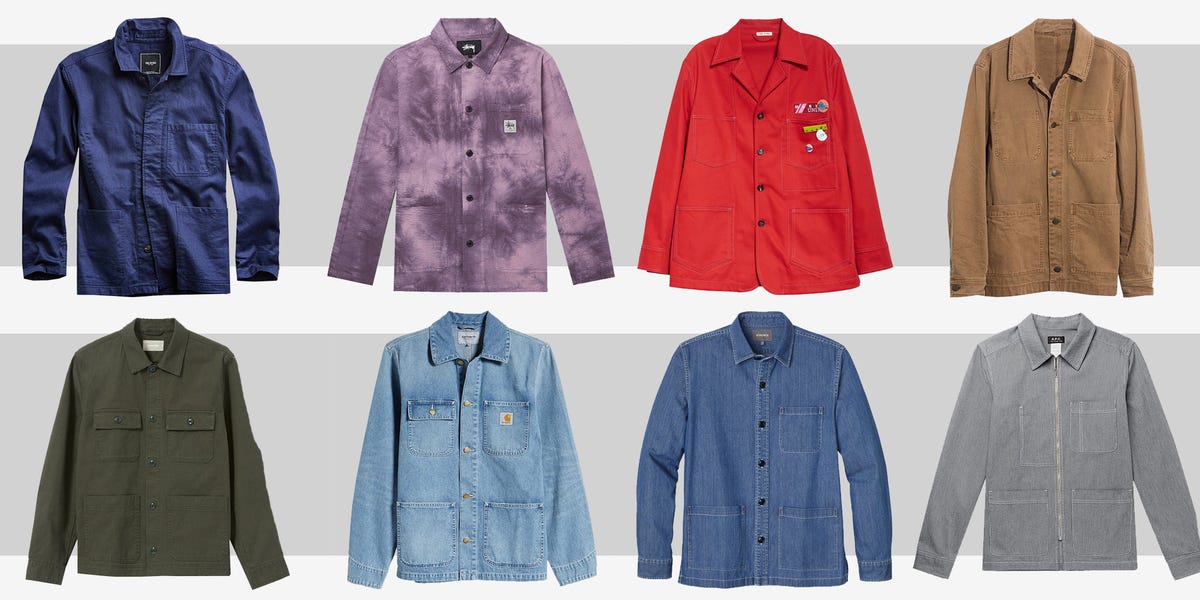 It's hard to create the perfect jacket. It really is. We're talking about one that you can wear in the in-between seasons as part of your outfit: denim, leather, and bomber jackets, for example. This fall, add chore coat to your list of essential (and perfect) jackets. The style has been slowly creeping back into fashion circles, often in street style outfits that lean into workwear. It's time we all lean in.
The chore coat is lightweight, like a denim jacket might be, so you can expect to wear it during denim-jacket weather. But it's simply more versatile. You can play with the colors, fabrics, and designs, making it not only the most functional part of your outfit, but also the coolest. Go for an everyday olive twill or change it up with a tie-dyed seersucker. Here are 12 of the best chore coats to shop this fall.
Bonobos The Denim Chore Jacket
OK, we did say think of a chore coat like you might a denim jacket. In the case of this Bonobos option, you can do so literally. It has more of a shirt feel than a jacket, making it perfect for lightly fall days early in the season.
Topman Cotton Chore Jacket
Everyone gets excited about darker colors for fall (and you should!), but that doesn't mean light colors are off the table. In fact, an off-white jacket will complement those dark colors well.
Everlane The Chore Jacket
Everlane makes clothes that work for everyday wear so you don't have to stress too hard about your outfit. Grab this and go any time it feels a little chillier than just T-shirt weather.
Vans Drill Water-Repellent Hooded Chore Coat
A rain coat that's not quite a rain coat—a smart fall purchase for anyone spending time outside. Wear this jacket on days when it flip-flops between raining and not.
Wellen Stretch Chore Coat
The whole appeal of a chore jacket is in its workwear-leaning aesthetic. This one leans into it just enough; go all in and wear it with Dickies.
Madewell Canvas Chore Jacket
This cool brown is fall in a jacket. Wear it with dark blue denim and a white T-shirt for a simple, stylish fit.
Stussy Tie-Dyed Cotton-Seersucker Chore Jacket
Stussy made a fun chore jacket, because of course Stussy made a fun chore jacket. Not only is it purple tie-dye (!!), but it's also a seersucker fabric. That means it's super ventilated, which is great for transitioning into cooler weather.
Carhartt WIP Michigan Norco Denim Chore Jacket
You can't beat the experts when it comes to workwear. Carhartt WIP's denim chore jacket looks good brand-new and even better over time.
Universal Works Baker Chore Jacket
Universal Works' chore jacket is a little more tailored, making it a great replacement for a blazer. In a casual work environment, there's nothing better.
Union Los Angeles Canvas Chore Coat
Layering makes fall fashion infinitely more fun than any other season. This jacket has a laid-back feel to it and will not fail to make a good outfit when paired with selvedge denim.
A.P.C. Striped Cotton Chore Jacket
There's no reason you can't pull off a chore jacket in the office. But if you want to ensure it's pulled together enough, this tailored A.P.C. one does the trick. Plus, it looks great with dressier pants.
Todd Snyder French Chore Jacket in Navy
The French know best, right? This jacket should be proof enough. Wear it dressed up, dressed down, to work, and to dinner. There's not a situation it wouldn't be well-suited to fit.