The 11 Best Sherpa Jackets to Buy Before Fall Arrives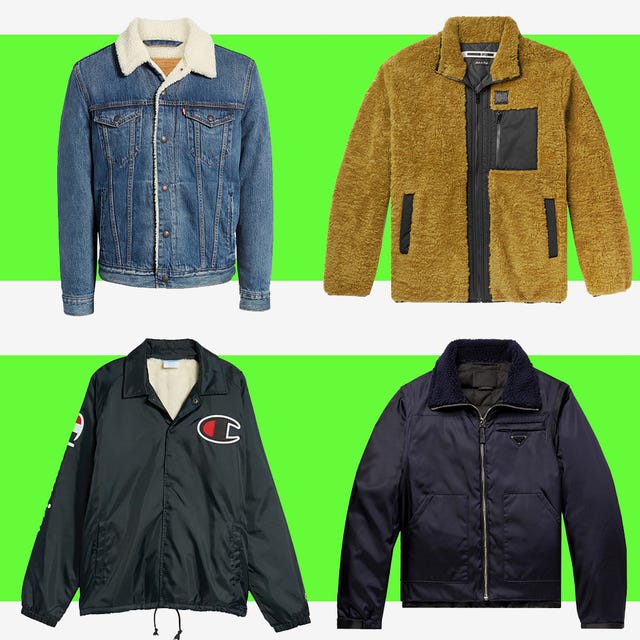 Courtesy
Fall has the best clothes. There is simply no argument to be had about it. You get to layer but you don't need to go full marshmallow with a bulky puffer because it's freezing. You can wear sneakers or boots or anything you want, really. Coats and jackets are the most fun to shop for (and to wear). That's because, when done right, they make every outfit both more useful and more stylish. It's the happy medium of style: form meets function.
The sherpa jacket is one of those pieces that you can start getting excited about now. It's a jacket, so it obviously functions as such, but it can manifest in so many different forms that it's worth shopping around to see what you like best. A full sherpa jacket feels like a fleece sweatshirt (good), whereas a lined coach's jacket or trucker feels like a sneaky blanket (also good). Whatever your style, it's worth shopping around now so you have what you need come fall. Here are our 11 favorite sherpa jackets to buy now.
Advertisement – Continue Reading Below
Abercrombie & Fitch Sherpa Full-Zip Sweatshirt
OK, so this one feels like a sweatshirt because it technically is a sweatshirt. But it's a zip-up, which means it can function like a regular piece of outerwear. It's comfy, it's cozy, and it's black, so you can't go wrong incorporating this into your closet.
Best For Football Games
Champion Faux Shearling-Lined Coach's Jacket
Sherpa is also sometimes referred to as faux shearling, as this Champion jacket indicates. This one is great once fall gets a little chillier: It still has the look of a wind-breaking coach's jacket but with an added warmth factor.
Topman Black Borg Denim Jacket
If you're not looking to go full sherpa, denim jackets are a great way to introduce a little of the lining. It's a great addition to have if you live by your denim jacket until it's too cold; this one has a little more weight to it, so you can wear it even longer into the season. One done up in black-on-black gives it just a little texture, too, especially if you're seeing it up close.
Most Classic
Levi's Faux Shearling Trim Denim Trucker Jacket
Same goes for this guy. The extra weight means this can operate as your late-in-fall kind of outerwear before it's time for a real coat. This color combination is timeless, too. You can't beat blue denim and cream-colored sherpa.
Levi's: Made & Crafted Sherpa Trucker Jacket
The Levi's: Made & Crafted line always does the classics up in an unexpected way, like it did with this jacket. It's got a more vintage vibe than your standard trucker shape, which makes it stand out from your other options. Plus, it looks just as good worn open as it does buttoned up.
Ami Alexandre Mattiussi Sherpa Lining Denim Jacket
Ami's denim jacket has a longer hem and larger pockets than you might be used to seeing on a denim jacket, which makes it feel completely refreshed. Wear it with denim or trousers.
Supreme Reversible Sherpa Work Jacket
Of course, full sherpa jackets are always a move, too. Supreme's is all black, so it doesn't scream in color, but that texture does enough sticking-out as it is. Wear it with an all-black outfit, of course.
Best Two-For-One
Supreme Champion Sherpa-Lined Hooded Jacket
If you're often sitting outside for long periods of time, you need something that can both protect from any light elements and keep you insulated. This lined hooded jacket does both and does 'em both well.
McQ Alexander McQueen Tech-Fleece Bomber Jacket
OK, this is technically a tech-fleece and not a sherpa but to the untrained eye, they often look alike. Plus, you can wear them in the same way. This one looks cool over a plain white tee and selvedge denim.
Palm Angels Sherpa Padded Jacket
This is lined with sherpa and padded throughout and is practically begging to be worn with cool white high-tops. Once it gets chilly, layer it over a contrasting turtleneck for a full-on look.
The Dressed-Up Sherpa
Prada Convertible Sherpa-Trimmed Blouson Jacket
Although a lot of sherpa jackets that are popular now feel street style-y, there are still some that lean more into a classic feel. Like this Prada blouson, for example, which is so nice you can wear it with tailored trousers and dress shoes.
Advertisement – Continue Reading Below