The Best Summer Songs of 2019 Defy Genre, Borders, and Pop Conventions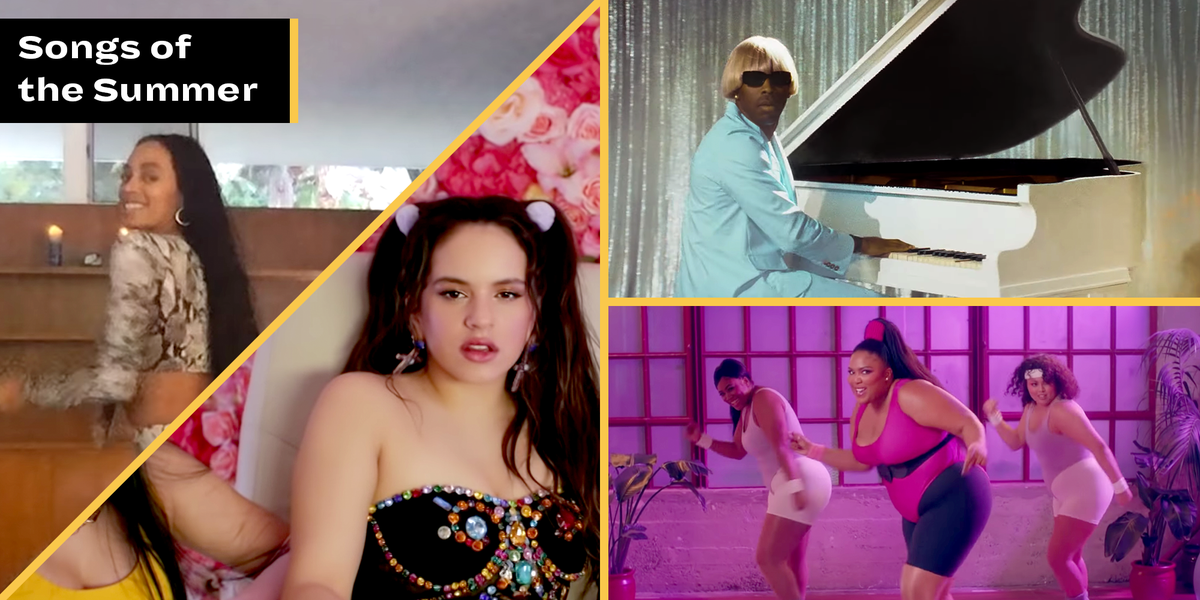 Some music fans measure years by the Song of the Summer. Who could forget the summer of "Despacito," the summer of "I Like It," the summer of "One Dance" or "Call Me Maybe"? These are the songs—whether we chose them or not—that will be playing in the background of our memories of a specific time and place. The Song of the Summer is that ubiquitous, unavoidable jam. It's that song blasting in every bar, playing from every car stereo, drifting through every mall, every restaurant. Now, as summer is in full swing we take an early look at the songs that are worthy—for better or worse—of having that distinction.
You can listen to the full Songs of Summer 2019 playlist on our Spotify, too.
Midland – "Mr. Lonely"
No summer song playlist is really complete without an entry from the country charts. This year, that submission comes from in the form of Midland's "Mr. Lonely." Channeling some of those late '80s up tempo rockabilly vibes, the single comes with its own line dance. Still relatively new to the country scene, Midland's sole single from 2019 is continuing to gain steam on country charts, but will soon be a crossover summer hit. In a field of country tracks that still lean a little too far on the side of stadium country, a throwback to the country music of an earlier era is a refreshing change. – Justin Kirkland
Shawn Mendes and Camilla Cabello — "Senorita"
If you've made it through summer this long and not heard "Senorita," then you must have been living under a rock in space with earplugs in. Shawn Mendes and Camilla Cabello are on the forefront of a new generation of pop stars, and a duet between them just makes sense. With an intoxicating mix of slowed down Latin guitar and brain-burrowing chorus, the mid-summer hit has Mendes and Cabello joining forces to create one of 2019's sexiest tracks. – Justin Kirkland
Denzel Curry — "RICKY"
As Denzel Curry told FADER about his new album, ZUU, "It goes from the sounds of where I grew up, to what I was raised around, to the people I was raised around, to the sounds that pretty much shaped the person I am." That theme of his native Carol City neighborhood in Miami Gardens resonates most clearly on "RICKY." In a tight two-and-a-half minutes Curry is able to pack a sweeping narrative of his own upbringing.
Jai Paul — "BTSTU"
Anyone who was plugged into underground producers in the early 2000s knows that Jai Paul's "BTSTU" isn't a new song by any means of the word. So what's it doing here? Well, it's a long story. But the short version is that after "BTSTU" made rounds on the internet, Jai Paul was signed to XL records and was prepping his debut record, when the whole thing suddenly leaked. It rattled the young artist enough for him to halt his production and the release of the album and back away from the music. Now, this week, XL released the set of songs for the first time, with BTSTU included. So, for all intents and purposes it's new—and not new—but an incredible track all the same.
Vagabon — "Flood Hands"
After her indie rock-focused 2017 debut as Vagabon, Laetita Tamko returns with a more cinematic sound with "Flood Hands." Though there were hints of sweeping synth rock on her last collection, "Flood Hands" has her reaching further into that space. On a towering and confident sound, Tamko expands the scope of her sound in ways that hint at a lengthy and promising career.
Cardi B — "Press"
Cardi B is unstoppable. After pretty much dominating 2018, Cardi has not kept quiet. 2019 has been something of a victory lap as she's released a smattering of songs that have immediately rocketed up the charts. Now, she returns with "Press," in which she takes aim at all the blogs and tabloids that keep turning her life into content. The track has some of her sharpest verses yet, and proves that Cardi is never one to be messed with.
Mark Ronson feat. Angel Olsen — "True Blue"
It's not a collaboration that many people saw coming—folk singer-songwriter Angel Olsen and funk pop master Mark Ronson. Yet, this meeting of artists is a surprisingly perfect match, with Ronson's glowing production propelling Olsen's dramatic vocals. What's interesting about this collaboration is it could mark Olsen's biggest hit of her career, despite many years of critical success. It also gives Ronson a certain cache of cool, adding to his roster a revered songwriter like Olsen as opposed to typical pop superstars like Miley Cyrus who appear elsewhere on his new album.
Tyler, the Creator – "EARFQUAKE"
After an early career defined by the horrorcore rap of "Yonkers", Tyler, the Creator returned last year with a brighter outlook on life on Flower Boy. More introspective, more thoughtful, and melodic, Flower Boy marked a turning point in the rapper's career—one that expanded the scope of his music. And now, he returns to explore that space on IGOR, an album that makes heartbreak sound surprisingly sweet. On "EARFQUAKE," Tyler pleads with a lover not to leave over soaring harmonies. But there's nothing tragic about the song. Instead, the melancholy of the song has a surprising clarity, as if Tyler has realized what he's had, what he's lost, and come to terms with his own mistakes. That self-awareness isn't depressing—it's beautiful and refreshing. – Matt Miller
Carlie Hanson – "Back in My Arms"
The Wisconsin native got her big break when she submitted a Zayn Malik cover to her local radio station (she was hoping to score tickets to the singer's local concert) and now she's getting big up from the likes of Taylor Swift. It's not hard to see why. At just 19, she's a master of pop bops with an irresistible, raw edge. Case in point: "Back In My Arms," which marries breathy atmospherics and chugging rhythm with a soaring, lost-in-love chorus.
Taylor Swift – "Me"
It's hard to imagine a Taylor Swift album cycle in which she doesn't dominate a summer's worth of headlines. Sure, "Me" is one of Swift's worst first singles from an album in her entire career, but that sure as hell won't stop this track from being played in every coffee shop, Target commercial, car, bar, you name it this summer. Even after the less than impressive Reputation, Swift remains a dominant force in music. She's unstoppable, and combined with the relentless popularity of Panic at the Disco's Brendon Urie, Swift is practically invincible. This is how it always goes with Swift's singles—remember "Shake it Off" or "Look What You Made Me Do?" There's always some nightmarish unescapable outlier that she leads every album cycle with. This one is "Me." – Matt Miller
Georgia – "About Work the Dancefloor"
As much as you'd like to, you're not going to be outside 24/7 this summer. No, eventually you'll have to take the party inside, and that's exactly when you'll want to put on Georgia's "About Work the Dancefloor". It's an essential club track, with a vintage synth hook, and dance floor drama that would make Robyn proud. – Matt Miller
Ed Sheeran, Justin Bieber – "I Don't Care"
Whoever thought to pair Ed Sheeran and Justin Bieber for an entire album is an evil genius. The idea sounds like a cruel means to drive human adults insane. It's hard to imagine a song more catchy and more annoying than "I Don't Care." From the bouncing synths to the mid-chorus oooh-ooh-ooh-oooh, "I Don't Care" might have been designed like a sentient Spotify playlist (which, maybe it was?). It doesn't matter, though, because Justin Bieber is Mr. Song of the Summer, even if this particular song isn't even up to his (or Sheeran's) usual pop writing mastery. – Matt Miller
DJ Khaled, Cardi B, 21 Savage — "Wish Wish"
While the jury is still out on what DJ Khaled actually … does, we can all agree that he's great at getting big name artists on the same song. It feels like every year, Khaled has at least one all-star track that seems to have pulled, at random, the top five artists from the Billboard Hot 100 and places them on the same track. This year's version is "Wish Wish," which once again brings together Cardi B—2018's queen of the summer—and the perennially beloved 21 Savage. The two have already collaborated on the 2017 hit "Bartier Cardi," and "Wish Wish" doubles-down on that success with another banger fit for warm weather clubbing. – Matt Miller
Rosalia, J Balvin — Con Altura
With 2018's excellent El mal querer, Rosalia successfully jumped from a flamenco-adjacent Spanish singer-songwriter to in-demand pop in the States working with Pharrell, James Blake and more. The same can be said for Colombian superstar J Balvin, whose collaboration with Cardi B was a certified Summer 2018 hit (and earned him a Grammy nomination). Together on "Con Altura", the two combine their musical forces—and sounds dominating western pop at the moment—for a Spanish language hit. The song is proof that neither artist needs an American star—or English lyrics—for a radio banger in the USA. – Matt Miller
Jonas Brothers – "Sucker"
Joe Jonas knows the secret sauce that makes a song of summer contender. His band DNCE dominated airwaves in 2016 with the ubiquitous "Cake By the Ocean," and that know-how lifts the return single from his newly reformed band of brothers. "Sucker" glows with bright guitars, a shimming rhythm, and a catchy-as-hell chorus. That the trippy music video features Sophie Turner and Priyanka Chopra (Turner recently married Joe in Las Vegas; Choprah and Nick wed alongside a frenzy of magazine covers in 2018) is the proverbial cherry on top. —Madison Vain
Billie Eilish — "bury a friend"
When 17-year-old Billie Eilish released When We All Fall Asleep, Where Do We Go?, her lauded major label debut, in April, she made history. The gothic set, which bowed at No.1 on the Billboard 200, became the third most-streamed LP ever for a female artist. ("Sometimes I can't breathe if I think too much about the things that are happening around me," she wrote on Instagram, where she's followed by nearly 20 million people. "I'm in love with my life a little.") The album's most fully realized moment arrives in the form of the foreboding banger "bury a friend." Sung from the perspective of the monster lurking beneath her bed, she warps the bleak "I wanna end me" into a chugging refrain and manipulates distorted screams into a drop. It's remarkably dark pop and, twisted as it may be, a true delight. – Madison Vain
Solange — "Binz"
If there's a flaw with the 14th track on Solange's remarkable 2019 LP, When I Get Home, it's that there simply isn't more of it. With a runtime shy of two minutes, the shimmying cut tees you up to hit the repeat button anywhere from 10 to 1,00,000 million times before you feel satisfied. The youngest Knowles' latest is a freeform exploration of the places that make us, a heady trip through, as was described in an interview with the artist, the "Houston of the mind." (Solange and her sister, Beyonce, both hail from the Texas city.) Using that construct, then, "Binz," which sees her trading warm, occasionally wordless verses with The-Dream, is an ode to tropical escapes. Rented Rolls, presidential suites, and toking up alongside the setting sun. It's impossible not to want to join in. – Madison Vain
Vampire Weekend — "2021"
While "Harmony Hall" is the anchor of their first two songs from Vampire Weekend's new album, Father of the Bride, there's something so frivolous and charming about the 1 minute and 38 second "2021." The song is short and—as someone who really appreciates a short song—it wastes no time in delivering a succinct and delightful little melody like a bite of chocolate after a big meal. Like the best of short songs, it leaves you satisfied while wanting more. It's more proof that despite the six long years since Vampire Weekend's last album, the band still has an important place in a drastically different music environment, which should be evidenced by the phenomenal success of their new album. – Matt Miller
Bruce Springsteen — "Hello Sunshine"
At 69 years old and 18 studio albums into a legendary career, The Boss is finally ready to slow down. "You know I always liked my walking shoes," the singer, who catapulted into superstardom with his Born to Run LP in 1975, admits early on "Hello Sunshine," his first single since 2012 and the first track off his Western Stars album. What follows is an unhurried meditation on the dark, lonesome corners of the mind, spun around a paired-back country arrangement. For Esquire's Winter '19 cover, Springsteen opened up about his own battles with mental health. "I have come close enough to [mental illness] where I know I am not completely well myself," he confided. "I've had to deal with a lot of it over the years…" That experience adds a welcome, knowing heft to this instant classic. – Madison Vain
Lil Nas X — "Old Town Road"
It launched as many think pieces as it did memes and shot straight to No. 1 on the all-genre Billboard Hot 100. (It has since stayed there for five consecutive weeks.) But outside of the conversations regarding how the song is a perfect encapsulation of Internet culture—it's been rumored that Lil Nas X used to run a Nicki Minaj stan account on Twitter—or a defiant denier of genre constrictions, Justin Bieber actually identified the song's merits best. "This shit bangs," he announced recently on Instagram. He's right. The cut combines bone-rattling bass, old timey strings, and a hook with talons a mile long. It's a phenomenon, in every sense of the word. – Madison Vain
Lizzo — "Juice"
Lizzo's ascendency to pop superstardom has been a long time coming. By 2019, it's all but inevitable. So it makes sense that Lizzo kicked off 2019 with one of her most fabulous bangers yet with "Juice." The song—which opens with Lizzo singing "Mirror, mirror on the wall / Don't say it 'cause I know I'm cute"—comes with a statement that the rapper and singer has been making her entire career. As she told Vulture earlier this year, she's learning to embrace some of her labels as a "body-positive rapper." "Even when body positivity is over, it's not like I'm going to be a thin white woman," Lizzo says. "I'm going to be black and fat. That's just hopping on a trend and expecting people to blindly love themselves. That's fake love. I'm trying to figure out how to actually live it." With "Juice" among a number of refreshing and ravishing singles Lizzo dropped in the last few months, she's all but primed to be the artist we need in 2019. – Matt Miller
Tank and the Bangas — "Smoke.Netflix.Chill"
Find me more fun album than Green Balloon, the major label debut from New Orleans' hip-hop-infused funk and soul experimentalists Tank and the Bangas. You can't! Not in 2019, anyway. In many ways, the 17-song set, recorded in 10 different studios and featuring 30 names in the credits, joyfully bounces from highlight to highlight, but this cheeky cut stands out from the rest. Frontwoman Tarriona "Tank" Ball, who got her start as a slam poet, is absolutely magnetic, moving between a soulful pop chorus and rapped versus to weave a charming, emotional, undeniable invitation to get down. – Madison Vain
Matt Miller
Culture Editor
Matt is the Culture Editor at Esquire where he covers music, movies, books, and TV—with an emphasis on all things Star Wars, Marvel, and Game of Thrones.
Madison Vain
Madison Vain is a writer and editor living in New York, covering music, books, TV, and movies; prior to Esquire, she worked at Entertainment Weekly and Sports Illustrated.
Justin Kirkland
Justin Kirkland is a writer for Esquire, where he focuses on entertainment.