You Can Shop Beats Headphones on Sale at Amazon Right Now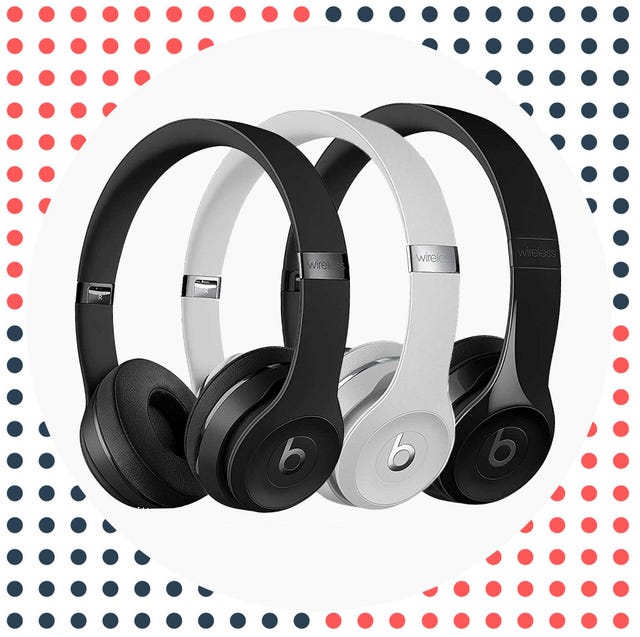 Courtesy
Beats are a statement. They say: I give a shit about my music, and I give a shit about how I look while I'm listening to it. These are headphones made to play carefully curated playlists, beloved albums, and yeah, even all those podcasts you have yet to listen to in your download library. They're headphones designed with creative folks in mind. They look pretty cool, too.
And so, should you be in search of a pair of headphones to use every day at all times, this is a pretty good time to pay attention. Amazon currently has a selection of Beats headphones on sale, some of them discounted as much as 50 percent off. Not too shabby. There's a variety to choose from, too. For everyday use sans a cord, try the Beats Solo3, which also come in multiple styles and colors. For more intense audio geeks, the Beats Studio3, a wireless over-ear option, give you active noise canceling. And workouts and commutes are made better by wireless, sweat-proof buds like the Powerbeats3. There are some older—and cheaper—corded headphones to browse as well, as well as a portable Beats Bluetooth speaker for good measure.
And if none of these suit, check out the new Powerbeats Pro completely wireless buds, which are amazing (but also still full price). So many options for great headphones. That's not a bad problem to have.
Advertisement – Continue Reading Below
Beats Solo3 Wireless On-Ear Headphones
Core Collection
amazon.com
$299.95
$179.99 (40% off)
The Beats Solo3 is an all-around solid pair of Bluetooth headphones, with impressive audio quality and 40 hours of battery life. The Core Collection includes this gloss black-colored pair, as well as citrus red and a red-and-black combo, on sale now.
Beats Solo3 Wireless On-Ear Headphones
Icon Collection
amazon.com
$299.95
$179.99 (40% off)
If the look of the Core Collection colorways doesn't do it for you, the Beats Solo3 Icon Collection features matte and satin metallics in black, silver, and rose gold.
Beats Studio3 Wireless Noise Canceling Over-Ear Headphones
amazon.com
$349.95
$279.95 (20% off)
Noise cancellation makes a big difference. These Studio3 headphones have it, and 22 hours of battery life.
Beats Powerbeats3 Wireless Earphones
For the more athletically inclined, Powerbeats3 are comfortable and water resistant, with 12 hours of battery life. They're basically built for workouts.
Beats EP On-Ear Headphones
If price is an issue, an old-school (although, not that old-school) corded pair of Beats headphones does the job. Just watch out for the older headphone jack; you may need a converter.
Beats urBeats3 Earphones
These give you a corded in-ear option, and a lightning cable that'll connect to newer smartphones.
Beats Pill+ Portable Bluetooth Speaker
amazon.com
$179.95
$109.99 (39% off)
Should you want to share your music, the Beats Pill+ speaker is also on sale. It has 12 hours of battery life.
Advertisement – Continue Reading Below