Every Guy Needs a Solid Shoe Closet. Here's How to Start Building Yours.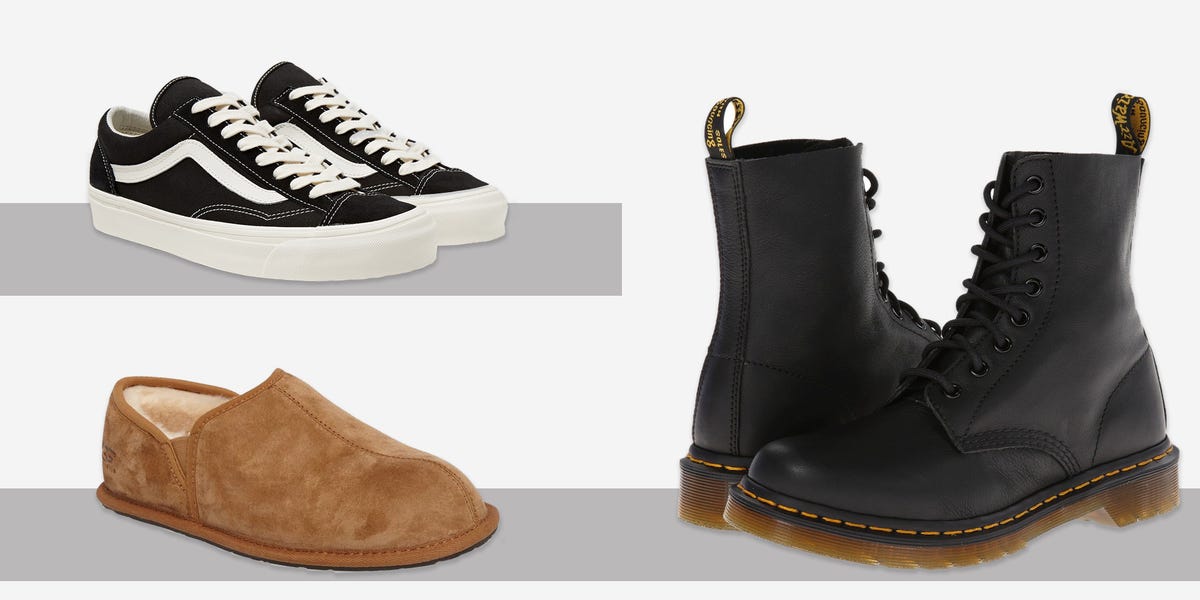 Shoes are one of, if not the, most fun things to shop for. That's because once you're fully grown, rarely do your feet change sizes dramatically. Plus, shoes are made to be durable. Shopping for shoes means finding stuff that you know will fit your feet (and style) for the foreseeable future. And it's more fun to spend your money if you feel like that money is well spent. But, with that comes bigger questions: What kind of shoes are the best to own? What builds out a solid foundation for a shoe wardrobe, which can then be added to with fun or trendy options? So, we chose the basics for you. These are the shoes every guy should own, from pool slides to dress shoes. Start your shopping here.
Adidas Adilette Slides
OK, first things first: the basics. You really don't ever need to overthink or overspend when it comes to sandals. You need them for the pool, the beach, and all water-adjacent activities. Get a pair of black Adidas Adilette slides and wear them for all occasions.
Vans OG Old Skool LX Sneakers
Everyone could use (at least) one pair of Vans in their closest. Old Skools are, well, old-school, and the black-and-white color combination will never go out of style.
Best Year-Round Sneaker
Adidas Continental 80 Sneaker
We believe you can never have too many white sneakers. They look fresh, clean, and brighten up any outfit. You can't go wrong with a pair that's under $100 and in white leather. We're partial to Adidas's Continental 80.
Ugg Scuff Romeo II Slipper
No man should be forced to pad around his place barefoot, ever. And Ugg slippers are: Worth. It. Seriously, it might be the best hundred bucks you ever spend. They're comfy as hell, and you'll look forward to putting them on every time you get home.
Best Summer Shoe
Castañer Pablo Canvas Espadrilles
Get a pair of canvas espadrilles for casual wear, because they're a whole lot more stylish than flip-flops. They're the second shoe you bring on vacation, after those Adidas slides, and the ultimate summer shoe.
Asics Gel Saga Leather
Every man needs a pair of sneakers that he can walk in comfortably, whether that's for weekend errands or traversing a new city. These get the job done and look good doin' it.
Clarks Originals Desert Boot
You truly can't beat Clarks' desert boot as the go-to option for a casual everyday outfit. It's an especially perfect shoe for transitional spring and fall weather, when you need some coverage but not too much. Sand coloring is a safe bet, too.
Dr. Martens Pascal 8-Eye Boot
And once you need a little more coverage from your shoe than a desert boot, Docs are a sure bet. Wear them with all of your jeans, all year long.
Best All-Around Workout Sneaker
Nike Metcon Flyknit 3 Training Shoe
Every guy needs a shoe that helps him through his workout without getting in the way. Nike's Metcon sneaker is the one to invest in. Its expertly balanced silhouette makes it ideal for any type of workout you need it for: There's a flat surface for lifting, extra support for lateral movement, and a wide toe box for running.
Thursday Boots Duke
thursdayboots.com
$199.00
Chelsea boots are an essential shoe; they're comfortable, streamlined, and just plain cool. Although leather and suede are both good options, leather tends to stay looking new longer. You can never go wrong with brown.
Weatherproof
Ugg Butte Waterproof Boot
Snow boots are the kind of shoes that you don't really need until you really, really need them. Don't waste your money on a bunch of shoes that don't get the job done well. We're talking traction, waterproofing, and warmth. For the most reliable winter boot, we cannot speak highly enough of Ugg's Butte option.
Koio Capri Triple White
It's great to have a casual pair of white sneakers, but it's even better to have an additional nice pair. So nice you can wear them with a suit kind of nice. These are perfect for the office, the bar, the weekend, the… well, you get it.
Red Wing Shoes 875 Moc Leather Boots
Red Wing's classic moc boot was built to last, which is the No. 1 reason for investing in good shoes. They're meant to grow with you, not fall apart. Wear these all fall and winter with all of your favorite sweaters.
Most Reliable
Cole Haan American Classics Kneeland Cap Toe Oxford
Three hundred dollars is the ideal amount of money for a dress shoe that looks good always and hurts your feet never. If you wear dress shoes for work often, these are worth it for the completely comfortable sole alone. And if you only wear them for more dressed-up occasions, you'll never dread them.
Allen Edmonds Park Avenue Oxford
Of course, it's ideal to have dress shoe options. A lot of times a brown shoe works, and sometimes only a black shoe will do. A black cap-toe oxford is clean, minimal, and always in style.
Mr P. Jacques Derby Shoes
Sometimes you want something a little bit dressed up but not too dressed up. That's where the black derby comes in. You can wear it with a suit, but it also looks great with jeans. Mr P.'s extra-lugged sole makes these look purposefully stylish.
Best Investment
Salvatore Ferragamo Benford Rounded Bit Loafer
And for the pinnacle of all shoes: an Italian-made loafer. Ferragamo's are beautifully crafted with some of the nicest leather known to man. These are the kind of shoes you'll pass on for generations.