The 11 Best Bomber Jackets to Buy Now and Wear With Everything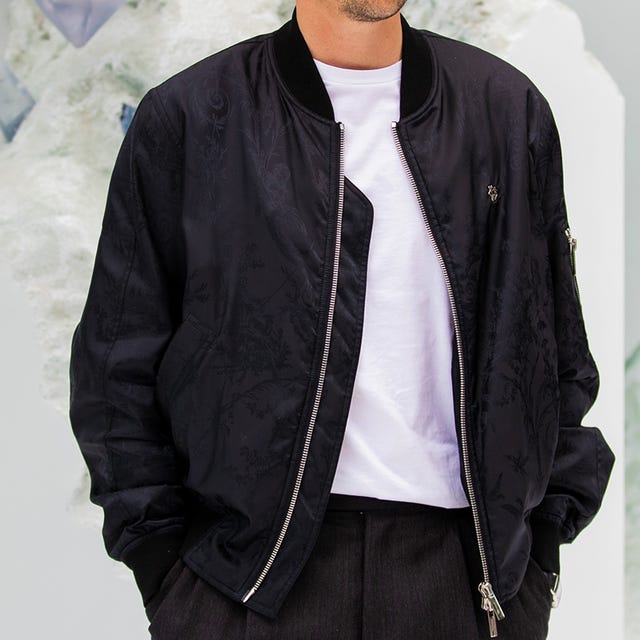 Christian VierigGetty Images
No one is arguing that a bomber jacket is an absolute essential to have in your closet. There's no doubt that it is. The only thing we are trying to argue is that you have a few to choose from. The staple shape is easy to wear, sure, but it's also an easy shape to have fun with. Brands are bringing cool fabrics and small detail changes to the jacket, which can make the whole piece feel new. There's a big focus on the jacket in neutral colors right now, which is always something we can get behind. We're talking navy, olive green, and black—get one in each color and be set for the whole year. These are the 11 best bomber jackets to shop now, before the cold weather arrives and the most stylish options sell out.
H&M Bomber Jacket
Looking for a starter bomber? H&M is a great place to head when you're looking to try out a new piece of clothing but aren't ready to commit a ton of money to it. This easy navy bomber is an easy addition to your wardrobe. Wear it over a plain white tee for an outfit you don't have to think twice about.
Zara Pique Bomber Jacket
This is sort of a hybrid between a bomber and a baseball jacket. That makes it feel sporty but not something you'd literally wear for athletic purposes. The pique fabric looks polished, too.
Topman Bomber Jacket
You can't go wrong with a lightweight option in a super-wearable navy. It's great for packing on trips where you may or may not need an extra layer.
Schott NYC MA-1 Cotton Bomber Jacket
Schott might be known for its leathers, but it also makes a mean MA-1. This kind-of-green-kind-of-gray color looks great with dark jeans. Plus, the fabric is practically indestructible. It'll only get better with wear.
AllSaints Bassett Bomber Jacket
Not all leather jackets have to be slick and black. A light brown is an equally cool take, and it feels especially laid-back in a bomber shape. Wear it with jewel tones like purple or forest green to make it pop.
Paul Smith Ripstop Bomber Jacket
This minimalist ripstop jacket from Paul Smith adds a bit of nuance to the traditional shape of the classic bomber. It keeps the aviation roots intact but modernizes it with an upgraded fabric. If you want to stand out from the rest of the bomber pack, consider this your go-to.
Fred Perry x Margaret Howell Tennis Bomber Jacket
Fred Perry and Margaret Howell teamed up to make maybe one of the most wearble bombers around. Sure, the white is a bold move. But when you consider its tennis inspiration, it makes all the sense in the world. It's slightly blousey sleeves make it feel stylish and comfortable but the slim shape doesn't give any of that comfort away.
Rag & Bone Tech Bomber Jacket
Some bombers are puffy, which is great if you're looking for a true piece of outerwear. But if you're looking for something that you'd more wear around the office as part of your outfit, Rag & Bone's olive one is perfectly streamlined without feeling stuffy.
A.P.C. Gregoire Water-Repellent Bomber Jacket
While a statement jacket can be cool, sometimes it's best to go with something understated. This slim-fit bomber from A.P.C. can be dressed up or dressed down, and will pair perfectly with damn near anything in your wardrobe. It's also water-repellent, making it a perfectly sneaky layer of protection from the elements.
Boss Cadus Bomber Jacket
When in doubt, stick with the classics. Boss makes everything feel like it can last forever, and this jacket is no different. It's made with lightweight seersucker that's ideal for wearing through transitional days when you need a layer but not a thick one.
Saint Laurent Teddy Bomber Jacket
If a bomber is your kind of jacket, consider investing in a high-quality wool one. It has major varsity jacket feel without looking like something you got because you made the team in high school. This Saint Laurent take looks good at the office, at the bar, and beyond.