15 Pairs of Sweatpants You Can Wear Outside, on the Couch, and Everywhere In Between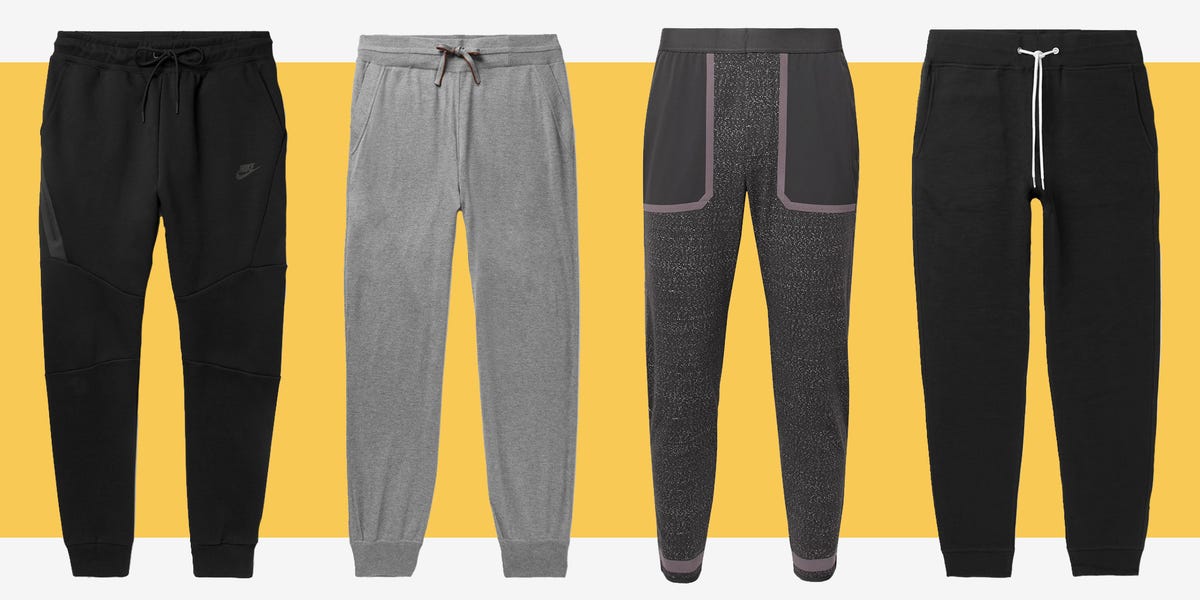 Sweatpants are not a sign of giving up. That is, of course, if you wear the right ones. Sure, you don't need to be showing up to a wedding or a meeting in a pair of sweats. But in your house? On a plane? Sitting in a coffee shop? Sure! Thanks to the new takes on the classic sweatpant, there are new slim versions in modern fabrics that look like you actually put some thought into your fit. They're a bona fide essential for pretty much every guy's closet. And thanks to those stretchy materials and that elastic waistband, they're seriously comfortable—whether you're just lounging around or heading out for the day. Here are 15 of our favorite pairs to put to the test.
Tommy Hilfiger Jogger Lounge Pants
Tommy Hilfiger's sweatpants are as classic as they come—just with a modernized fit. At $50, they're perfect pair for lounging around the house in without worrying if they get too beat up.
Adidas R.Y.V. Sweatpant
These Adidas sweats have a bit of weight to them, so they're ideal for colder weather or for chilly inside temperatures. Heathered gray sweatpants are never not good and don't let anyone tell you otherwise.
Champion Sweatpants
Joggers are uber popular still, and there's nothing wrong with it, if that's what you find comfy. But if you like a little less ankle suffocation, these Champion sweats lay nicely without dragging.
Nike Tech Fleece Jogger
Nike's Tech Fleece is the perfect sweatpant for errand-running and pre-to-post gym commutes. It has just enough of a performance element that it won't get all gross and sweaty from your workout clothes.
Outdoor Voices RecTrek Jogger
Outdoor Voices has been perfecting the art of athleisure for some time, and we thank them for that. This RecTrek jogger is one of the brand's newest releases, and it is the perfect retro sweatpant. Wear it with your New Balances.
Ugg Jakob Washed Jogger Pants
Don't sleep on Ugg's non-footwear goods. Its sleep and loungewear are, unsurprisingly, as comfy as the shoes are. These are the perfect Saturday morning sweatpants.
Todd Snyder x Champion Terry Slim Jogger Sweatpant
This is like your favorite Champion sweatshirt, only for your legs. It doesn't get much cozier than that. The darker gray looks a little more refined than light gray, and it pairs especially well with crewnecks of all varieties.
Sunspel Tapered Brushed Sweatpants
Sunspel's goods have a bit of a worn-in look to them that makes them look (and feel) very cozy. These no-frills, well-made navy sweats are weekend pants at their finest.
Lululemon Take the Moment Pant
When you want something a bit more technical, look to Lululemon. They still have the stretch and waistband of a sweatpant, but they're a bit of a slimmer shape with a more technical fabric. You can sweat in 'em, no problem.
Aviator Nation Prism Slim Fit Sweatpants
Aviator Nation might make the softest sweatpants in the world, and they're certainly worth testing out if you're a big sweats kinda person. Plus, there are matching tees and sweatshirts if you're going for a full look.
Rag & Bone Black Classic Lounge Pants
Rag & Bone levels up even its sweats by making things feel just a little more streamlined without ever being too buttoned-up. These lounge pants are also perfect for weekend grocery store runs.
Aimé Leon Dore French Terry Sweat Pant
Aimé Leon Dore is a brand that built its reputation on high-end fabrics and laid-back style. These French terry sweatpants blend those two elements expertly. A cream color is a fun change, too.
Dolce & Gabbana Sweatpants
mrporter.com
$625.00
There is a whole world of luxury sweatpants out there, if you're willing to spend the money on them. These Dolce & Gabbana ones have a tailored fit to them, so they never look like something you'd wear on a sick day.
Loro Piana Portland Cashmere and Silk Sweatpants
mrporter.com
$1,550.00
I mean, Loro Piana basically built a business out of expensive comfy clothes of the highest quality. These are cashmere (!) and silk (!), which is about as cozy of a combination as we could dream up. Put these on your grail list.
Tom Ford Tapered Cashmere Sweatpants
mrporter.com
$2,690.00
Tom Ford is also a top contender for exceptionally well-made clothes, and the expertise doesn't stop with loungewear. These cashmere sweatpants belong in a cabin somewhere on a snowy mountain. Get them now and wear them forever.