17 Great Shearling Jackets That Are Worth the Investment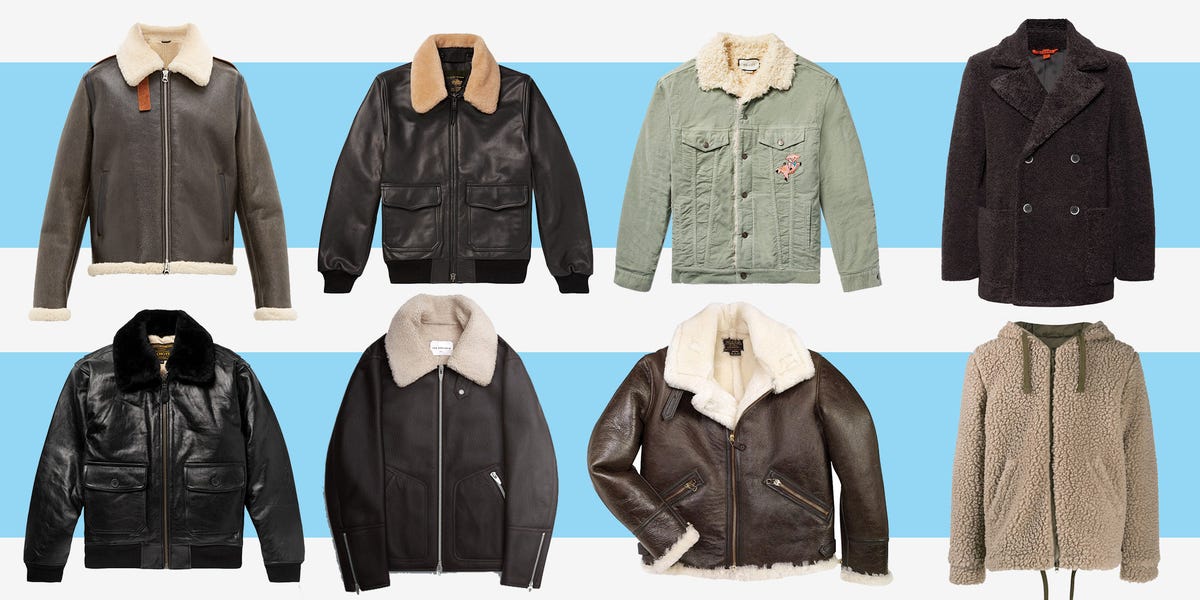 Fall means good style. It means sweaters and layers and—crucially—great outerwear. We've found the best kind of fall wardrobe is one that has plenty of options, too. And coats and jackets are one of the best ways to have fun and really perfect your personal style. Sure, field coats and denim truckers are great on not-so-cold days, but when it's time to bring in some texture and a little extra warmth, it's time to start thinking about shearling. Whether real or faux, the fuzzy fabric exists to keep you insulated. It's the best kind of jacket to throw on when it's cold out, but there's no rain or snow in the forecast. Parkas be damned. Plus, thanks to versions where the shearling is just used as a trim, you can even wear it on (slightly) warmer days. Here are 17 of the best shearling jackets to shop right now.
Levi's Faux Shearling-Trim Denim Trucker Jacket
Before the freezing late-fall hits, denim jackets are often all you need. There's no brand better to trust than the denim OG: Levi's. One lined in sherpa—aka faux shearling—offers a little extra insulation.
Kent & Curwen Short Jacket
Trucker jackets are a fall staple, and they look even cooler in fall-like colors. This tan corduroy feels intensely '70s in the best way.
Barena Faux Shearling Peacoat
mrporter.com
$490.00
Barena's double-breasted peacoat is made in Italy, so you know the quality is impeccable. And though the shearling is faux, it really looks the part. Throw this one on with everything from a T-shirt and jeans to a suit. Either way, it'll elevate the look.
Aspesi Faux Shearling Jacket
If Cookie Monster were a jacket, he would be this. Wear this all day, every day. It's comfy looking and feels like wearing a blanket—but in public. Can't beat that.
John Elliott Type III Shearling Thumper Jacket
John Elliott's stuff always tends to feel a little more street style-adjacent, and the shearling-lined denim jacket is no different. Layer this over a thin (and fun-colored) turtleneck for a solid fall look.
Schott G-1 Shearling-Trimmed Leather Bomber Jacket
mrporter.com
$725.00
The G-1 was originally designed for the U.S. Air Force at the start of World War II, and the design has become an icon of military style. Try it with khakis if you want to lean into the vibe, or pair it with wool trousers for a more dressed-up feel.
The Arrivals Odin
thearrivals.com
$895.00
Brown and cream is a perfect color combo for fall. This one will look just as good in 10 years as it does right now. (And maybe even better.)
Cockpit USA B-9 Sheepskin Jacket
This jacket takes its inspiration from the military-issue B-3 bomber, but adds in a few extras for civilian life. The bi-swing back gives you extra mobility, so you don't feel too strapped in. And the heavy sheepskin will keep you warm on even the coldest of days.
Golden Bear 'The Carter' Shearling-Trimmed Leather Bomber Jacket
mrporter.com
$1,325.00
For a while there, Golden Bear was one of the best-kept secrets in U.S.-made outerwear, producing a few things under its own name but primarily for other brands. That's no longer the case: The brand has come into its own, and we couldn't be happier. Especially when it's serving up fairly-priced, high-end bombers like this one, which is about as classic as they come.
Dolce & Gabbana Shearling-Trimmed Denim Jacket
If full shearling is too much (or too warm) for you, a shearling collar is a nice detail. Plus, the impeccable fit on Dolce & Gabbana's means this looks incredibly pulled-together.
Givenchy Faux Shearling-Lined Denim Jacket
Wear this all the way buttoned up, over a turtleneck, or with a graphic tee. It's form-fitting enough that it looks especially sharp juxtaposed with a looser pant, like wide-leg trousers or track pants.
Saint Laurent Shearling-Lined Camo Jacket
Solid-colored jackets are great, of course. But you can also play with print here, especially when it's something that'll last longer than a season. Wondering why you can't see the shearling? It's the lining. Sneaky.
Acne Studios Shearling Jacket
This Acne jacket has an old-school feel to it that you might get from something handed down or purchased vintage. Or, get it new, and be the person to pass it on.
Off-White Logo-Print Shearling Bomber Jacket
mrporter.com
$2,600.00
Off-White designer Virgil Abloh used the fleecy side of shearling generally used for lining jackets as the exterior of this extra-cozy, extra-warm jacket. It gives the whole thing a huge amount of texture, which is set off by an oversized "OFFF" logo printed on the back.
Gucci Faux Shearling-Lined Trucker Jacket
Gucci makes a richly textured take on the style that's completely animal-free. The faux shearling has a fun curl to it, and the green color of the jacket is a much bolder pick than most shearlings tend to be.
Saint Laurent Checked Long Blazer
Yes, it's an investment. But Saint Laurent's impeccable tailoring and the truly luxurious fabrication makes it one of the nicest pieces of clothing you could own. The shape and print are timeless, so you can be sure the jacket will be, too.
Tom Ford Shearling Trucker Jacket
mrporter.com

$7,290.00
This jacket is a little Western, a little modern, and pretty great all the way around. And yes this is a lot of money to spend on a jacket. But you should think of it as a wearable piece of art, rather than just a jacket. Keep it in the family forever.