14 Fall Jackets That'll Get You Excited for Autumn's Arrival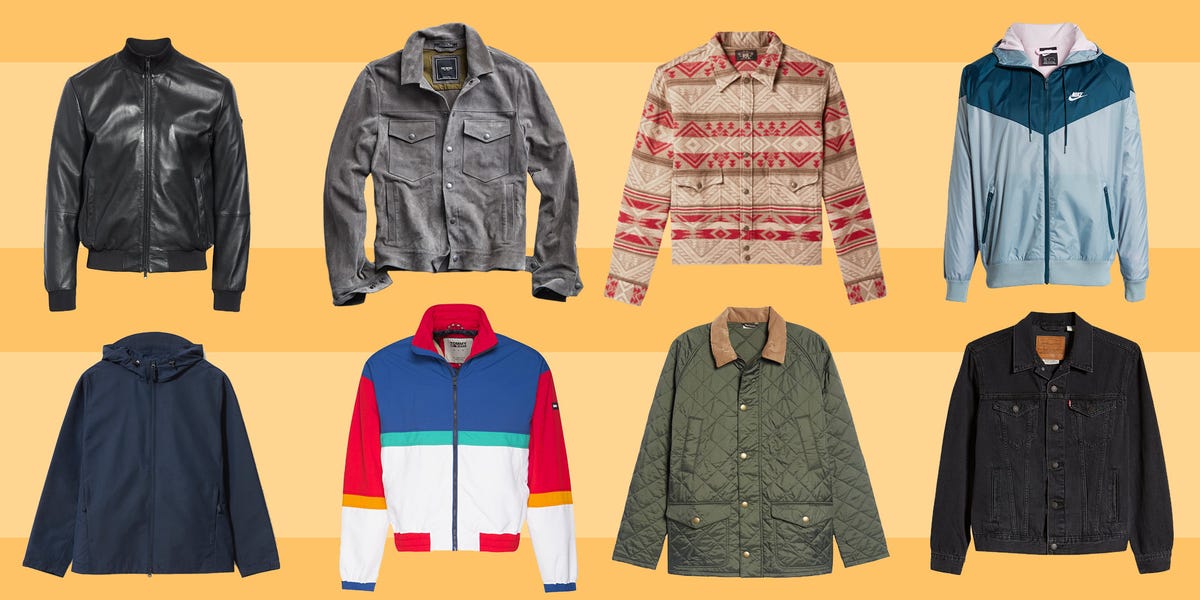 Fall might just be the best season of all when it comes to getting dressed. The dog days of summer—with all that heat and humidity stifling not just your body but your sense of style, too—are finally over. The temperature is brisk, but not freezing. Jackets, once banished to the back of your closet, are back in play. And you want to make sure you've got the right one to wear when the opportunity presents itself.
Which means it's time to start thinking about what might be missing from your rotation. Maybe you've decided to finally invest in a leather jacket. Or maybe you're looking to add a field coat or a windbreaker to the mix. There are a lot of great options on the market, so we did the legwork for you and tracked down 14 picks that will have you excited for autumn's arrival.
Icon Classic Bomber Jacket
Topman
nordstrom.com
$65.00
A basic black bomber is an essential at this point. This one is affordable, layerable, and a great option for not-so-cold days—just wear it open over a tee.
UO-Exclusive Rally Jacket
Champion
urbanoutfitters.com
$49.99
Champion leans way back into its hundred-year history for this jacket, which feels like something an (extra-stylish) college team might have warmed up in back in the day. Wear it with tailored trousers to dress it up, or just throw on some sweats to embrace the easygoing vibe.
The ReNew All-Weather Jacket
Everlane
everlane.com
$88.00
Everlane's ReNew program is devoted to cutting down on waste in general, and plastic in particular. This jacket's 100 percent recycled fabric is made from 18 plastic bottles, and the water-resistant finish is free from harmful flourocarbons.
Denim Trucker Jacket
Levi's
nordstrom.com
$98.00
Windrunner Jacket
Nike
nordstrom.com
$100.00
Looking for a throwback vibe that's incredibly easy to wear? This color-blocked windbreaker fits the bill perfectly.
TJM Color-block Track Jacket
Tommy Jeans
nordstrom.com
$169.00
Tommy Jeans is all about a bold, '90s-inspired look. This track jacket isn't for the faint of heart, but it's hard to beat when it comes to adding some excitement to a (sometimes dreary) fall wardrobe.
'Canterdale' Quilted Jacket
Barbour
nordstrom.com
$200.00
You might know Barbour for its famous waxed-cotton offerings, but the heritage brand's quilted gear is just as handy when the temperature dips. Wear this over an oxford shirt in the fall, and under a topcoat when winter arrives.
Mads Herringbone Jacket
Norse Projects
nordstrom.com
$360.00
Somewhere between a chore coat and a field jacket, this Norse Projects pick will go with just about everything in your casual wardrobe. Break it out the same day you bust out your fall boots.
Countryline Corduroy Jacket
Noon Goons
nordstrom.com
$399.00
The boxy fit, wide-wale corduroy, and rich tan color all come together to make this jacket from Noon Goons feel just different enough to stand out in a crowd. The leopard-print lining? That's just for you to enjoy.
Appliquéd Satin-Twill Jacket
Takahiramiyoshita TheSoloist + Dickies
mrporter.com
$510.00
This jacket is weird. But in the best way possible. Guess that's just what happens when a classic workwear brand like Dickies teams up with cult Japanese label TheSoloist.
Jacquard Overshirt
We can't guarantee that buying this jacket will magically transport you to a sun-dappled ranch somewhere near the Rocky Mountains, populated entirely by well-dressed people. But, hey. At least you'll fit in if it does.
Leather Bomber Jacket
Emporio Armani
nordstrom.com
$795.00
A simple leather bomber, like this one from Emporio Armani, is the kind of piece that you buy once and then wear for years to come. Opt for clean lines and good leather, and you'll be more than happy you made the investment.
Italian Suede Snap-Front Dylan Jacket
Todd Snyder
toddsnyder.com
$998.00
Sleek black leather not your thing? Why not opt for a soft suede in a toned-down shade of gray? NYC-based designer Todd Snyder offers up an exceptional example, cut with a trucker-ish feel, so you know you can wear it just like your favorite jean jacket.
Leather-Panel Cotton-Blend Jacket
Berluti
matchesfashion.com
$1,848.00
It doesn't get more classic than a field coat, which is exactly why the style is such a great base for some (subdued) fashion experimentation. Berluti added a contrasting leather panel to this navy one, giving it a harder edge and a healthy dose of street cred.