Socks and Sandals, Once Forbidden, Are Now a Legitimately Cool Combo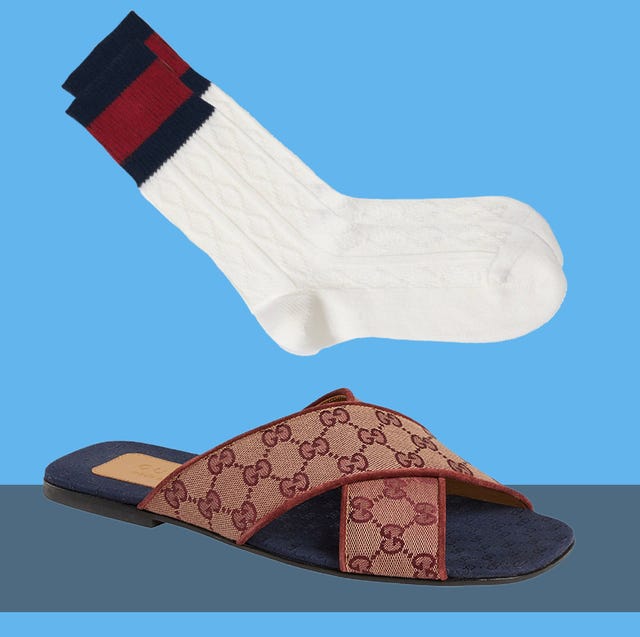 Socks and sandals. Oh, man. The combo used to be shorthand for "terrible style," or maybe "elderly German tourist who uses hiking poles while walking on the sidewalk." But because the world is a vast and interesting place, always prone to change and evolution—especially when it comes to how we get dressed—socks and sandals are now a bona fide "thing" for more fashion-forward folks.
Blame it on the chunky sneaker trend, or normcore, or any of the other meta style movements of the last few years that have celebrated the beauty in everyday, maybe-ugly stuff. Or just blame it on those Grateful Dead-loving high school classmates of yours who recognized that Birks and socks are very comfy together, and busted both out to see Dead & Co. jam this summer. However it happened, it happened. And now it's time for you to finally give it a shot. Trust us, it's not as strange as it sounds. Hell, you might even enjoy it! So, whether it's slides and sport socks or…much fancier slides and non-sport socks, here are five foolproof ways to wear socks with sandals right now.
Advertisement – Continue Reading Below
Adilette Striped Sport Slide
Adidas Originals
nordstrom.com
$45.00
The OG pool slide (and shower slide, and dorm slide) has never really gone out of style. But it's definitely having a moment right now, thanks to the easy on-off, the comfortable footbed, and the classic look.
Roller Crew Sock
Adidas Originals
zappos.com
$7.15
Don't overthink this one. If you're wearing Adidas slides, you should pair them with sporty Adidas socks. (And remember: While we won't judge you for throwing a Nike swoosh into the mix, there are people out there who will.)
Arizona Sandals
Birkenstock
zappos.com
$124.95
If there's any sandal that screams, "Wear me with socks!" more emphatically than a pair by Birkenstock, we haven't found it yet. Go ahead and give these a shot. You might just love the look (and the feel).
Cotton Slub Socks
Birkenstock
zappos.com
$18.00
Here's something handy: Birkenstock makes socks, too! Slubby, comfy socks that look like the hand-knit style your hippie hometown friends used to pair with their Arizonas and Bostons. Now that Deadhead-adjacent style (think: tie-dye, trippy graphics, and hemp tees) is squarely a part of the fashion landscape, you can't do much better than socks like these.
Original Universal Sandals
Tevas are back, and there's nothing you can do about it. But, honestly, why would you want to fight it? The OG sport sandals are comfortable, functional, and an easy way to try out the socks-and-sandals combo that still feels current.
Boyd 4 Socks
Stance
nordstrom.com
$12.00
The trick to Tevas, in this scenario, is pairing them with bright white socks. You can certainly go for the all-white, drugstore variety if you're worried about getting 'em dirty. But for our money, a pair of Stance socks with a few subtle stripes (and some impressively comfortable construction) are even better.
For more Boyd 4 socks from Stance, check out the brand's full lineup of styles.
Moto Cab Slide Sandal
Suicoke
nordstrom.com
$199.00
Suicoke has quietly gone from a cult-status sandal to a more mainstream brand in the U.S. over the last few years, but the look is still distinctive. Sitting somewhere between outdoorsy and streetwear-y, this pair is undeniably cool.
Logo Socks
Givenchy
nordstrom.com
$160.00
You've already got the elevated streetwear thing going with the sandals, so why not go all in with some yellow Givenchy socks? The combo of the big logo and the bright color will make it clear that the the whole look is intentional.
Senior GG Canvas Slide Sandal
Gucci
nordstrom.com
$620.00
Gucci slides are about as big of a flex as you can make in the sandal department. That's double the flex-itude if you're wearing fancy ones with a jacquard monogram logo and leather soles.
Wool Socks with Web
And if you go ahead and wear those slides with white cable knit Gucci socks in a complementary colorway? That's going hard on the vibe, plus making a low-key declaration that, Yeah, these expensive white socks are going to get dirty, and no, I don't care. This is peak socks-and-sandals flexing right here.
Advertisement – Continue Reading Below