The 11 Best Gifts to Get Dog Lovers (and Their Dogs)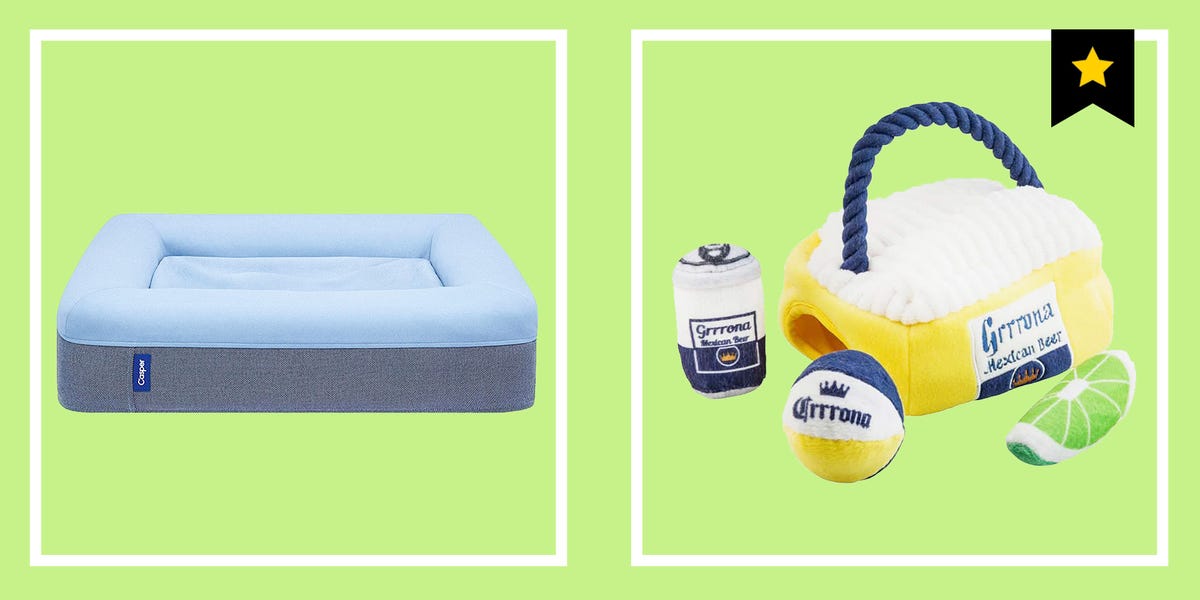 Dogs: the only good thing left to bring humanity together. In fact, there's a smile on our face right now just thinking about all the good pups out there living their good pup lives. Know someone who'd get a kick out of a dog-themed gift, whether for the holiday season, a birthday, or a pet adoption day? Here are the 11 best, not-tacky gifts to get any dog lover. Some are meant for sharing with their furry pal, some aren't. All are winners. And when in doubt, know that a can of tennis balls goes a long way to keep a dog entertained.
Dog Bowl Water Bottle
UncommonGoods
uncommongoods.com
$15.00
This is a genius dog-owning hack: a water bowl that screws onto a water bottle, keeping the pup hydrated on warm days out.
'The Dog in Photography: 1839-Today'
Here lies 180 years' worth of photos of dogs looking more dashing than humans. This is a worthy coffee table book for anyone with what seems like 180 years' worth of pictures of their own dog on their iPhone.
OverLand Collar and Leash
Wolfgang Man and Beast
rei.com
$17.95
$19.95
Whoever said a dog's collar and leash set couldn't be both outdoorsy and stylish?
Grrrona Beach Cooler Dog Toy
Haute Diggity Dog
nordstrom.com
$25.95
Everyone likes drinking Coronas on a late summer night. Every dog likes playing on a late summer night. A plush fake-Corona toy—pardon us, Grrrona toy—makes perfect sense for every person and pet involved.
Sportswear Graphic Dog T-Shirt
Nike
nordstrom.com
$30.00
This here is a very good, very cool tee. It's great for wearing out to walk the dog, or really, any occasion at all. If only Nike made gear for pups, too.
Bird Dog Small Batch Kentucky Bourbon Whiskey
Bird Dog
reservebar.com
$42.00
A bottle of bourbon for the outdoorsman to enjoy at the end of a long day out in the wilderness, his loyal companion at his side.
Yosemite Dog Coat
Pendleton Pet
amazon.com
$49.00
Pendleton took its iconic National Parks-themed prints, which it uses for its ultra-soft blankets and towels, and put it on a little fleece dog jacket. Or a big fleece dog jacket; the sizes run up to extra-large.
Grip Trex Dog Boots
Any dog will be walking real funny the first few times it puts on these grippy dog booties, but their paws will stay safe and dry.
Saturday Essentials Coffee Bundle
Grounds and Hounds
groundsandhoundscoffee.com
$99.00
This gift bundle is more for dog owners than dogs themselves. In particular, rescue dog owners who'd get a kick out of a new hat, a tote bag, a travel mug, and best of all, fresh coffee. Grounds and Hounds sells damn good coffee, and on top of that, donates 20 percent of its proceeds to no-kill shelters.
GO Explore Health + Location Tracker
Whistle
amazon.com
$129.95
Whistle's Go Explore tracker is a supremely thoughtful gift, because it speaks to a dog owner's constant worry: Crap, where'd he run off to this time? It tracks location, as well as how active the dog's being, how often he's scratching that one spot, and more—all synced with his owner's phone.
Dog Bed
Casper
casper.com
$225.00
Casper, the brand behind one of the most popular mattresses you can buy online, applied its sleep expertise to a doggie bed. With a layer of support foam, a layer of memory foam, and a removable, washable cover, the dog will be sleeping more luxuriously than its owners do.