Stock Up on Cheap Le Creuset Cookware from Williams Sonoma's Warehouse Sale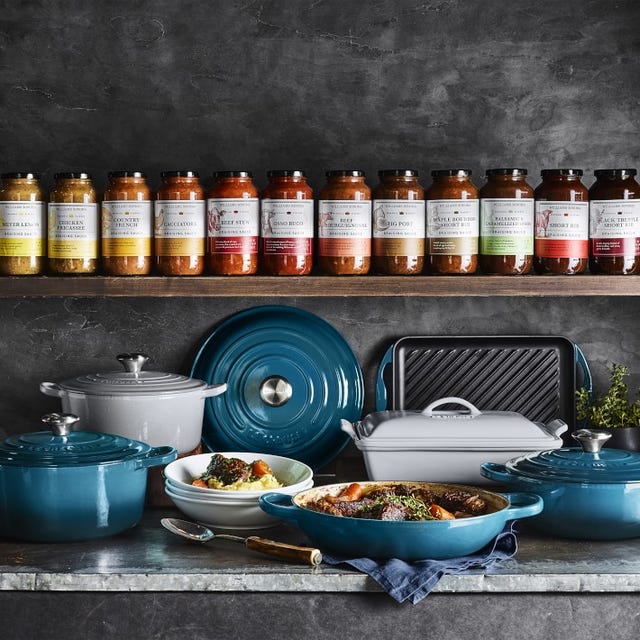 Williams Sonoma
If you've been looking for an excuse to get your hands on some Le Creuset goodies, now is a better time than ever with Williams Sonoma's One-Day Warehouse Sale. Whether you're a diehard member of the Le Creuset cult, or a first-timer waiting for the perfect opportunity to shop, you can score up to hundreds of dollars off on the brand's beloved products, including dozens of new items that have never hit price points this low.
From the Le Creuset's signature dutch ovens, to grill pans, skillets, woks, and even cookware stands, you'd be silly not to indulge in these rare—and impressive—deals.
Advertisement – Continue Reading Below
Rectangular Skinny Grill
Le Creuset
$80 (originally $185)
When summer ends, keep the grilling going with this high-ridged cast-iron grill, available in 17 shades.
Signature Wok
Le Creuset
$300 (originally $400)
Inspired by a classic Asian wok, this Le Creuset version cooks food quickly and evenly, so you never have to worry about a burned stir fry.
Signature Cast-Iron Deep Skillet
Le Creuset
$180 – $235 (originally $240 – $320)
The depth of this enameled cast-iron skillet will roast your veggies, braise your meats, and even bake your frittata with ease.
Signature Cast-Iron Saucepan
Le Creuset
$96 (originally $220)
The rounded base and high sides of this cast-iron saucepan are great for your favorite sauces, soups, and more.
Cast-Iron and Stoneware 10-Piece Set
Le Creuset
$1,000 (originally $1,620)
Ready to stock up on all the Le Creuset essentials? This 10-piece collection features all of its top-rated pieces, including a deep skillet, braiser, Dutch oven, French oven, square casserole, and au gratin dish, making this one of its most impressive deals.
Signature Cast-Iron Braiser
Le Creuset
$180 (originally $250)
The cast iron build and tight-fitting lid ensures that all your meats will remain juicy and tender while being cooked in this cult-favorite braiser.
Stoneware Heritage Covered Square Baker
Le Creuset
$70 (originally $145)
Whether you're baking hearty lasagna or roasting juicy meat, this deep square baker is the only sous chef you need.
Signature Cast-Iron Round Dutch Oven
Le Creuset
$350 (originally $460)
Perfect for slow-cooking any of your favorite dishes, this enameled cast-iron dutch oven is a tried-and-true staple.
Cast-Iron Pâté Terrine
Le Creuset
$200 (originally $285)
Ideal for meatloaf, pâtés, and even custard, this versatile terrine cooks food slowly and gently.
Advertisement – Continue Reading Below