The 15 Best Winter Coats to Keep You Warm, Dry, and Comfortable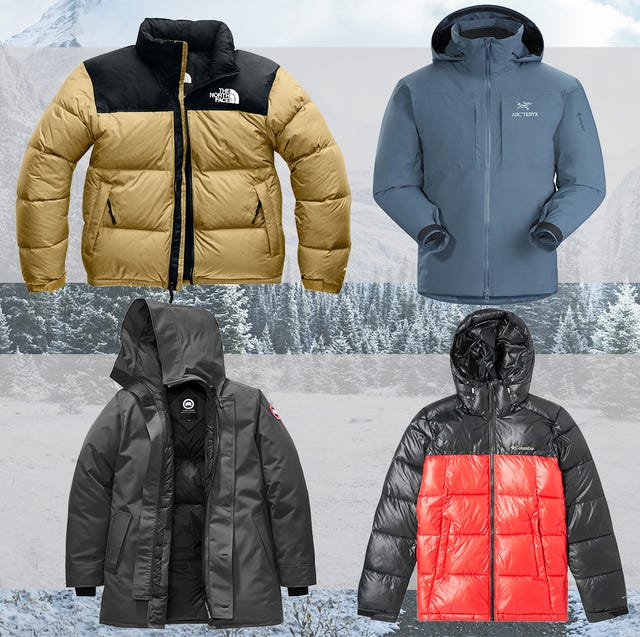 Winter isn't that far away, when you get right down to it. In just a few months, you'll have traded your polo for a parka as the final layer before you step out into the world. And—this probably goes without saying, but just in case—it'll be cold outside. Like, "your lips are turning blue and your eyes are stinging in the wind" cold. Which, of course, means you need a great winter coat. It should be warm. It should protect your from wind, rain, snow, sleet, and all sorts of nasty weather. All that, and it should look good, too. Sound like a tall order? Don't worry. We've got you covered with 15 of the best options to buy now, before everyone else scoops them up and you're forced to go with your fourth choice in a moment of desperation. Well, what are you waiting for?
Advertisement – Continue Reading Below
For Eco Warriors
The ReNew Short Parka
Everlane
everlane.com
$165.00
Everlane's ReNew parka delivers on two fronts. First off, it's incredibly eco-conscious. The recycled polyester fabric is made from 55 renewed plastic bottles, and while the zippers and trim aren't recycled, the brand is working on it. Second, it's warm—very warm. The hip-length, boxy-fit parka is filled with Primaloft insulation that'll keep you cozy on all but the most punishingly frigid days.
Pike Lake Hooded Jacket
Columbia
endclothing.com
$169.00
A water-resistant exterior and synthetic insulation are just part of the story with this Columbia jacket. The lining uses the brand's proprietary Omni-Heat technology, which reflects back body heat to keep you extra warm in cold conditions. With all that to consider, the bold red-and-black colorway is really just a bonus. (And a very stylish one, at that.)
1996 Retro Nuptse Jacket
The North Face
thenorthface.com
$249.00
Aside from the throwback good looks, The North Face's Nuptse jacket has a lot to offer. The 700 fill goose down is certified to the Responsible Down Standard, and ranked among the warmest insulation that brand provides. And while it's not entirely wind- and waterproof, the Nuptse will keep you guarded from the elements on drizzly and blustery days. All that, and classic style, too. Talk about a win-win.
Verso Reversible Down Jacket
Triple F.A.T. Goose
triplefatgoose.com
$350.00
A perfect travel companion, the Verso basically gives you two puffers in one package. On one side, a baffled shell with a little bit of sheen. On the other, a matte one without any extra adornment, for a low-key look. And between the two, 750-fill white duck down, for exceptional warmth.
3-in-1 Insulated Bonded Tweed Parka
Cole Haan
nordstrom.com
$498.00
If you need something to shield you from the wind and cold on your way to the office, Cole Haan has you covered. The tweed shell looks and feels refined, but the bonded construction and removable, insulated liner ensure you'll stay warm and dry in winter weather. Plus, you can wear both pieces together, or separately, for a true 3-in-1 system.
Men's City Storm Parka
Patagonia
patagonia.com
$499.00
Patagonia specializes in clothing for the outdoors, so it should come as no surprise that this parka is fully kitted out with warmth, weather-resistance, and smart details like a panel of microfleece around the collar and chin to keep you comfortable. What's extra impressive, though, is that it's not only filled with recycled down, it's also fair trade sewn.
Fission SV Jacket
Arc'Teryx
arcteryx.com
$689.00
The Fission jacket is designed for severe weather, so it's packed with technical details that'll keep you warm and safe whether you're trekking through the tundra or just on your way to work. A lightweight synthetic insulation stays warm even if it gets damp, and drys quickly. A GORE-TEX membrane shields your body from the wind and rain, and a specialized collar-and-hood combo leaves as little exposed as possible.
For Adventurers
Chateau Slim Fit Down Parka
Canada Goose
nordstrom.com
$895.00
Before Canada Goose became the brand of choice for style-conscious urban-dwellers, you could find it on arctic explorers and film crews working in seriously unpleasant conditions. There's a reason for that: The company's down-filled jackets are both tough and insulating. And even if you're not venturing into the unknown, the 625-fill power down on this Chateau parka is enough to keep you warm all winter.
Shelby Military Fishtail Parka
Nobis
nordstrom.com
$995.00
If classic, outdoorsy parkas aren't your thing, maybe Nobis's military-inspired detailing will do it for you. This fishtail parka is windproof and waterproof, and finished with elements like epaulets and buttoned flap pockets to give it an elevated vibe. The 650-fill down means it's also warm enough to keep you comfortable in all but the coldest conditions.
Laminar GORE-TEX Hooded Down Parka
Herno
mrporter.com
$1,175.00
Herno's thigh-length hoodie is made with GORE-TEX, so you can be sure it'll protect you from wind and water while maintaining breathability. Throw in strategic drawstrings at the waist, hem, and hood to keep the warm air in an the cold air out—plus down insulation—and you've got a super-sleek, super-functional winter coat.
Nanamica Harbor Down Coat
Nanamica
endclothing.com
$1,205.00
Nanamica's down-filled coat takes all the functionality you want in a winter coat—from the insulation to the fur trim on the hood to block wind and trap heat—and blends it with an old-school, military-inspired feel. If you're looking for something that'll still be in style years from now, this is it.
Konic Down Jacket
Moncler
mrporter.com
$1,215.00
Moncler is practically synonymous with high-end ski style for a very good reason. The label knows how to keep you insulated, sure. (In this case, using down fill and oversized quilting.) But it also knows how to make sure you look great as you make your way down the slopes or to the office, and the red-white-and-blue color-blocking on the Konic jacket is a prime example of the brand's fashionable know-how.
Shearling-Trimmed Hooded Down Parka
Stone Island
mrporter.com
$1,920.00
Stone Island has built a cult-like following thanks to its mastery of materials. In this case, it's a cotton-blend shell that's garment-dyed to look lived-in (while still being rugged enough for a lot more living). The throwback military vibe of the parka is driven home with a shearling-lined hood, down insulation, and the iconic Stone Island fabric badge on the left sleeve.
Four-Pocket Wool Flannel Jacket
Dries Van Noten
nordstrom.com
$1,955.00
Dries Van Noten's four-pocket puffer may not be as warm and technically advanced as some of the weather-ready outdoor parkas on this list, but sometimes you don't need to bust out the big guns—especially if you spend more time commuting than you do exploring the wilderness. The wool shell and quilted construction will keep you from feeling the chill, and the design itself is the exact right kind of cool.
Bellrock Cashmere-Blend Peacoat
Loro Piana
mrporter.com
$5,350.00
Wintertime isn't just for puffers and parkas. Sometimes, you need a peacoat. And if you need a really good peacoat—as in, the best, made from an absolutely luxurious cashmere blend—you should be looking to Loro Piana. The Italian label is world famous for its unrivaled fabrics. Try this coat on just once, and you'll understand why.
Advertisement – Continue Reading Below