I Am Entirely Too Invested in This Anonymous Jimmy Kimmel Live! Security Guard's Mustache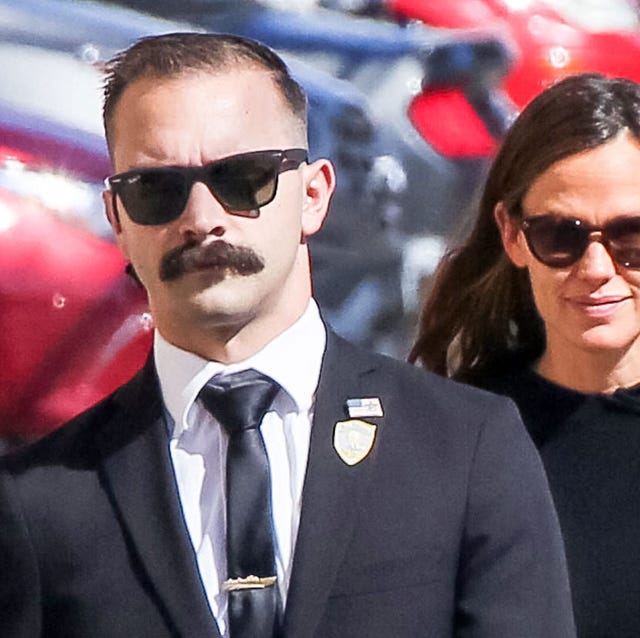 BG017/Bauer-GriffinGetty Images
I want to tell you about a hero. I don't know his name, or his origin story. I don't know his loves, or his fears. What I do know is this: He is employed, in some capacity or other, as security staff for the television program Jimmy Kimmel Live. He guards celebrities as they make their way from their cars to the studio door.
I don't know how long he's done this. It is, in theory, possible that this man exists as a singular point in time and space. He always has been, and always will be, guiding celebrities through the alley behind the show's studio and into the building. Perhaps. I don't know this for sure.
But here's something I do know, with a certainty that vibrates right down to the core of my being: Not all heroes wear capes. Some wear black suits and perfect mustaches. And Kimmel Mustache Guard, as I have come to know him, is one such hero. He is a beacon of hope, of follicular prowess—and he wears a pretty decent suit, to boot. He's a bastion of stability in an uncertain world.
Kimmel Mustache Guard, I don't know you. But I am grateful for you. I revere your mustache, and enjoy your ability to wear sunglasses well. I look forward to seeing you next to folks like Jon Hamm, Elizabeth Banks, and Rami Malek from time to time. I also hope work is going okay for you, because I'm entirely too invested in the occasional appearance of your facial hair on my computer screen. Keep doing you.
Now, let's take a closer look at your many appearances over the last year.
Advertisement – Continue Reading Below
With Elizabeth Moss, August 5, 2019.
With Michael Peña, July 29, 2019.
With Keith L. Williams, July 22, 2019.
With Fred Savage, July 16, 2019.
With Shailene Woodley, July 15, 2019.
With Jada Pinkett Smith (and a little bit of extra scruff) on June 5, 2019.
With Sophie Turner, June 4, 2019.
With Elizabeth Banks, May 21, 2019.
With Jon Hamm, May 20, 2019.
With Jake Gyllenhaal, May 9, 2019.
With George Clooney, May 7, 2019.
With Chris Hemsworth, April 8, 2019.
With Colin Farrell, running, March 28, 2019.
With David Harbour, March 26, 2019.
With Bill Hader, March 25, 2019.
With Kamala Harris, March 19, 2019.
With Javier Bardem, February 25, 2019.
With Sam Elliott, January 23, 2019.
With Mahershala Ali and Amatus-Sami Karim, January 9, 2019.
With Ben Stiller, December 19, 2018.
With Justin Theroux, December 4, 2018.
With RuPaul, December 3, 2018.
With Michael B. Jordan, November 20, 2018.
With Jeff Bridges, November 12, 2018.
With Dakota Johnson, October 11, 2018.
With Jennifer Garner, October 9, 2018.
With Issa Rae, September 19, 2018.
With Rami Malek and Lucy Boynton, September 4, 2018.
With Christian Slater, July 31, 2018.
Advertisement – Continue Reading Below