The 12 Best Rain Boots to Keep Your Feet Dry (and Your Outfit On-Point)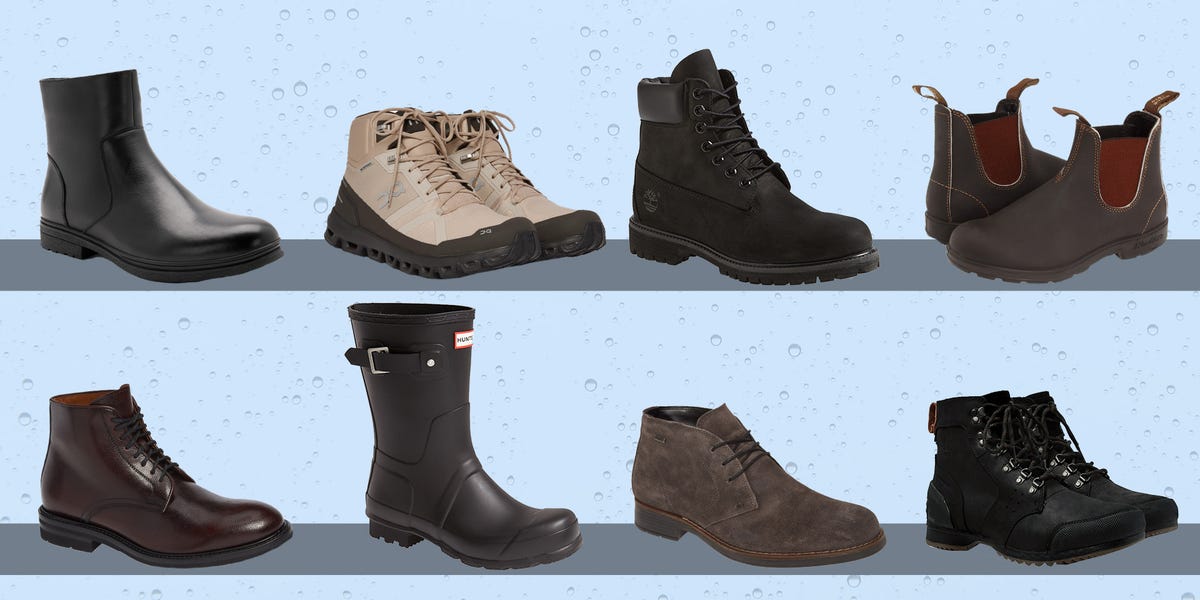 Rain boots don't have to look like rain boots. They can of course, and sometimes that's exactly the point. From classic Hunter wellingtons to teched-out Sorels, some boots look particularly great because they lean into the vibe of elemental protection. On the other side of things, though, you've got the boots that'll keep your feet dry in the sneakiest way. Think sleek leather Chelseas that would look great with a suit even when the sun is shining, or suede chukkas that you'll wear with jeans whether it's wet outside or not. Whichever side of the fence you land on, we've got you covered with the 12 best styles on the market right now. Take your pick.
Gus Boots
Tretorn
zappos.com
$100.00
If you like to wear rain boots outside and switch back into your regular shoes once you get where you're going, Tretorn's slip-on boots are low-key and no-fail.
Grayson Waterproof Chukka Boot
Nordstrom Men's Shop
nordstrom.com
$129.95
Suede chukkas? For a rainy day? Well, actually…yeah. These waterproof ones from Nordstrom's in-house men's shop don't look like rain boots, but then again, that's the whole point.
Ankeny Waterproof Boot
Sorel
mrporter.com
$140.00
Sorel is a go-to when it comes to heavy-duty winter footwear, so it should come as no big surprise that the brand knows a thing or two about keeping the elements out. These boots are a little more streamlined, with a technical edge that boosts durability (and looks cool, too).
Original Short Waterproof Boot
Hunter
nordstrom.com
$145.00
You can't beat a classic. And when it comes to rain boots, it doesn't get more classic than Hunter.
Sylvio Waterproof Zip Boot
Blondo
nordstrom.com
$165.00
If you're looking for a sleek, stylish option to wear to the office on soggy days, a black zip-up boot in waterproof leather won't do you wrong.
Madson Waterproof Chukka Boot
Sorel
nordstrom.com
$170.00
If a more technical Sorel boot isn't for you, this classic chukka might be just the thing you need. It's still going to keep you comfy and dry, but it doesn't necessarily look the part.
BL500 Boot
Blundstone
zappos.com
$184.95
Blundstones aren't technically waterproof, but ask anyone who's worn a pair on a rainy day (or stepped ankle-deep into a puddle with them on) and they'll tell you: These are great rain boots. Your feet will stay dry in all but the most ridiculously wet conditions.
6-Inch Classic Waterproof Boot
Timberland
nordstrom.com
$198.00
Timberland's waterproof take on its classic 6-inch boot works for rainy days and beyond.
Seton TL Boots
Ugg makes a work boot that is just as comfortable as you'd imagine an Ugg work boot would be. Wear these when you need to be outside and on your feet all day.
Cloudrock Waterproof Mesh Boot
These lightweight boots are made from a wind-and-water-resistant mesh that won't weigh you down when you're out in the wilderness hiking. The fact that they'll look as cool on the sidewalk as they do on the trail is just a bonus.
Wakefield Grand Chelsea Boot
Cole Haan
nordstrom.com
$240.00
Cole Haan is downright masterful when it comes to rain boots that don't look a thing like rain boots. Wear these whenever you want, and rest assured that you'll always be prepared for an unexpected downpour.
Renzo Water-Resistant Boot
Aquatalia
nordstrom.com
$550.00
Aquatalia's whole thing is high-end, water-resistant footwear. And these Renzo boots fit the bill perfectly. They look great, and they'll keep your toes comfortable and dry.