The 18 Best Robes for Lounging Like Your Life Depends on It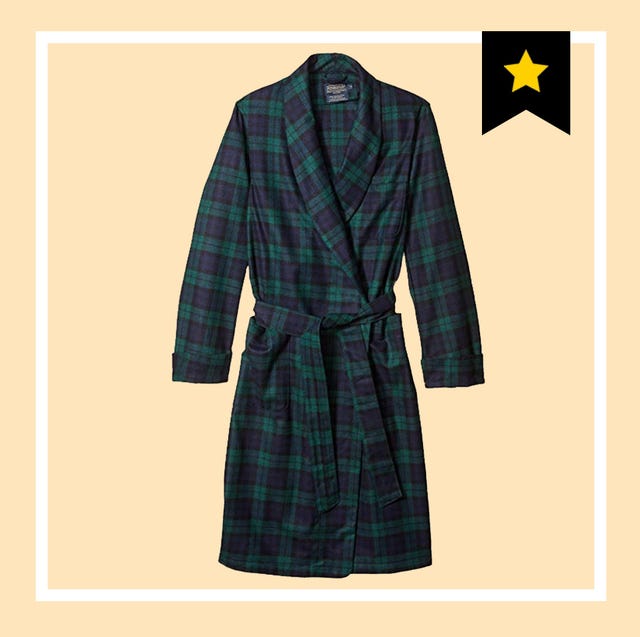 COURTESY
It's officially hibernating season, because no one should have to go outside more than absolutely necessary in this weather. And sure, you could hang out and watch Netflix for ten hours in the beat-up sweatpants you've had since college. But why not throw on a cozy robe and relax like royalty? We rounded up our 18 favorite bathrobes that'll transport you back to a simpler time, one where your mom would wrap you up like a burrito in a fluffy towel after your bath. Honestly, what could be better than that?
Advertisement – Continue Reading Below
Men's Fleece Bathrobe
NY Threads
amazon.com
$31.99
This fleece robe is nearly floor-length, if you're looking for head-to-toe warmth. Kind of like wearing a blanket around.
Men's Cotton Bathrobe
This classic cotton terry is an affordable but still-cozy option.
Men's All Over Polo Robe
Polo Ralph Lauren
macys.com
$65.00
In case you need more of the classic Polo pony in your life. (You do.)
Fleece-Lined Robe
Majestic International
nordstrom.com
$75.00
A fleece-lined robe for the coldest of mornings.
Turkish Bath Robe
Crate and Barrel
crateandbarrel.com
$79.96
Every garment is better with a hood.
Plaid Lounge Robe
Daniel Buchler
bloomingdales.com
$98.00
Ultra soft and comfy. Can't go wrong with this fuzzy choice.
Honeycomb Bathrobe
Snowe Home
snowehome.com
$98.00
This fast-drying honeycomb fabric is great for self-swaddling.
Super Plush Robe
Brooklinen
brooklinen.com
$98.00
This plush robe will have you feeling like you just got out of an outdoor hot tub at a Nordic spa with snowy mountaintops in the distance, when in reality you just stepped out of the shower in your tiny apartment.
Cloud Cotton Robe
Parachute Home
parachutehome.com
$99.00
This lightweight cotton is super comfy but less thick, if you tend to get a little sweaty when you're lounging around the house.
The Men's Hotel Robe
Hill House Home
hillhousehome.com
$80.00
This cozy hotel-inspired robe is a luxurious choice, with its thick cotton and delicate piping. Add a monogram if you want to make it ultra fancy.
Ultra Lux Robe
Majestic International
nordstrom.com
$125.00
This cotton terry robe is a great post-shower (or bath, you do you!) choice. Plus, you won't see morning coffee stains on this navy.
Cotton-Jersey Hooded Robe
Reigning Champ
mrporter.com
$150.00
This is like a hoodie, except in robe form. Great for couch days.
Striped Cotton-Blend Terry Robe
Desmond & Dempsey
mrporter.com
$160.00
Why save all the fun for your outdoor clothes?
Striped Cotton-Terry Robe
Cleverly Laundry
mrporter.com
$185.00
This cotton terry option works as a post-shower robe but also as a "I had a long day at work and now it's time to relax with a martini" one.
The Arthur Robe
Hill House Home
hillhousehome.com
$200.00
Lounging around in your PJ's feels like a spa day when they look like this.
Men's Lounge Robe
Pendleton
amazon.com
$254.11
Pendleton's plaid wool lounging robe is for cozying up by the fire and drinking hot cocoa as the snow falls outside. Maybe also smoking a pipe. This is the kind of robe you'll pass down to your kids.
Sapphire Silk Robe
Majestic International
nordstrom.com
$275.00
For those of us who'd like to lean into the old-school, over-the-top vibes a robe can offer.
Piped Cotton and Cashmere-Blend Robe
Isaia
mrporter.com
$690.00
This one will take you from coffee to cocktails (as long as you're staying at home).
Advertisement – Continue Reading Below