The Best Straight Razors for an Old-School Shave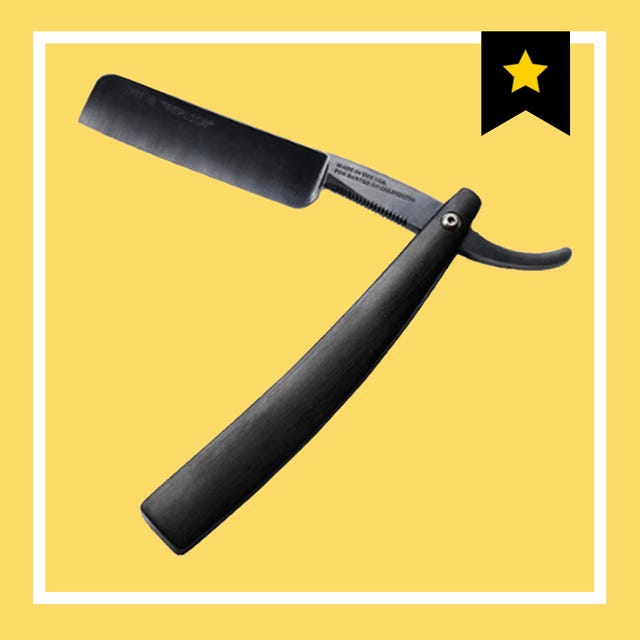 Shaving with a straight razor strikes a lot of guys as, well, terrifying. Which kind of makes sense, considering the other popular name for the device is "cutthroat razor." But it's not actually as scary as all that, and though you might want to keep a styptic pen or some tissues around on the first couple of tries, once you get the hang of the technique, you'll find yourself getting a close shave with minimal irritation. Plus, you know, it looks cool. Whether you're in the market for a true straight-edge razor or a shavette, which subs in replaceable razor blades to eliminate maintenance while keeping the straight-razor feel, we've rounded up the best ones to buy right now.
Advertisement – Continue Reading Below
SRB Black-Handled Barber Straight Razor
Parker
groominglounge.com
$15.00
This one takes disposable blades—either singe-edge or half of a double-edge—so you don't need to strop and sharpen before each shave.
SRX Heavy Duty Stainless Steel Handle Barber Straight Razor
Parker
groominglounge.com
$25.00
Another solid option from Parker, this one has a stainless steel handle for extra heft and professional-grade durability.
Stainless Handle Shavette
Dovo
groominglounge.com
$36.00
Dovo's another go-to name in old-school shaving. This shavette is well-balanced and good for novice straight-razor shavers.
Kingsley Shavette
Murdock London
nordstrom.com
$60.00
Murdock's a newer name in the grooming game, but the brand's got vintage know-how on its side. Case in point: this shavette.
Shavette Straight Razor
Dovo
theartofshaving.com
$60.00
Another one from Dovo, this time with a pop of color. Does it do anything to change the shave itself? Nope! But sometimes, you do something just for the style points.
Leather Strop
Baxter
baxterofcalifornia.com
$61.00
We're about to get into the true straight razors, the kind where you don't replace the blades, you keep them sharp and clean by using a leather strop like this one from Baxter.
Cut Throat Razor
Murdock London
nordstrom.com
$130.00
German-made from carbon steel, this thing is sharp enough to live up to its name. But if you're careful—please, be careful—you needn't worry about that.
Classic Straight Razor
Dovo
groominglounge.com
$130.00
Another bonus with a straight razor: It's great for keeping sideburns or beard necklines in shape, with nice clean edges.
Stainless Steel 5/8 Blade Straight Razor
The Art of Shaving
theartofshaving.com
$195.00
Crafted by Thiers Issard, a French company with more than a century of experience, this one is best suited to seasoned straight-razor users.
Blue Steel 'Not a Replica' Straight Razor
Baxter
baxterofcalifornia.com
$295.00
Super-hard, super-sharp, and made (by U.S. company Hart Steel) to last for ages. Pass it on to the next generation one day.
Advertisement – Continue Reading Below