The 55 Best Christmas Songs of All Time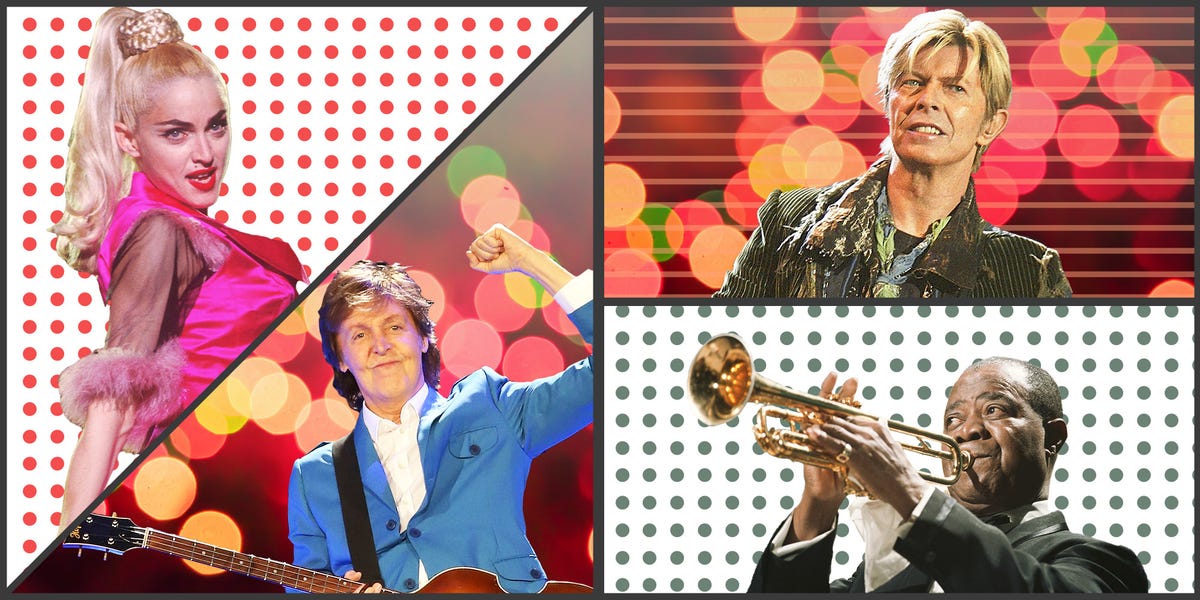 Welcome to the time of year where every public space suddenly transforms into a celebration of the holiday spirit. For some, this might be the best month of all—when radio stations, hotel lobbies, department stores, elevators dentist offices, veterinary clinics, police precincts, movie theaters etc., etc. become a wonderland of tinsel and regular rock songs with some sleigh bells added in. For others, it's a hell of manufactured cheer and commoditized holiday emotion.
But, we can't escape any of it. So we might as well embrace it. Hell, what would our lives be like without the same holiday songs played over and over and over again? Here, we run down the best Christmas songs of all time:
You can listen to the full playlist on Spotify.
David Bowie and Bing Crosby — "Little Drummer Boy/"Peace on Earth)"
In 1977, the modern art-rock star and the old-school silky-voiced crooner joined forces in one of the most unexpectedly successful duets of all time. This famed medley of "Little Drummer Boy" and "Peace on Earth" is not only one of Bowie's most commercially successful songs in his storied career, but it marked one of the last vocal recordings Crosby ever made—having been recorded a month before his death.
Lizzo — "Never Felt Like Christmas"
When the old Christmas love songs won't cut it, there's always this one from Lizzo. And in true Lizzo form, she doesn't mince words when it comes to capturing those who feel bitter about Christmas feels.
The Carpenters — "Sleigh Ride"
Ah yes, classic cheesy Christmas schmaltz from The Carpenters. It must be December.
Fitz & the Tantrums — "Santa Stole My Lady"
Christmas sucks for the brokenhearted. We've all been there. Might as well make the best of it with this Fitz & the Tantrums soul ballad.
The Killers — "Don't Shoot Me, Santa"
This Killers song is for the true lovers of alternative Christmas tracks. Also, the thought Santa as a low-key criminal is pretty funny (and the plot of Bad Santa).
Ariana Grande — "Wit It This Christmas"
This 2015 song features the lyrics "Are you down for some of these milk and cookies?," which is really the only way anyone should ever address Santa Claus.
Julie Andrews — "My Favorite Things"
Though it wasn't specifically intended to be one, "My Favorite Things," has become a Christmas song. Yes, over the years there have been many covers—like one from Kelly Clarkson—but Julie Andrews will always be the OG.
Barbra Streisand — "Jingle Bells?"
In 1967, Barbra Streisand recorded "A Christmas Album," which included "Jingle Bells?," sung at such a fast pace it'll get your heart rate going as effectively as a quick jaunt around the block.
John Lennon and Yoko Ono — "Happy Xmas (War Is Over)"
This is about as political as a Christmas song gets. This 1971 song was inspired by John Lennon and Yoko Ono's protest against America's involvement in the Vietnam War.
Celine Dion — "Happy Xmas (War Is Over)"
And if you want an updated—though pointedly less political version—there's Celine Dion's cover. What it lacks in politics it makes up with 100 percent more Celine.
Dolly Parton – "Hard Candy Christmas"

Dolly's entry into the great holiday songbook wasn't even initially intended for Christmas. As a bit of a showender for The Best Little Whorehouse in Texas, the soundtrack version is a solo performance from Parton. Her version was co-opted into the melancholy Christmas single-anthem that is pro-getting drunk on apple wine.
Judy Garland – "Have Yourself a Merry Little Christmas"

If this isn't on your Christmas playlist, it's a tragedy. While "Have Yourself a Merry Little Christmas" has been recorded more times than probably any of us can count, it's the emotional Judy Garland version from Meet Me in St. Louis that stands above the rest.
Barenaked Ladies & Sarah McLachlan – "God Rest Ye Merry Gentlemen/We Three Kings"
Fun fact: Barenaked Ladies came out with a Christmas album. More fun fact: the best song on it is the irresistible harmony between the band and McLachlan, whose angelic voice lends itself perfectly to anything to do with Christmas.
Kelly Clarkson – "Underneath the Tree"
Kelly loves a bop, and "Underneath the Tree" is just happy, Christmas noise. While her album Wrapped in Red is a testament that Clarkson should throw her hat in the ring for all Christmas music, this one is just especially fun.
Sia – "Puppies Are Forever"
Sia's foray into the holiday album space is as off the wall as you might imagine it might be, but at the top of that heap of silly is "Puppies Are Forever." Outside of being saccharine to the point of giving you a cavity, it's an earworm that you'll undoubtedly be humming an hour after listening.
Sufjan Stevens – "Auld Lang Syne"
Sufjan Stevens's take on what most people know as the song that plays at New Years is a folksy banjo-laden track that feels simplified and stripped down in the same way you'd imagine a big group of friends would perform it at their own New Years party.
The Pogues feat. Kirsty MacColl – "Fairytale of New York"

If you could imagine a British Celtic punk band coming out with a Christmas song, it's probably going to be "Fairytale of New York." What starts out as a slow jam moves into full Irish vibes about a minute in. With the exception of one ~problematic~ line, "Fairytale of New York" is a drunken beautiful mess of an ode to Christmas.
Kacey Musgraves – "Christmas Makes Me Cry"
Musgraves's 2016 holiday album, A Very Kacey Christmas, is a late entry into the canon, but it's entirely deserving. Especially this cut, which hones in on the nuanced pain that the annual event can cause.
The Crystals – "Santa Claus is Coming to Town"

Off the best Christmas album of all time, A Christmas Gift For You From Phil Spector, the New York girl group logs this ebullient holiday party jam that will get even Grinch to twist it out on the dance floor.
Elvis Presley – "Blue Christmas"

Elvis' Christmas Album is, arguably, the best testament to the King's artistic interests of all his albums as it masterfully tackles rockabilly, gospel, country, pop, and gospel across its 12 tracks. The most enduring cut, though, is the equal parts woeful and hopeful "Blue Christmas." Give it a listen and you'll see why.
Smokey Robinson and The Miracles – "Jingle Bells"

"Jingle Bells" is hardly the grooviest of all holiday songs, but the soul legend's trusty backing outfit revamped the familiar tune in new, delicate, Motown-inspired ways.
The Beach Boys – "Santa's Beard"

One of six original cuts on the group's 1964 holiday LP—the aptly-titled Beach Boys' Christmas Album—"Santa's Beard" is the darkly funny tale of Mike Love taking his younger brother to the mall to meet Santa. When the kid tugs that fake facial hair right off, his life is changed forever.
Bing Crosby – "White Christmas"

The ultimate Christmas song and a masterclass in stately, elegant singing. They don't make them like this anymore—Crosby released the dreamy ballad in 1941—which makes enjoying this each year even more necessary.
Ella Fitzgerald – "Winter Wonderland"
Few do it as well as the First Lady of Jazz. Case in point: Her delightful, swinging take on the holiday classic "Winter Wonderland." A necessary addition for every holiday dinner's playlist.
Willie Nelson – "Pretty Paper"
Penned by Nelson but originally released by Roy Orbison in 1963, "Pretty Paper" is one of the finest songs ever crafted. (Nelson recorded his own version for his 1979 holiday LP.) A spacious ballad, it tells the story of a street vendor hustling to sell pencils and, yes, pretty paper during the holiday season. It'll warm your heart and bring a tear to your eye, all at once.
Louis Armstrong – "Cool Yule"
This Steve Allen-penned Christmas track has gotten a lot of play over the years, bur Satchmo's inaugural version still stands above the rest.
Donny Hathaway – "This Christmas"
The R&B legend's 1970 Yuletide tune is a lightly funky bounce that revels in the holiday season's possibility.
The Kinks – "Father Christmas"
The cheeky Britpoppers' class-conscious Christmas rave-up cloaks its serious message about the haves and the have-nots in a letter to Santa. .
Slade – "Merry Christmas Everybody"
Billy Squier – "Christmas Is The Time To Say I Love You"
The arena rocker's sweet ode to the Yuletide spirit imprinted itself on a generation when it doubled as the de facto Christmas card from the then-fledgeling MTV to its viewers.
Wham! – "Last Christmas"
The greatest pop singer of the '80s turns his holiday heartache into snowy synthpop.
Darlene Love – "Christmas (Baby Please Come Home)"
Yuletide longing spins into pop gold for a 1960s pop doyenne.
Mariah Carey – "All I Want for Christmas Is You"
Mimi's entry into the Christmas canon is filled with flirtatious coos, beltable verses, and girl-group harmonies.
The Ronettes – "Frosty the Snowman"
Pop's preeminent bad girl Ronnie Spector shows off her winter-wonderland spirit.
Bruce Springsteen – "Santa Claus Is Comin' to Town"
One of the most buoyant takes on this ode to Father Christmas features Bruce Springsteen playfully needling his bandmates about their behavior over the past year and a joyous sax solo by Clarence Clemons.
Ramones – "Merry Christmas (I Don't Wanna Fight Tonight)"
Queens' punk-rock royalty offers up a speedy plea for Christmas peace on the domestic front.
Alvin & The Chipmunks – "The Chipmunk Song (Christmas Don't Be Late)"
A divisive track, to be sure, but you're probably bluffing if you don't crack a smile when singing along with Alvin's wishes for a "hooooo-laaaaa-hoooooop."
Daryl Hall & John Oates – "Jingle Bell Rock"
Bobby Helms's 1957 celebration of Christmas rock is well-trod territory, but Hall & Oates' blue-eyed soul version is a cut above its peers.
Madonna – "Santa Baby"
Madonna was in full-on ˆ mode for this cover of Eartha Kitt's fireside seduction, all hiccuping flirtation and winking vamps.
The Darkness – "Christmas Time (Don't Let the Bells End)"
British glam bands from Wizzard to Slade have caught the Christmas spirit, but the outré absurdity of this retro-minded outfit provides a particularly sweet Yuletide thrill.
Run-DMC – "Christmas in Hollis"
Flipping "Jingle Bells" into a story of the holiday season in Queens, this track isn't just one of the greatest Christmas raps—it's one of the best 20th-century holiday songs.
Sharon Jones & The Dap-Kings – "Please Come Home for Christmas"
A fiery take on Charles Brown's brokenhearted love song from the much-missed soul revivalist.
The Jackson 5 – "I Saw Mommy Kissing Santa Claus"
Young Michael Jackson turns in one of his most joyous early performances, which is saying a lot given the ebullience quotient of his other Jackson 5 offerings.
The Temptations – "Rudolph the Red-Nosed Reindeer"
Picking one track off these soul titans' 1970 Christmas album is harder than choosing between rum and bourbon for your eggnog, so let's just go with its opener.
John Denver & The Muppets – "Christmas Is Coming"
The delightful collaboration between the "Rocky Mountain High" singer and Jim Henson's band of misfit puppets is full of highlights, but the album's calypso-flavored version of this Yuletide nursery rhyme features a particularly giggle-worthy star turn from Miss Piggy.
Paul McCartney – "Wonderful Christmastime"
An upbeat trifle about having fun around the holidays that showcases the former Beatle's silly side.
Al Green and Annie Lennox – "Put a Little Love in Your Heart"
The grain of the Reverend Al's voice and the slickness of the Eurythmics singer's belt on this Jackie DeShannon cover make for a glorious combination.
The Waitresses – "Christmas Wrapping"
Chance meetings with cute guys in the supermarket are the stuff Yuletide fairytales are made of—especially when they're set to bubbly, sax-powered New Wave.
Sesame Street Cast – "Keep Christmas With You All Through the Year"
The 1978 special Christmas Eve on Sesame Street represents the educational show at its finest, and this original track about holding on to the Christmas spirit year-round still tugs at the heartstrings.
Otis Redding – "Merry Christmas Baby"
Otis's blazing version of this R&B Yuletide classic is spine-tingling nearly 50 years after its recording.
Elton John – "Step Into Christmas"
Elton's outsized personality and his signature holiday track's rollicking feel make for a joyous occasion.
Stevie Wonder – "Someday at Christmas"
Stevie Wonder's plea for Yuletide peace (which he recently covered with Andra Day) has extra relevance in troubled times.
Lloyd – "She's All I Want for Christmas"
A new entry in the Christmas canon, this R&B rave-up showcases a Michael Jackson-channeling performance from one of Atlanta's best new soul singers.
Bob Rivers – "The Twelve Pains of Christmas"
Goofy Christmas tracks are in no short supply, but this perky rundown of the holiday's more hellish aspects has a relatable moment for everyone, from crying kids to hangover shakes.
Vince Guaraldi Trio – "Christmas Time Is Here"
Seasonally appropriate melancholia from A Charlie Brown Christmas, which is still the greatest animated salute to the spirit of the season.