Yes, Virginia, There Is Such Thing as a Cool Holiday Sweater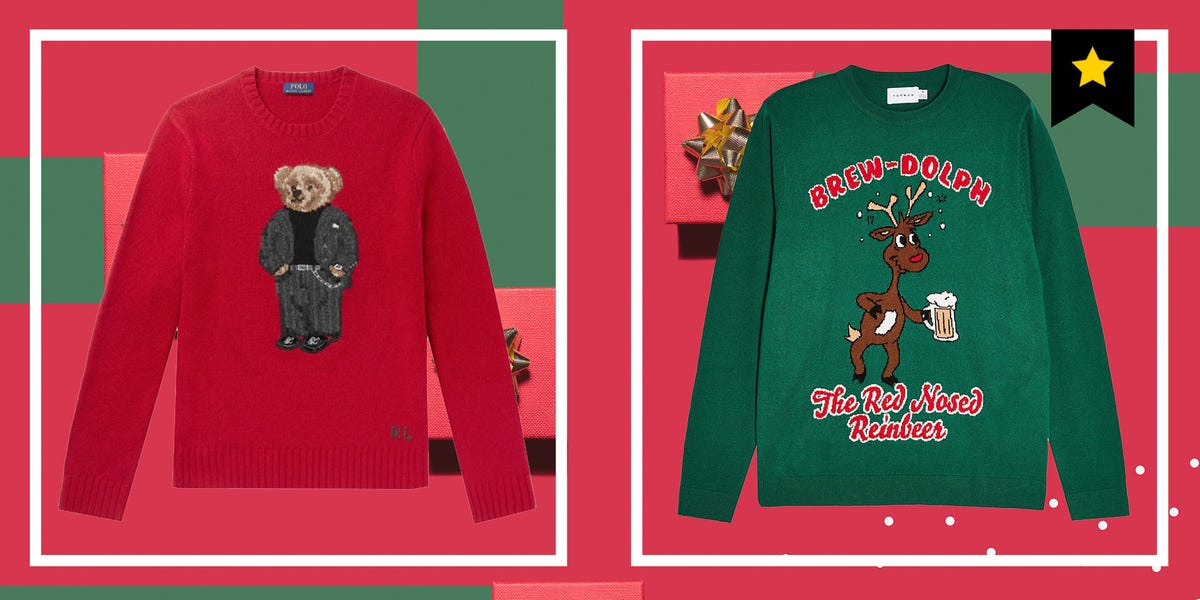 So, you're in the market for a holiday sweater. Maybe you prefer the term Christmas sweater. That's cool. If it's got Santa on it, that is for sure what it is. But don't get all War on Christmas on me, because a lot of the best sweaters of the season are just wintry and cheery and cozy. That's cool, too. Which is why, in this list of 14 of the coolest sweaters for the season at hand, there's a little from Column A and a little from Column B. You want reindeer (at least one of which is drunk), trees, and a jolly old dude with a white beard and a red hat? You got it! You want fair isle and cheerful colors and patterns? You, friend, are also in luck. Check out the full array of knitwear options, right here.
Fair Isle Crewneck Sweater
Topman
nordstrom.com
$45.00
Trees? Check. Reindeer? Also check. Christmas-y, but also just wintry—in a good way.
Brew-Dolph Crewneck Sweater
Topman
nordstrom.com
$45.00
Told you there was gonna be a drunk reindeer.
2019 Holiday Sweater
Miller Lite
shop.millerlite.com
$49.95
If your idea of holiday cheer is (checks notes) a gigantic can of Miller Lite being towed by a couple of reindeer, have I got the sweater for you.
Santastone Cardigan
Volcom
nordstrom.com
$70.00
A geometric Santa actually looks really cool, which is good news, because there's a giant design made of them on the back of this sweater.
Fair Isle Donegal Crewneck Sweater
A holiday-friendly sweater you can wear well beyond the holidays.
Fair Isle Lambswool Crewneck Sweater
If a simple pattern won't do it for you, how about this much-bolder one?
Grade-A Cashmere Crew
Everlane
everlane.com
$130.00
It's green. Like a Christmas tree. Get it? (Seriously, sometimes you just want something truly simple and cozy, and this is both.)
Snowden Fair Isle Sweater Cardigan
Barbour
nordstrom.com
$220.00
The pattern looks a bit like snowflakes, doesn't it? That seems at least holiday-adjacent. Verdict: It works!
The Original Westerly Cardigan
Pendleton
pendleton-usa.com
$239.00
This is the one The Dude wears in The Big Lebowski. That, right there, should be enough for you to abide all holiday season long.
Fair Isle Wool Blend Sweater
Beams Plus
nordstrom.com
$259.00
Bright, a little busy, and very wintry. Just like the holiday season itself.
Brion Knit Cardigan
Nanushka
modaoperandi.com
$305.00
Okay, okay—calling this a holiday sweater is a stretch. But it's so damn cool, I don't care.
Campfire Bear Intarsia Wool Sweater
Granted
mrporter.com
$950.00
Campfire. Fireplace. To-may-to. To-mah-to. It evokes peak coziness, and it counts as a holiday sweater, dammit.
Polo Bear Sweater
Polo Ralph Lauren
mrporter.com
$400.00
This is Downtown Bear. He's got a wallet chain. He's adorable, and the sweater is red. Holiday sweater!
Shawl-Collar Wool-Blend Jacquard Cardigan
Polo Ralph Lauren
mrporter.com
$950.00
Skiers and cottages and snow: Holidays (and possibly a holiday vacation), here we come!