Ryan Reynolds and Peloton Actress Monica Ruiz Finally Meet After Hilarious Gin Ad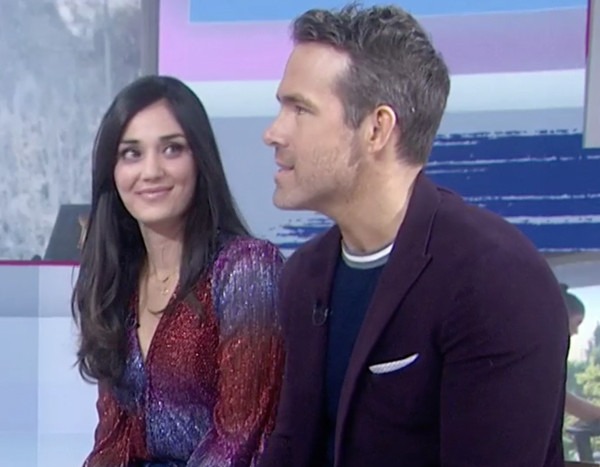 Ryan Reynolds, meet the star of the viral Peloton ad Monica Ruiz.
The 43-year-old actor met the headline-making actress during an interview on Thursday's episode of Today.
As fans will recall, Ruiz appeared in a commercial for the brand just before the holidays. In the spot, Ruiz played a woman who receives a Peloton bike from her husband for Christmas and then documents her fitness journey. The ad went viral and became controversial. While some didn't bat an eye over the spot, others criticized the commercial, with some calling it sexist. Others claimed Ruiz's character looked frightened in the ad.
Reynolds' spirits company, Aviation Gin, then decided to play off the viral moment by creating an ad with the same female character—this time showing her drinking with her friends. However, Reynolds and Ruiz had never met each other until today.
"I'm like in an alternate universe," Ruiz said with a laugh. "This is so weird."
During the interview, the Deadpool star said he and his team "love acknowledging and playing with the cultural landscape" and thought this ad would be a "great opportunity" to do just that.
"You see everything is sort of divisive these days," he said. "It's like one camp here, one camp there. We had this thought that we could do this ad without contributing to that divide, without really vilifying anybody—just sort of commenting on both the person and the actress in the ad all at once. So, for us, it seemed like a no-brainer and it was a lot of fun to do. It was a rush. We did this thing in 36 hours."
However, Ruiz told Today's Hoda Kotb she considered turning down the job when her agent got the call from Reynolds' camp.
"I had such an amazing experience when I shot the Peloton commercial that I was like I don't want them to think that I'm like going to make fun of them or say anything mean," she said. "But they assured me it was an idea that was just taking air out of the situation."
Ruiz also recalled being catapulted into the viral limelight. She said only her friends and family contacted her about the spot the first few weeks it was out—just to let her know they saw it. However, that all changed once the spot started getting attention.
"Last week, I started getting all these messages from friends and family and it was just like links and screenshots of everyone's really upset. I'm like, 'About what?'" she said. "I'm starting to read some of it and some of it was really negative. So, I was like 'OK, I can't read any more of this.' So, I kind of stopped reading it thinking, it's going to blow over. But it didn't really blow over as quickly as I thought it would."
Initially, Ruiz kept quiet about the situation, again thinking it would just blow over. But when she saw people starting to speak on her behalf and bring up old interviews, she decided to set the record straight on her experience.
"I was happy to accept a job opportunity earlier this year from Peloton and the team was lovely to work with," she said in a statement to E! News earlier this month. "Although I'm an actress, I am not quite comfortable being in spotlight and I'm terrible on social media. So to say I was shocked and overwhelmed by the attention this week (especially the negative) is an understatement. When Ryan and his production team called about Aviation Gin, they helped me find some humor in the situation. I am grateful to both Peloton and now Aviation Gin for the work and giving me the opportunity to do what I love to do."
As for Peloton, the company has stood by its ad. According to NBC News, the brand stated it was "disappointed" its holiday commercial had been "misinterpreted."
As for her future, Ruiz said she hopes the public will remember she's "not actually the Peloton lady" and will "let me work other jobs."
To see her full interview, watch the video.
(E! and NBC are both part of NBCUniversal).