See How Kristin Cavallari Reacts to Finding a Nearly Naked Friend in Her Sauna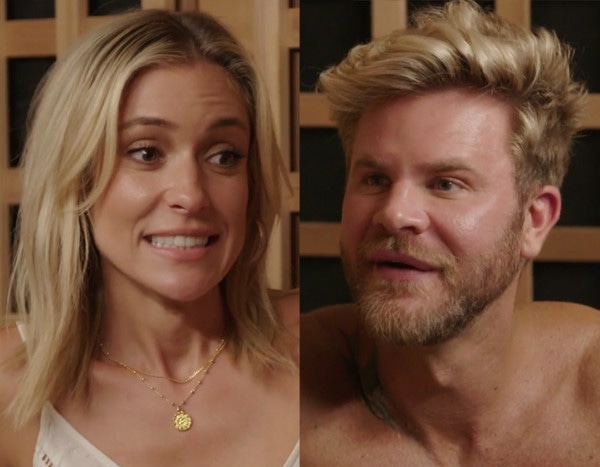 Is Justin Anderson too comfortable at Kristin Cavallari's Nashville compound?
In this sneak peek from season three of Very Cavallari (returning Thursday, Jan. 9), the Uncommon James mogul stops by her old home, where her BFF is currently residing. Per the blonde lifestyle guru, Anderson has taken up residence at Bancroft as she and Jay Cutler have yet to sell the massive estate.
"Pretty unfortunate. It's been sitting empty for a year," Cavallari shares in a confessional. "So, one of my best friends, Justin's in town playing with the idea of moving to Nashville. And I figure, he might as well stay there so that a) he has a place to stay and b) it's not just sitting there empty."
In July 2018, after falling in love with an eight-bedroom farm house, Cavallari and Cutler listed their 25-room house for $7.9 million. And it appears that Anderson is enjoying all that the estate offers as Cavallari finds him lounging in the sauna.
Yet, as the duo have a "little brother big sister kind of friendship," the mother of three isn't upset to find her longtime hair colorist and friend nearly nude.
"I'm so excited for you to be here," the multi-talented businesswoman relays.
"It's so relaxing. This is like, my personal spa," Anderson admits.
Unsurprisingly, Cavallari wishes she could stay in the sauna instead of heading to the office, especially since Anderson has just arrived.
"I just got in. Trying to decompress a little bit," the celebrity hair stylist informs his BFF. "I do not know how to not do anything. So, I'm just trying to find things around the house."
Not only does he have plans to make the estate spick and span, but he intends to hit the home gym next. Unfortunately, Cavallari reveals she plans on bringing the equipment to her new house.
Regardless, Anderson is very content with his living arrangement.
"I don't have to leave this place," he quips. "It's a compound."
Cavallari is certainly happy to hear this as she's "glad someone's here."
"This is heaven, but I promise I'm not gonna overstay my welcome," Anderson assures Cavallari. "We're gonna find a place."
"After a few months, I'm gonna start charging you rent," The Hills alum jokes in response.
See the sauna sit down in the clip above!
Don't miss the A Very Merry Cavallari holiday special Sunday, Dec. 15 at 10 p.m.! Season 3 of Very Cavallari premieres Thursday, Jan. 9 at 9 p.m., only on E!